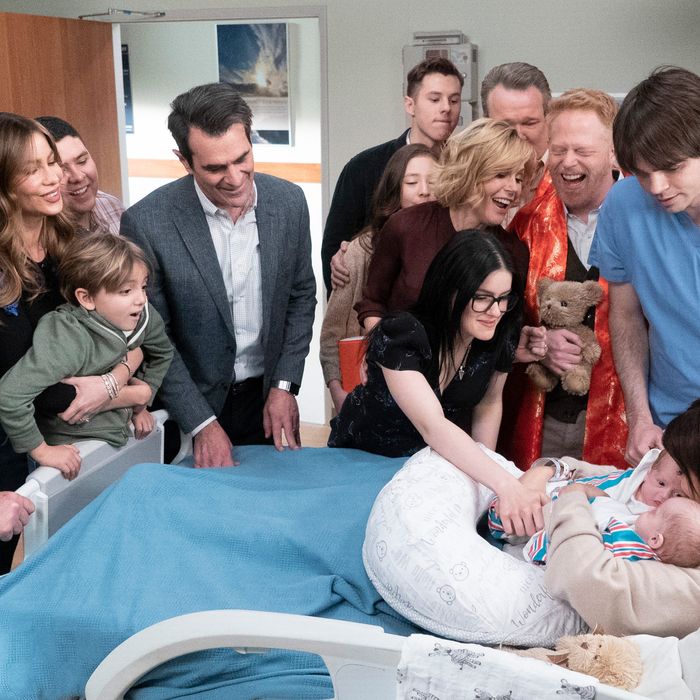 Photo: Kelsey McNeal/Walt Disney Television via Getty Images/2019 American Broadcasting Companies, Inc.
At 11 seasons, Modern Family is ending its tenure on ABC as a proud sitcom tween: The series finale aired on Wednesday, allowing us to check in one last time with our honorary Pritchett and Dunphy and Delgado family members and make sure they'll be alright when the credits roll. (Also in the esteemed 11 Comedy Club? None other than Frasier, Murphy Brown, Cheers, and Married…With Children. Quick! Someone check on Ed O'Neill's royalty checks.) And, just as with a certain perfect Canadian sitcom earlier this week, the finale gave us just enough warm fuzzies for these California yuppies to make for a fitting and realistic send-off. Here's where our trio of modern families end their stories — all 13 members deep. "It's hard," Jay says at the end, "because not everyone gets to have what we have." It's true!
The Dunphys
With Claire beginning her new job as CEO of a storage and container company, Phil continues his career as a realtor. However, now as empty-nesters for the first time in 25 years, the couple plan to embark on an RV trip across the country — fulfilling a dream they never got to accomplish prior to having children. Alex's new, low paying research job has her move to Geneva, Switzerland (with a foxy British scientist as her new beau), while Luke announces he's been accepted to and is going to attend the University of Oregon. Haley, who works at a Goop-esque company in a senior role, and her husband Dylan, along with their infant twins Poppy and George, move into the apartment previously occupied by Mitch and Cam.
The Pritchetts
Despite being rejected for the position months prior, Cam is ultimately offered his dream job as head football coach at the University of North Central Missouri — thus making him the first openly gay coach at a university program in the country. (The reason? The coach UNCM hired "did a press conference where he used some colorful language to address a female reporter and blamed some things on the Jews." ) At first, the news blindsides Mitchell, as they recently moved into a fabulous new home with their teenage daughter, Lily, and their new adopted son, Rexford. However, Mitchell realizes that this is "my chance to be there" for Cam and welcomes the move to flyover country. He also believes that with his attorney background, obtaining a judge position is a likely next career step.
The Delgados
With Jay in retirement mode, he decides to dedicate his free time to mastering the Spanish language for his wife, Gloria — and also surprises her by agreeing to join her for a summer in Colombia, her native country. With Manny set to embark on a year-long boating adventure around the world with his father, Gloria dives further into her newfound successful career in real estate, where she works full-time with Phil at his firm. Their son, Joe, continues to be a cute pain in the ass. "Life is full of change. Some big, some small. I learned a long time ago you could fight it or you could try to make the best of it," Jay narrates as the finale's closing remarks. "And that's all a lot easier if you've got people who love you helping you face whatever life throws at you. At least that's what helps me sleep at night."