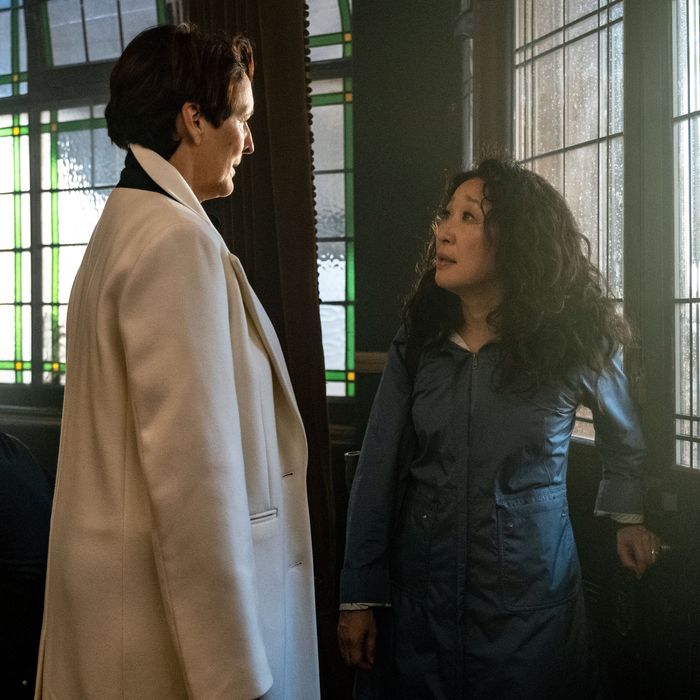 Grief is a strange bedfellow. It mutates, shapeshifts, surprises. It enters our lives and creates patterns that rearrange our understanding of ourselves. When my beloved cousin died early last year of a previously undetected heart issue, after the initial shock wore off, I found myself unmoored. It was as if grief burned everything away until it was all I could focus on. Grief takes up space — and in this week's episode of Killing Eve, it does so primarily through the stories of Carolyn and Eve, who find their lives occupied by grief in dramatically different ways.
Grief is easier to read on Eve, whose expressive face often cues us into the depth of emotion she wants to hide away. It's all there the first time we see her in "Management Sucks," standing under an awning dripping with rain outside of Kenny's funeral service, one hand holding her cigarette, the other a nearly empty glass of red wine. After she accidentally drops her cigarette into a puddle, she's blasted by the smoke from a man's vape. "You need to go electric," he says. He continues to needle her about how she'll be drunk before the end of the service, about her inability to open the door. He trails after her until she gruffly calls him a dick. It's only later she finds out this man is Jamie (Danny Sapani), Kenny's boss at Bitter Pill — although that doesn't warm them up to each other. If anything she remains wary of him and confused by her grief.
What I'm more interested in is the prickly exchange between Konstantin and Eve when they see each other near the bar. He gets her a gin, himself vodka, of course. What he says leaves a sting that turns Eve's gaze into a mile long glare: "You know when a bullet has been through you it leaves something behind." What has the bullet Villanelle shot into Eve left behind? If anything it seems she's trying to sever herself from the longing she once felt for Villanelle, but those complicated emotions, wrought in Sandra Oh's multifaceted gaze, remain. Eve makes an ungraceful exit from the funeral. Sodden with alcohol and riled with emotion, she refuses to play by the rulebook everyone has agreed to and say that Kenny jumped. She knows he was murdered. When Carolyn tries to come up to her before she leaves she screams "No no no!" garnering the attention of others before she stumbles outside.
Carolyn of course doesn't wear grief as readily. She guards her emotions faithfully, much to the chagrin of her daughter, Geraldine (Gemma Whelan), who has taken over the house and encourages her mother to feel. But to a close observer the cracks are showing. She shows up to work as if nothing happened. She buttons her blouse improperly. She awkwardly speaks to Audrey (Ayoola Smart), who sparked a workplace romance with Kenny before his death, to ask if he was happy.  In front of the new agent that trails after her, Mo Jafari (Raj Bajaj), she gets teary-eyed in her car. At one point she says to Mo, "I can't solve it. I can't investigate it. My hands are tied. It's my son. And I can't drop it," never turning to meet his gaze, instead letting her eyes go glassy with tears, her voice sharp with regret.
Carolyn tries, futilely at first, to connect with Eve and urge her to get back to work on the Twelve. Carolyn visits Eve at work, dangling what she thinks will spark her interest: a picture of Villanelle's kill from last week. "She's back, Eve."
"I don't work for you anymore. Not after what you did in Rome. I can't help you," Eve firmly responds to Carolyn's efforts. Eve seems mostly composed and resolute in this moment, but when Carolyn leaves, she is so overcome with emotion and anxiety she vomits.
During all of this Eve still has Kenny's work phone, which Jamie and Kenny's coworker Bear (Turlough Convery) suspect. So Jamie blows up Kenny's phone, first demanding then pleading with Eve to turn it over. Eve remains guarded about the phone until Jamie promises to hand over the files of what Kenny was working on before his death. Things go sour when Jamie reveals that the police have Kenny's work thumb drive, so she takes the phone back and goes to the only person she knows can help: Carolyn. When Eve visits Carolyn she gets to the point — "I need to know what happened, who killed him."
"I miss his smell," Carolyn admits before Eve launches into a suggestion of what they need to do: keep things discreet, get that thumb drive, and figure out what Kenny stumbled upon that got him killed.
Villanelle's storyline is marked by tonal difference from the gray, grief-stricken dynamics of what is going on with Eve. She's getting used to her beautiful new pad in Barcelona. She's exchanging quips with Dasha over drinks. She's still hungry to become a Keeper, but the road to that new position proves winding as she's given a new assignment: to shadow a new recruit and guide him in the art of assassination. The recruit is a wiry, little thing of 19 who goes by the name Felix (Stefan Iancu). He's excited about the prospect of travel; Villanelle hilariously tells him to get everything paid up front. "If you make me look bad, I'll kill you," she also notes.
But Felix is able to touch something under Villanelle's lacquered façade when he starts to talk about all the people he killed to get back at a bully who beat up his boyfriend. Such effort proved for naught and he was left heartbroken searching for the right words to describe what it feels like when someone you love doesn't love you back. "Shit," Villanelle says, finishing his sentence. Despite this brief moment of mutual understanding, the assignment Felix is tasked with that Villanelle must guide him through proves to be more complicated than it needs to be.
The reluctant duo dress up as garish clowns to attend some rich kid's birthday party, a cover to get closer to one of the parents Felix is meant to kill. The kill itself is meant to be "clean and clinical," but Felix's approach is anything but. After sending him off to get the job done, Villanelle decides to check in when he takes too long. She finds him on top of the target, beating him bloody in a fight. Not according to plan at all. Villanelle gets the job done herself with a bullet to the head of the target and Felix. "Oh, management sucks." Yes, indeed, Villanelle.
The most intriguing part of Villanelle's storyline this week is her brief interaction with Konstantin. When she comes home to her palatial new Barcelona home, she finds him on her bed. He's his usual charming self, which Villanelle responds to by kneeing him in the balls. "You do not get to come without an invitation anymore," she viciously advises. Konstantin and Villanelle have a tense back and forth about how she's trusting Dasha after previously saying she wanted to kill her, about her desire to become a Keeper. "If I killed everybody who betrayed me there would be nothing left," Villanelle says. Jodie Comer says this almost casually, but there is a weight and truth to this statement. It takes Konstantin telling her Eve is alive and well to throw Villanelle off her game. Konstantin's voice fades away. Gravity shifts. A range of emotions play across Comer's exquisite face until a single tear drips from her eyes and a frantic laugh escapes her lips.
"Management Sucks" feels more like place-setting for more intriguing developments to come than a strong standalone story. But after hearing that laugh, I am very curious for the show to answer the question of what Villanelle will do now that the object of her obsession is far from buried.
On the Dressing Room Floor:
• I cackled when Konstantin said, "Vodka straight. Make it double. Not because I'm Russian, because it works," at Kenny's funeral service.
• Konstantin is a tricksy fellow. That double decker bus magnet proved to be more consequential than it originally seemed. This week he "accidentally" but totally on purpose bumps into Geraldine on the street and they share a moment, so he gives her the magnet. When we see it later on Carolyn's fridge, the feedback coming from it signals it's a way to spy on her. What exactly is Konstantin up to?
• Best Outfit of the Week: When we first see Villanelle in Barcelona this week she's wearing a beautiful cerulean dress with a bright floral pattern that has pointed shoulders and billowing sleeves. Coupled with Comer's vivacious, commanding strut, it's a sight to behold.