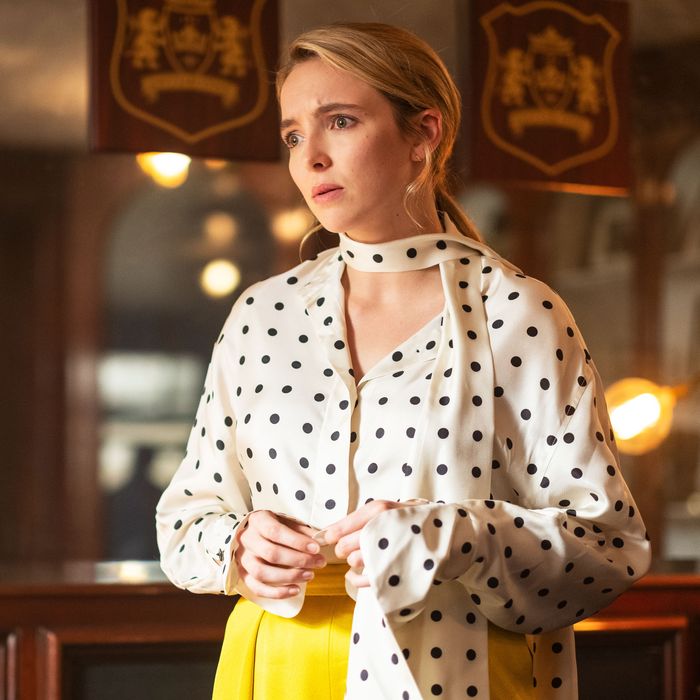 Photo: Ludovic Robert/Sid Gentle Films/BBC America
"Meetings Have Biscuits" is, by far, the strongest episode of the third season so far. It isn't just about the way Villanelle and Eve crash into each other. It's about what powers the physically raw confrontation at the center of the episode: desire. In Killing Eve, desire writes itself on the characters' bodies in brutal ways. Characters return from the land of desire bruised, bloodied — just consider Eve's bullet wound scar we saw in the first episode of the season. Like Konstantin mentioned last week to Eve, bullets leave something behind. What is the story these wounds are forming for Eve?
In many ways, the ragged, passionate dynamic Villanelle and Eve share pushes Eve to exist in her body and face her hidden desires in thrilling ways. But desire can't be fully captured if you refuse to name it, face it. Villanelle, on the other hand, doesn't just know how to put a name to desire — she devours it wholeheartedly. She knows what she wants, whether it be the newfound desire to find her family introduced at the end of the episode, or to simply play with her targets.
The episode opens with Villanelle in Andalusia, Spain, dressed casually as she uses a tuning fork to check on an old piano of an exacting client who doesn't realize her time is numbered by the minute. It's the tuning fork that acts as the murder weapon, with Villanelle throwing it, letting it slice through the air and puncture the back of the pianist's head. Villanelle is startled by the sound of a crying child through a baby monitor. With little forethought, Villanelle kills the nanny with the tuning fork and takes the baby, which we only find out when she's seen dining outside with Dasha and the baby, back from her assignment.
"You've been unfocused and manic for days," Dasha protests. "I'm just having some fun," Villanelle responds. She's obviously shaken by learning Eve is alive. "You should get your act together," Dasha says after putting the baby in a trash can and walking away without an ounce of regret. Villanelle gets the opportunity to prove she's not rattled by Eve when she gets an assignment in London. At first, she's completely against this — Jodie Comer's performance is bounding with nervous energy here — then she says, finally, "I can handle this." In London, Villanelle gets her battle armour ready, breezing into a perfume shop and declaring, "I want to smell powerful. I want to make people gag with it." When the parfumier (Don Gallagher) doesn't understand the importance of this scent she continues, "I want to smell like a Roman centurion who is coming across an old foe, who in battle once hurt him greatly. Since then the Roman centurion has become emperor and is now powerful beyond measure." What intrigues me about this moment is how it illuminates the story Villanelle tells herself about her relationship with Eve, framing it with the potential for violence and further blood.
Meanwhile, Eve channels her grief into solving Kenny's murder and returning to work on untangling the mystery of the Twelve, this time aided by the Bitter Pill editor, Jamie. It doesn't get off to a great start, as Jamie and Carolyn are openly prickly, each not understanding the usefulness of the other. Eve puts it firmly that they'll have to play nice as they divvy up the resources, with Eve and Jamie taking Kenny's thumb drive that Carolyn was able to procure from the police. Back at Bitter Pill, Eve and Bear discover an account nicknamed Panda that Kenny was tracking, who became active again after being dormant since Frank Haleton got killed by Villanelle in the first season. But now someone is siphoning the money into another account. Hitting a dead end of sorts, Eve goes to Mo so that MI6 can look into the bank account, something above the paygrade of Bitter Pill, although Jamie doesn't seem eager to let them take over. When Mo protests another task on his plate, Eve puts it bluntly, "Did you take this job thinking it would be easier? If you did, quit now because it's only getting tougher."
In a London toyshop she deems "psychopathic," Villanelle gets a pink talking bear. She slips into the booth to record her message, especially for Eve. "I should have shot you in the head," she says first. "I should have shot you in the head and watched you die." And finally the truth, "I can't stop thinking of you."
What Eve can't stop thinking about, at least on the surface is Nico. She goes to visit him at the mental health facility only to find out secondhand he was discharged and in a better mood, planning to go to Poland. Eve is distraught learning this. It's a remarkable message from Nico to Eve that he doesn't want her in his life. What else does she need to see that for herself?
On a bus headed to the Bitter Pill offices, Eve nervously messages Nico again and again to no avail. When she looks up, camera trained on Sandra Oh's expressive face, she sees Villanelle. "Hello, Eve," she drawls, the words dripping with desire and curiosity. It's strange to see Villanelle, decked in a loose gray pinstripe suit, in a place as prosaic as the bus. Eve's response is unhinged, punching and slapping and flailing toward Villanelle. Fighting with her up and down the aisle of the bus as people press themselves toward the windows. Villanelle seems strangely delighted by Eve's outburst of emotion as she effortlessly avoids most of the sloppy punches sent her way. "I'm not here for you," Villanelle remarks.
Then things shift. Villanelle takes control, pushing Eve back into a corner, onto the seats. Villanelle hovers on top of Eve. "Smell me, Eve. What do I smell of to you?" Villanelle asks. They're close enough to kiss. So Eve does, leaning forward, shock marking her face as if she's surprised by her own actions. Before either of them can bask in the glow of this electrifying moment, Eve brutally headbutts Villanelle.
Outside, as the bus pulls away, Villanelle may be bruised but she looks ecstatic and enlivened by the encounter. Eve trudges into the Bitter Pill offices like she's just been picked up and dropped off by a hurricane. She's disheveled. Forehead bruised. Nose bloody. "I don't want to talk about it," she exclaims to the curious and worried members of the office. But Jamie presses the issue in his office. We don't get to hear the entirety of Eve's explanation of the assassin who has beguiled her for years now. But I am curious, what is the story Eve tells herself about Villanelle? Is she a besieged victim? A curious would-be lover? A woman undone by desire? When Eve tells the story of Villanelle's place in her life, who has the power?
I'll be honest, I'm not thoroughly engaged with the mystery powering this season beyond how it ties into Kenny's death. I don't really care about shady Geneva bank accounts. But I do find a lot of interest in the ways Carolyn negotiates her way toward information. She gets dressed up and is presumably going on a date, which her grating daughter Geraldine is happy about. At the bar, it seems Carolyn has been stood up until she starts to head out and bumps into an old friend she hasn't seen in twenty years, Henrik (Alex Hanson). "I adore a coincidence," she remarks. In that moment I realized this wasn't a coincidence at all, but completely engineered by Carolyn. What becomes evident as they catch up over Chinese food is that Henrik works for the very Geneva bank that Carolyn needs information about.
Hungover the next day she tells Eve, "It's not fun, Eve. Using people you once loved. It's all rather painful, really." Mo wonders aloud if they can believe that. "No, I think she loves it," Eve counters. Catching up with Henrik, leads them to learn that the owner of the bank account is Charles Kruger (Dominic Mafham), whom Konstantin visited earlier and got saddled with having to find $6 million that's missing from the account. Carolyn and Mo stake out Charles' office. In a hilarious moment, he proves too winded to run away.
Meanwhile, Eve grows worried when she remembers that Villanelle said she wasn't here for her. So, who could she be in London for? Who would the Twelve want dead? Eve's best guess is Carolyn.
She's right to worry. As Carolyn and Mo are able to get to Charles, Villanelle dressed as a cop on a motorcycle follows closely behind. Eve calls Carolyn and Mo frantically to no avail. Tension builds as Villanelle walks toward the car. Eve is able to get through to Carolyn with a text message, warning her. But it's too late. Villanelle is at the window with a gun. A shot crashes through the window, sending glass flying. For a moment it seems Carolyn is dead. But she only has a bloody temple. The real target was Charles, who is dead in the backseat.
As Eve settles back into her small apartment she now calls home, the muffled voice of Villanelle flutters from her under her covers. She finds the stuffed pink bear repeating Villanelle's message again and again, "Admit it, Eve. You wish I was here." Eve roots inside the bear for its mechanical heart, stopping the message before letting it resume. She replays it, holding it to her ear and closing her eyes. No matter what Eve tries to do, desire has a way of finding her.