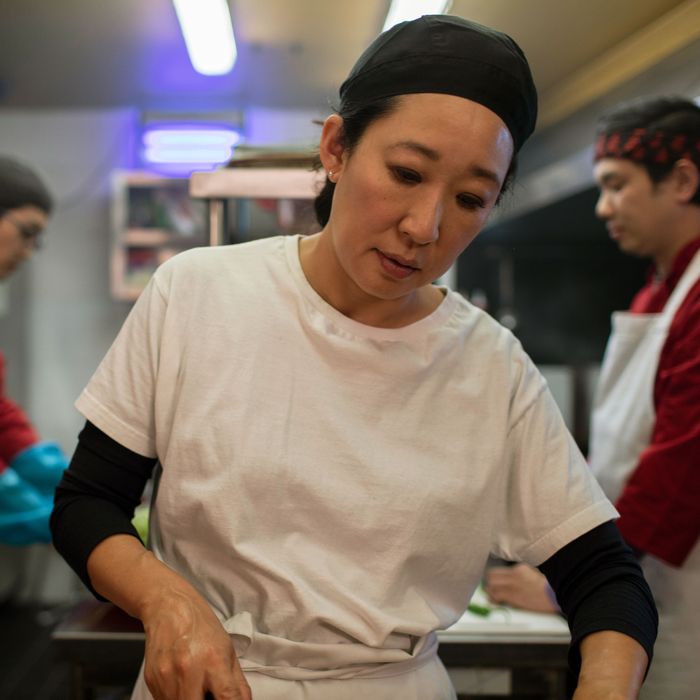 Photo: Laura Radford/BBC America
Lately, I have been thinking of hunger. Not the kind rooted in physical need, but the emotional kind, which is harder to quell. I'm talking about the kind of hunger that leaves you up at 3 a.m. I'm talking about the kind of hunger that causes you break down the previously secure moral walls you've erected for yourself. I'm talking about the kind of hunger that sits alongside loneliness, that leaves you wrecked by tears and supine on the floor. So Killing Eve is perhaps right on time, considering it's a show about the sometimes corrupting hungers of women.
Killing Eve is, arguably, in a precarious position going into season three. Some viewers felt last season echoed the dynamics of the first season too closely, while lacking the precise storytelling and ingenuity of its predecessor. (I was admittedly still taken by the second season, finding its twisting dynamics compelling as a queer retelling of the Bluebeard fairytale.) The season-three premiere, "Slowly Slowly Catchy Monkey," finds our complicated duo in very different places in their lives as they try to move on from the events of the finale, which left Eve bleeding out in Rome from a gunshot from Villanelle's hand.
Villanelle remains driven to the point of childlike excess by her hungers, which have conspired to place her in the middle of a wedding: her own. Clad in all black with a mile-long glare, Villanelle makes an intriguing bride to a bubbly Spanish woman who can't see how quickly everything is about to unravel. "When I first met Maria I thought … great shoes. But then I learned there is so much more to her than that," Villanelle says in her toast to her new wife, only to go on and compliment other aspects of her wealth. But there's a figure that keeps crossing into Villanelle's eyeline, interrupting her "special day": Dasha (Harriet Walter), her former handler and trainer, who we first meet in an episode-opening flashback to 1974 Moscow, involving the young then-gymnast faltering on a routine before killing her love in a particularly feral fashion, then dumping the chalk she powders her hands with along his supine form. When Villanelle fully catches sight of Dasha she follows her first impulse, tackling her to the floor. The wedding party descends into an all-out brawl, which ends with a bloody-nosed, pissed-off Villanelle leaving not with her bride but with Dasha, driving toward the sunset, Just Married scrawled on the vintage car and cans tumbling behind the bumper.
Dasha is here for a reason. She's trying to bring Villanelle back in the fold as the Twelve's prized assassin, with even better riches and travel on the line. But Villanelle wants more for herself. She wants to vault the ranks and become a Keeper, putting her even above Konstantin in the criminal enterprise's hierarchy. "Power is there for the taking," Dasha advises Villanelle. She just needs to be slow and careful in the taking of it. Villanelle of course operates with very little patience, especially when Dasha comes back not with the keys to the kingdom but with a job to kill a political agitator nearby. "They'll promote you. Full benefits," Dasha says, but Villanelle has to prove she's ready.
With a brunette pixie cut peeking out from under a hat, Villanelle pretends to be a delivery woman, quickly swiping the sign on the front door of a small Girona establishment to closed. Villanelle puts on an act for the shopkeeper she plans to kill, cooing about an ailing grandfather with heart problems who overflows with kindness. Her eyes go glassy with tears even though she's facing away from the shopkeeper. I almost believed her. The shopkeeper, unaware of fate creeping ever closer, mentions saffron to aid the grandfather's heart. It's an act of kindness met with Villanelle harshly moving the ladder so the woman tumbles to the floor. But she isn't dead. Villanelle is surprised by the shopkeeper's hands around her throat. She finishes the shopkeeper by pounding a jar against her skull again and again. She then positions her, mouth agape, on the floor, pouring what looks like paprika over the shopkeeper's upper body, an echo of Dasha's original kill from the opening moments of the episode.
I'll be honest, while there is still a thrill to seeing Villanelle work, I find the splintering of Eve and Villanelle's storyline a bit frustrating. The show is at its best when the characters are aware of the other to an obsessive degree, but the most important aspect of watching Villanelle in the premiere is that she believes Eve to be dead. At her failed wedding ceremony she mentions the devastating breakup: "When I think about my ex today I realize I'm so much happier now she's dead."
But despite Villanelle's comfort in Eve's death, Eve is very much alive, although upon closer examination it's not much of a life. Her small, circumscribed life has fallen into a routine that she moves through with a numb disposition: working in the kitchen of a Korean restaurant, chopping meats and daintily assembling dumplings; going to the grocery store to stock up on ramen, junk food, and loads of wine, all the while wincing at the remnants of pain from her bullet wound; returning to her cramped apartment to drink wine and watch TV and ignore the gravity of her wounds. Sandra Oh brings grace to the raw-nerved loneliness that Eve carries just beneath the surface of her numbness. Watching her move through this narrow existence, a sorrowful scowl etched on her face, I couldn't help but think of the provocative opening of The Lonely City by Olivia Laing, "You can be lonely anywhere, but there is a particular flavor to the loneliness that comes from living in a city, surrounded by millions of people." What we're witnessing in Eve is not just loneliness, but her dampening the hunger that led her to Villanelle in the first place.
It's understandable why she's doing this. Her hunger had repercussions. It got people killed. It effectively ground down her marriage, which Niko isn't afraid to tell her. When she goes to visit him at what seems like a mental health facility, he's gruff and cold in the face of her gentleness as she advises him to sign the papers regarding their former home. At one point he even becomes cruel, saying, "If we're both being honest, I deserve more than that. And more than you." Look, I get that Niko has never done anything wrong beyond causing a wrinkle in the love affair we're all more interested in, but I find his character grating at this point. Eve is beaten down enough by herself and her circumstances. Niko's treatment comes across as cruel not just on an interpersonal level, but in how the writers are framing Eve in the first place. Can she catch a break? Or will joy remain out of reach for her?
No one can move through life completely alone. So Eve is lucky that the ever kind-hearted Kenny responded to her odd text by tracking her down and entering her apartment unannounced. Okay, maybe that's kind of creepy. After he scares Eve from her slumber — okay, definitely creepy — they have a conversation over drinks, which she wants to keep as surface-level as possible, saying "I prefer things …" "… Buried," Kenny responds in understanding. We're able to glean a bit of information, though, from this conversation. Eve survived because tourists happened upon her in Rome. Kenny, who now works as a writer for the publication the Bitter Pill, is still looking into the Twelve and has noticed activity on a suspicious account. But Eve doesn't want to hear anything about MI6 shutting down the investigation, or the account's activity. She's done with Villanelle. She's done with all of it. "End of story."
But no matter Eve's efforts, the darkness she's trying to avoid finds a way to worm itself back into her life in a particularly heartbreaking fashion. Eve decides to take Kenny up on his offer to hang out with some of his coworkers, despite her tenderly revealing rhetorical question to him, "Who says I want to be happy?" Kenny, alone in the office, hears faint rumblings and strange noises just at the edge of his hearing. "Hello?" he asks in the seemingly empty rooms. When Eve goes to the Bitter Pill offices, she can't find Kenny. Calling his phone she finds it on a desk, unattended. "Where are you?" she asks in the same moment his body drops behind her, catapulting toward the ground. Eve rushes to get downstairs, where she finds Kenny dead on the asphalt. When Eve looks upward, she doesn't see anyone. But there's an immediate sense by the set of her jaw, the look in her eyes that she knows exactly what is staring back at her.
Kenny was such a ray of light in a show where pretty much everyone crossed lines in order to have their hungers met. He was kind, empathetic, and firm in his moral compass. It will be intriguing to see how the show handles this void going forward.
On The Dressing Room Floor:
• Konstantin seems to be stuck in London, supposedly picking up a double decker bus magnet for his daughter while ignoring her enraged voicemails.
• Carolyn is in quite a pickle with her work, now having an overseer in the immediately annoying Paul (Steve Pemberton). There is a particularly prickly exchange between them I found kind of hilarious, in which Paul says, "If anyone knows how to get through this it's Carolyn," noting a heinous divorce that occurred over the holidays. "She's done it enough times." Carolyn, annoyed but refusing to be baited, simply replies, "Divorces are easy. It's marriages that are impossibly hard."
• Best outfit of the week: Villanelle's black wedding suit, definitely eye-catching but simple.