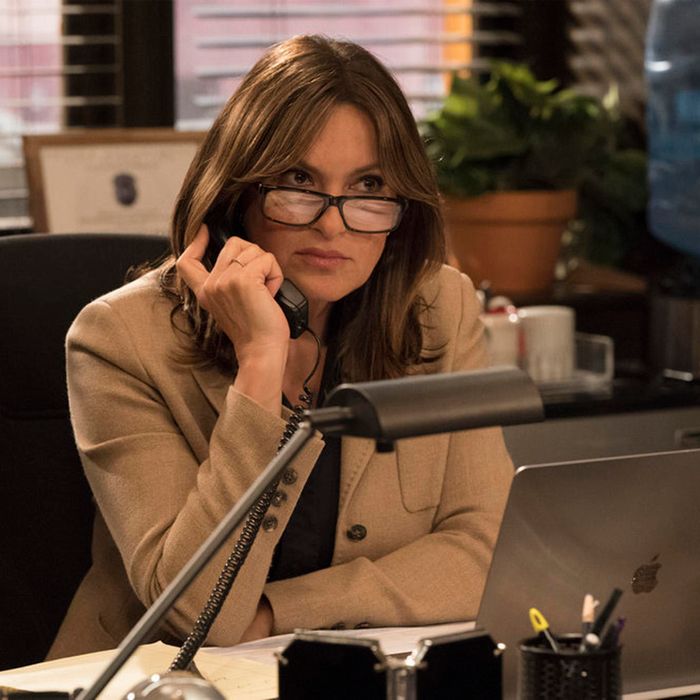 How would TV's most beloved characters navigate social distancing? We asked dozens of showrunners and writers to answer that question. Below, Law & Order: SVU showrunner Warren Leight and executive producer Julie Martin imagine how Olivia Benson and her team would handle self-isolation.
ANNOUNCER (voice-over)
The dedicated detectives of the Special Victims Unit are home, pursuant to a self-isolate order. This is their Zoom session.
FADE IN: BENSON, FIN, ROLLINS, CARISI, and KAT, all seen as talking heads in five small laptop-cam boxes.
BENSON
So, everyone still feeling okay?
CARISI
Fine. [Sneezes.] It's nothing. I got allergies.
ROLLINS
And my hands are raw from washing them 20 times a day.
BENSON
I hear that. Fin?
FIN (who has been watching a different TV screen)
Sorry. I've just been sitting on my couch, gaming. I don't get what all the fuss is about; it's just a regular weekend for me.
KAT
It's been eight days, Fin.
FIN
If you say so.
ROLLINS
I'm holed up with a 5-year-old, a 1-year-old, and my dog in an 800-square-foot apartment. Can't I come in and look at some cold cases?
BENSON
Stay where you are. At least you don't have to distance learn.
ROLLINS
How'd that work out for you?
BENSON
Well, Noah and I were supposed to study Mayan civilization, but we ended up watching TikTok videos.
CARISI (yelling to door)
Just a second, Ma.
FIN
Carisi, you're at your mother's?
CARISI
My old room in Staten Island, like I never left. My sisters are here, my nieces, nephews, cousins. We're supposed to be social distancing, and my mother's making lasagna for 20. I'm basically barricaded in my room.
KAT
Everybody getting their exercise in?
KAT (off the silence)
Guys, I sent you all my workout videos. We can do a half-hour together, twice a day. That, delivering meals to the elderly, and the Duolingo Portuguese lessons are the only things keeping me sane. Who's up for a session tomorrow?
FIN
Give me a couple more days on that.
A cell phone rings. Benson looks at her phone.
BENSON
Oh my God.
ROLLINS
Liv, everything okay?
BENSON
Ah, yeah, it's just, this phone call … I need to take it.
FIN
The chief, One PP?
BENSON
No. It's … Elliot. You guys can stay on. Stay well.
She clicks off.
KAT
Who's Elliot?
A beat of silence. Carisi looks to Rollins, who looks to Fin.
FIN
It's a long story, Kat.
Kat nods. Off our guys, wondering when they'll get to work together again …
FADE OUT.