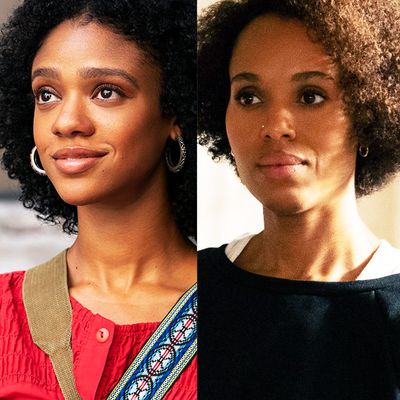 In this week's episode "The Uncanny," AnnaSophia Robb plays a younger version of Reese Witherspoon's Elena, while Tiffany Boone steps into Kerry Washington's role as Mia.
Photo: Courtesy of Hulu
To prepare for their Little Fires Everywhere auditions, actors AnnaSophia Robb and Tiffany Boone didn't have much to go on. During separate video chats, casting director David Rubin showed them a couple of scenes each so they could get a sense of how Reese Witherspoon and Kerry Washington were playing perfectionist Elena Richardson and bohemian artist Mia Warren. From that brief peek into the Hulu limited series based on Celeste Ng's best-selling novel, Robb (The Act, The Carrie Diaries) knew she had to get Witherspoon's voice down. For Boone (Hunters, The Chi), it was Washington's facial expressions and movements.
What they didn't know was that they were both on a short list of actors producers were interested in to play Elena and Mia in their early 20s for an entire flashback episode. "We had a pretty curated list," showrunner Liz Tigelaar says. "AnnaSophia was cast first and then it was about finding Mia. That took a little longer but when we saw Tiffany's tape, that was it. They both exceeded our expectations in the way they stepped into these roles. They had their own ideas and each brought so much to it. In an episode where you might miss Reese and Kerry, we felt like they were two leads in their own right. They really took the baton of telling the story of who these women were and helping us bridge who they've become."
The episode titled "The Uncanny," which dropped today, follows Elena and Mia in the early '80s: Elena is in Shaker Heights, excited to be returning to her job at a local newspaper after her maternity leave for her third child; Mia is leaving her parents' home in Pennsylvania to attend arts school in New York City. While the writers tracked Mia's backstory directly from the novel, Elena's storyline was created for the TV adaptation, with Ng's help.
"Elena's backstory isn't really given the same weight in the book, so we took it from little kernels that Celeste planted here and there," Tigelaar says. "It became so important to understand who she was, what she sacrificed, and that there really was a part of her that was snuffed out. With both of these women, we are seeing the moment where they became the versions of them that we meet in 1997."
Both Robb and Boone spent time on set shadowing their counterparts, who also serve as executive producers, to study their approaches to playing starkly different women. Robb already had listened to Witherspoon's Whiskey in a Teacup audiobook to practice the cadences of her voice, but observing Witherspoon play Elena and talking to her about the character helped her fill in some critical blanks. "I've never been more uptight on a show," Robb says with a laugh. "Tiffany and I were both playing our heroes and I didn't want to screw it up. It's a weird thing, because it's not an impersonation but you do want to have the essence. But it's also a younger version of Elena, so she's not as wound up."
In the episode, Elena is disappointed to learn she is pregnant for the fourth time but does not get the support she needs from her husband or mother to consider terminating the pregnancy. She ends up having her daughter Izzy and resenting it, and emotionally unraveling as she struggles to take care of four young children with hardly any support from her husband.
"Elena's not the most likable person, but a lot of the story is about motherhood and wanting to be in control and what happens when you don't feel like the decision is yours," Robb says. "I guess I can afford to have another child but what if I don't want to? I feel so bad for Izzy because she's so misunderstood by her family and her mother. Izzy represents that spark, that passion that Elena has pushed down. The audience gets to understand why, and I think Elena hates herself for that."
Witherspoon helped Robb, who is not a mother, understand what it's like to birth and raise children in preparation for a harrowing scene in which Elena loses control of her children and leaves Bill stranded with them for a night. "That day felt like the longest of my life," Robb says. "We had nine babies on set because, depending on their age range, babies are only allowed to work, like, 20 minutes. I'm holding the baby, trying to nurse the baby, and this poor beautiful little girl was just screaming her head off. You're not my mom! She just kept looking at me and it made me so upset. We started with that and continued throughout the day. It was a steep learning curve for me working with them. They were so freaking cute, but it also made it feel very raw, which was great for the scene."
A longtime fan of Washington's work, Boone says she used to watch her 2001 indie film Lift over and over again when she was dreaming of acting. To embody Washington's version of Mia, Boone observed her idol on set, taking notes of her gestures and physicality so that she could go home at night and rehearse the script with her notes.  "Sometimes when you watch films or TV and there's a younger version of a character, the younger one doesn't have to act the same at all as the adult," Boone says. "But once I was on set, I realized that what the producers wanted was for us to fully embody the characters that Reese and Kerry had created, from the voice to the movements, and that's when I realized it was a little bit more challenging than I initially thought."
From the beginning, Boone says Washington made her feel like they were creating Mia together. "Kerry does have very particular movements, but she does change from character to character," she says. "She's created a lot of things for Mia that are not Olivia Pope, so I'd take notes of her hand movements, her mouth, all of those things. By the end, it came to a point that even though I had started from the outside working on her physical movements to get into character, I started to feel like I understood her process and her choices and I wasn't making acting choices for myself anymore. I was just inside Kerry's brain in a weird way."
In the episode, directed by Nzingha Stewart, Mia falls in love with one of her professors and begins a romantic relationship with her while she is carrying a baby for a couple that has paid her to be their surrogate. When Mia's brother dies suddenly and she returns home for the funeral, her parents refuse to let her attend the service to hide the pregnancy from their friends and family. That drives Mia to want to keep the baby and begin her life on the road with her daughter.
"Mia's in this new world and it's fun and it's exciting and she's this wide-eyed young girl experiencing all these amazing things for the first time," says Boone, who underwent 30 costume and hair changes throughout the episode. "At that point, she kind of wears her heart on her sleeve and she takes chances. But there's such deep, emotional work also because she goes through so much in that episode. I love to see a character transform and go from wide-eyed girl to hardened woman who has to do what she has to do."
Robb and Boone both say they were inspired by how Witherspoon's and Washington's female-forward production companies ran the series and are helping to change Hollywood workplaces for women. "This was one of my favorite filming experiences ever," says Robb, who will next appear in the Quibi series The Expecting. "I can't quite explain how exciting it was to be around all of the women on set and how well they worked together and communicated. It never felt about power. It was about doing this thing we were trying to achieve and supporting one another."
Although Boone has worked on other sets where women were in the majority, Little Fires Everywhere had a different energy, she says. "Every single producer was so connected to the work and so supportive," says Boone, who will appear in the Netflix film Midnight Sky later this year. "I don't believe in filling quotas because it doesn't mean anything if the women aren't working and acting with integrity, if they're not creating an atmosphere where everyone feels welcome. All of the women who worked on this show were 100 percent that, and it really inspired me to get into production because of that."