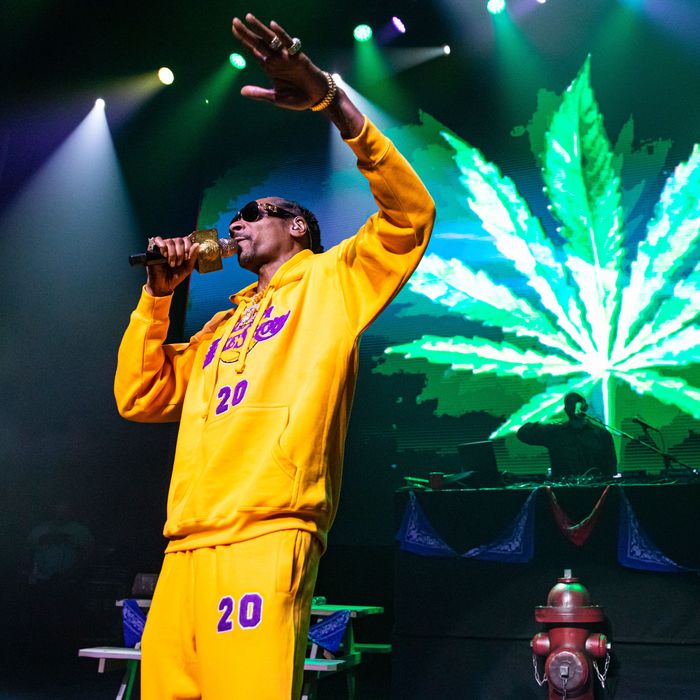 Snoop Dogg will stream a DJ set to celebrate Dr. Dre's
The Chronic
hitting streaming services.
Photo: Scott Legato/Getty Images
A 4/20 during the month of 4/2020 should've been a 4/20 to be remembered. Now that we're all stuck inside, it's going to be … different. The concerts and events might be canceled, but luckily, you can still get stoned in the comfort of your own home. Even more luckily, your favorite musicians have planned some treats to keep the day from totally burning out, from livestreams to music releases. Here are the best celebrations of the day. (And if you were just planning to get high and listen to Fiona Apple instead, we won't blame you.)
The Chronic, Dr. Dre
Nearly three decades after its initial release, Dr. Dre's culture-changing first solo album hits streaming today — just in time for some festivities. A document of the '90s G-funk sound, The Chronic was added to the Library of Congress' National Recording Registry in March. Named after a high-end strain of kush, with songs like "Nuthin' but a 'G' Thang" and "Deeez Nuuuts," and featuring Snoop Dogg on 13 of its 16 tracks, it's also the perfect stoner album.
Snoop Dogg's Smoke-In
To commemorate The Chronic becoming available to stream, Snoop Dogg is hosting a DJ set and smoke-in with media company Merry Jane on Instagram. Take a small piece of that funky stuff and tune in at 4:20 p.m. PT (7:20 p.m. ET) to enjoy DJ Snoopadelic's offerings.
Come and Toke It
If you get high in search of a rainbow connection, there's something here for you, too. Willie Nelson is also coming through today with "Come and Toke It," an event put on by his Luck Reunion anti-festival. Featuring musicians like Kacey Musgraves, Billy Ray Cyrus, Angel Olsen, and Ziggy Marley, along with other guests such as Matthew McConaughey, Jeff Bridges, and Beto O'Rourke, the festival happens on Twitch at 4:20 p.m. CT (5:20 p.m. ET) and takes place over four hours and 20 minutes. You can toke for a good cause, too, with the event raising money for the Last Prisoner Project, a cannabis justice group.
The Saga of Wiz Khalifa, Wiz Khalifa
Pair The Chronic with a new outing by one of the rappers carrying the mantle for Dre and Snoop. Wiz Khalifa's EP The Saga of Wiz Khalifa is his second release of 2020 (and not his first 4/20 release either) and features Megan Thee Stallion, Ty Dolla $ign, Tyga, Quavo, Logic, and others. And don't forget the holiday's true hero: Wiz's mom, for keeping up with him on the "10 Puff Challenge."
Killer Mike's Marijuana Nights
Killer Mike's birthday alone would be a reason to roll a joint. The Run the Jewels rapper and cannabis advocate turns 45 this year, and there's no more stoned way to celebrate than with a Talladega Nights–themed livestream. Shake and bake with Mike and his friends on Instagram at 9:30 p.m. (no time zone specified).
Higher Together: Sessions From Home
Wiz Khalifa, Erykah Badu, Billy Ray Cyrus, Stephen Marley, and others will celebrate with a livestream on Weedmaps, the dispensary directory. The event begins at noon PT, so viewers in all four continental time zones can commemorate when the clock strikes 4:20 p.m.
Cypress Hill's Smoke Out
Stoner rap group Cypress Hill is putting on an international cannabis celebration, in place of what would've been the middle of their Wanna Get High tour. The members will broadcast a performance from their homes in Los Angeles, Las Vegas, San Antonio, and Amsterdam, fittingly enough, on LiveXLive. Whoever scheduled it may have been a little insane in the brain, since the event happens at 4:10 p.m. PT (7:10 p.m. ET).