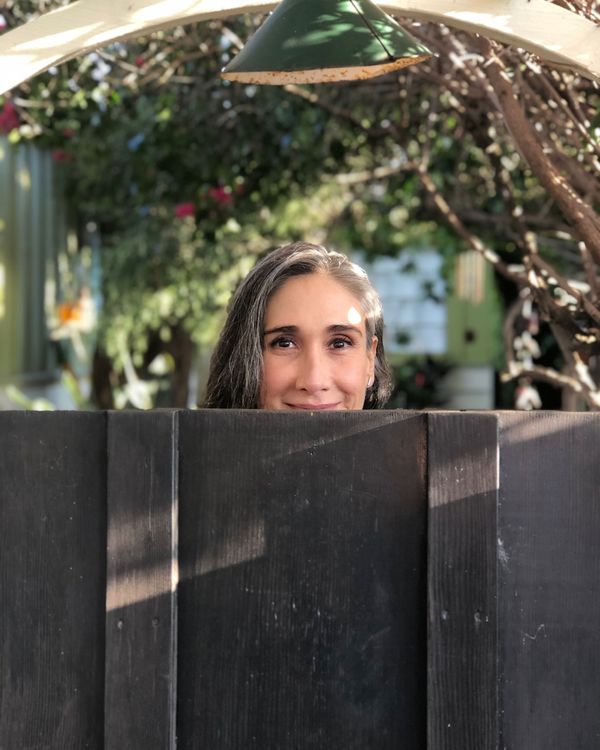 Tigers Are Not Afraid
director Issa López lived through swine-flu isolation in Mexico City. A decade later, she's spending her quarantine wisely.
Photo: Alex Neiman
I moved to L.A. for the first time in 2009 and spent some years here, then went back to Mexico. For half of 2017 and 2018, I was traveling around the world for Tigers Are Not Afraid, then I spent six months in London to shoot a TV series. Then it was back to L.A. At this point, for me, home is wherever I set the computer and start writing, or where I direct something. That doesn't mean that I'm not worried about my sister and my friends from my life in Mexico, but the truth of the matter is, even if I was there, there's not much you can do. It would be a very similar situation, just in an apartment in Mexico versus an apartment in Los Angeles. I would be calling them and messaging them just as I'm doing right now.
Unlike most Americans, I've had this experience before, because I was in Mexico City during the swine flu. It's very weird, because now me and all my Mexican friends — Mexicans call Mexico City dwellers chilangos — so all the chilangos, we call each other and we go, "Hey, do you remember 2009?" Yeah, I do. It was very strict. Coming from the experience, I was talking to my friends in L.A. and saying, "Well, when they lock us down" — just because I know it's happening — and everybody was saying, "No, that's not going to happen." It took a while for the U.S. to respond, and, I have to say, I'm both Mexican and American and I'm very proud of how the state of California has been responding.
I'm one of the few fortunate ones. In spirit, this is tremendously affecting, but in my day-to-day life, I was not seeing a lot of people because I was being very disciplined about writing. All of my friends were complaining, but I really wanted to get some scripts out of the way. Now I really can. I have a little bungalow in Venice, and it has a very funky backyard, which makes all the difference in the world — that you can simply grab the computer and go in the sun. My outing of the day would be to the gym, which is the one thing that I don't have anymore. So, I'm one of the masses in L.A. that is now jumping in front of her TV.
I have been thinking of the abysmal inequality that the pandemic has illuminated. Isolation implies a place of our own, a roof. Washing hands means access to water. Access to food implies there's means to acquire it. Workers in Mexico, India, Iran, London, and in L.A. brave the contagion to subsist. Access to tests and medical attention — these are all privileges that will deepen the divide among us or illuminate us on ways to close it. There have to be ways to avoid contagion that doesn't kill us. Maybe we will learn from this, and will develop strategies to defend ourselves from the rabid capitalism consuming our souls and our world.
You know, what I'm finding is I wake up and I immediately get this little wave of despair, because the most childish part of my brain hopes that it just magically went away. And it didn't. The other thing is I decided to stop with social media maybe a month before this madness, for completely unrelated reasons. I read like five different papers: the New York Times, the L.A. Times, La Jornada in Mexico, The Guardian, and BBC News. I give it a quick look, and I limit it to once a day, and what I do is I read it early. I panic. I exercise to let out the panic, and in between breakfast and panic is where I talk to the friends in Mexico, my sister in Mexico — all of that. Then, after exhausting myself, I sit down to write for the rest of the day, and in the evenings is when I watch stuff and read stuff.
I delivered last week the second draft for a Guillermo del Toro–produced movie, which is a Western. Now I'm doing the second draft of the script that I'm writing for Noah Hawley as a producer. It's about the end of the world, so it's not exactly what you need in your mind some of the evenings, but on the other hand, I believe this script is going to feel so real. For that I'm watching Rosemary's Baby, stuff like that. I'm about to turn that in, and I'm going to a new project that I just closed for. It hasn't been announced, but it's going to be so exciting, and it's about real stories. So I'm gearing up for that, and I'm watching movies like Mother Joan of the Angels and The Devils, by Ken Russell. My home movie experience is going from High Noon to Rosemary's Baby to The Craft, so it's a little bit of everything.
I'm watching the series Devs, and it's so stylish and philosophical and existential in that Alex Garland kind of way. I am getting ready to watch Kingdom, the second season. I've been resisting it because it's kind of a pandemic, but I'm sure it's going to leave some hope for the good guys. Back in 2009, in Mexico City, what on God's earth did we do for two weeks? I honestly can't believe we survived it without streaming.
Because I stay away from social media, what also is happening is I'm reading again. One of my favorite books when I was growing up was La Peste, by Camus. I loved it way more than The Stranger and had a crush on Dr. Rieux. I've decided to reread it. In the end, it's an essay on what we learn about ourselves when the time for our fellow humans comes knocking, and what divides a good man or woman from someone of no consequence. I'm now obsessed with this Argentine writer Mariana Enríquez. I started with an incredible volume of short stories called Things We Lost in the Fire, and I'm reading now her new novel that is still not out in English, but it's in the process of being translated. It's called Our Share of Night, and it's downright amazing. It's a phenomenon in the Spanish-speaking world. I finished reading Growing Things, by Paul Tremblay. He's really good and scary. I caught up with comic books, too, which I haven't been doing in a while. I just buy what I know is cool, and I put them somewhere, and I don't read them. So I finally went back and read some of them, and My Favorite Thing Is Monsters, by Emil Ferris, is incredible.
This is not the end of the world. It's just scary, because it's not impossible that it will hit close to us or directly on us. It's hard because it's affecting our economies, our future, our plans, all of that, but I believe that this is a chance to reset a bunch of the stuff we've been doing wrong, to understand how global we are, how what happens anywhere in the world affects us all, that borders are imaginary, that we have to listen to experts and scientists and not to politicians, that science matters. I think that is a very powerful takeaway from all this.