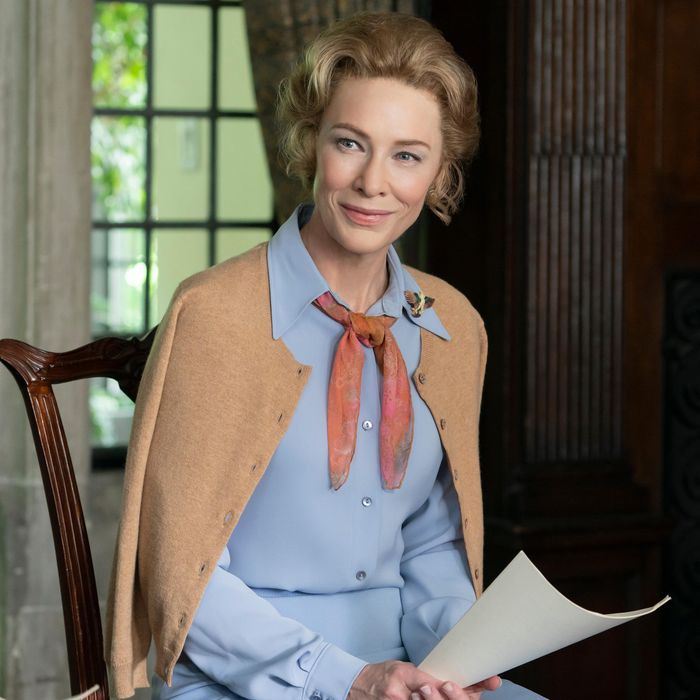 Cate Blanchett as Phyllis Schlafly.
Photo: Courtesy of Hulu/Copyright 2020, FX Networks. All Rights Reserved.
Some viewers may approach Mrs. America with some trepidation for one central reason: the fear of potentially liking Phyllis Schlafly, the show's central figure, who is based on the actual conservative author, activist, and vocal opponent of the Equal Rights Amendment. That fear is somewhat justified since Schlafly, who died in 2016, is played by Cate Blanchett, an excellent, celebrated actress known for bringing layers and shades to strong female characters. Blanchett has been Galadriel in the Lord of the Rings movies. She's been Katharine Hepburn in The Aviator. She's been Carol, for God's sake. Blanchett is so good she might make us feel sympathy for someone who once said, and I quote, "sexual harassment on the job is not a problem for virtuous women."
Thankfully, Blanchett and the makers of this FX on Hulu series, including creator and showrunner Dahvi Waller, who previously wrote for Mad Men and Halt and Catch Fire, haven't elevated Schlafly into an anti-heroine whom the audience feels for despite her obvious flaws. Instead, Schlafly comes across as a complex, ambitious figure with a limited worldview and no awareness of that worldview's limits, nor curiosity about widening it further. To put it more bluntly: She's the worst kind of white woman.
In the first episode, Blanchett projects, above all else, how slippery and canny Schlafly is. She does that most effectively in a key scene that takes place on Capitol Hill. Handsy Illinois congressman Phil Crane (James Marsden) — "Are you ladies decent?" he asks at one point while stepping into a beauty-pageant dressing room, and who did that remind you of? — invites Phyllis to D.C. to meet with Senator Barry Goldwater and some of his congressional colleagues. She thinks she's there to offer opinions on SALT and arms control, and perhaps to win some support as she prepares for another congressional run. But the first thing Goldwater wants to know is whether Phyllis supports the Equal Rights Amendment, which will guarantee equal protection, regardless of gender, under the Constitution. Phyllis, who didn't care at all about the ERA until her friend Alice (Sarah Paulson) mentioned her distaste for it, says she thinks it's unnecessary.
"I've never been discriminated against," she tells Goldwater confidently, as though she speaks for her entire gender. "I think some women like to blame sexism for their failures instead of admitting they didn't try hard enough." A couple of short minutes later, after Phyllis has clearly established that she knows more about nuclear-arms agreements than any of the men present, she is asked to take notes. She's the only woman in the room; therefore, she has to be the secretary.
[Cups hands around mouth]: HEY, PHYLLIS. ARE YOU SURE YOU HAVE NEVER BEEN DISCRIMINATED AGAINST? BECAUSE IT IS HAPPENING RIGHT NOW.
Phyllis agrees to take minutes and leaves the room to ask the assistant for a pad and pen. "Here you go, Ms. Schlafly," says the aide, producing the requested items, as the sounds of women's libbers protesting can be heard faintly outside. "It's Mrs. Schlafly," says Phyllis, all haughty and hell-bent on asserting her status before this young thing. "I'm married."
"I'm so sorry, Mrs. Schlafly," the aide replies. Is she apologizing for her error, apologizing for offending her, or saying she takes pity on Phyllis for being tethered to a man? The line delivery can be interpreted in all of these different ways, and it's what sparks Phyllis to reenter the room, steer the conversation back to the ERA, and start speaking in strident tones against it. In real life, Schlafly's mental political calculus probably didn't happen in such a flash. But it makes for a great scene that illustrates something crucial about Phyllis: She realizes talking about women's issues may be the only way to be heard in a male-run world, yet at the same time, she cannot see why an equal-rights amendment is needed, even though the conclusion she just reached explains exactly why. It's maddening, but also fascinating.
There are other moments in this episode that show how easily Phyllis can do a heel turn. After her husband, Fred (John Slattery), who has no qualms about coercing Phyllis into having sex, makes it clear that he really doesn't want her to run for office again — "It's different for a man to leave his wife at home to go to Washington than it is for a woman to leave her whole family," he explains — she announces during a dinner with politically connected friends that she has decided not to run. But then she adds that her mother will be moving in with them, which is news to Fred. The look Blanchett darts toward Slattery, all the way down that dining-room table, is the equivalent of a marital sniper shot. "You think you're in charge here," it says. "You're not."
That "gotcha" moment makes you admire Phyllis a little. So does the care and consideration she shows to her still single sister-in-law, Eleanor (Jeanne Tripplehorn), when she breaks down crying about having never married or having children of her own. Phyllis reassures her that her life is full, even without those things — which, again, that's exactly what the women's libbers are saying! — and insists that Eleanor should come to the mother-daughter luncheon she's hosting because Phyllis's kids want her to be there.
But then: heel turn. At the luncheon, Phyllis launches into a diatribe about the evils of the ERA movement and criticizes one of its leaders, Gloria Steinem, for being a single childless woman nearing 40 who is "the sort of miserable, pathetic woman" that feminists aspire to be. The look on Eleanor's face at the sound of "miserable" and "pathetic" in this context is the look of a woman who's been offered a scone, then been punched in the face. Either Phyllis doesn't care that she's hurting Eleanor's feelings after insisting that she come to this event, or she's so self-involved that she doesn't realize how much her words will sting.
I'm inclined to go with self-involved, given some of the other lines in her speech, like the idea that working outside the home is "a woman's choice," as if some of them don't desperately need the income, or that the feminist movement is being spearheaded by "Northeastern elitist liberals," as if she's not elitist herself. (Hi, Phyllis. You're holding a tea in your expansive home and using a full waitstaff to do it.)
So much of what's in that speech can still be heard in the language of the gender and culture wars that rage on today. The worst part is that some of what Phyllis says has actually turned out to be true. "Women are going to find themselves with two full-time jobs," she warns, "and they're going to be exhausted and unhappy and feel like they're not doing either well." Phyllis is wrong about a lot, but her conclusion that women will be granted more freedom within a societal framework that won't change to accommodate it is spot-on. Moments in Mrs. America like that one make you pause and realize that this series isn't going to go easy on Phyllis Schlafly, but it's also not going to be a purely black-and-white exercise either. It's going to make us think. And that's a good thing.
"Fuck Yeah, Feminism" Moment of the Episode: The last scene in which the roster of amazing actresses filling the roles of feminist icons — Rose Byrne as Steinem, Uzo Aduba as Shirley Chisholm, Tracey Ullman as Betty Friedan, Margo Martindale as Bella Abzug, Elizabeth Banks as Jill Ruckelshaus — come together in a single room to celebrate the Senate's overwhelming approval of the ERA. We know their joy will be short-lived. But it's still fun to see the joy.
Don't have Hulu yet? You can sign up here. (If you subscribe to a service through our links, Vulture may earn an affiliate commission.)