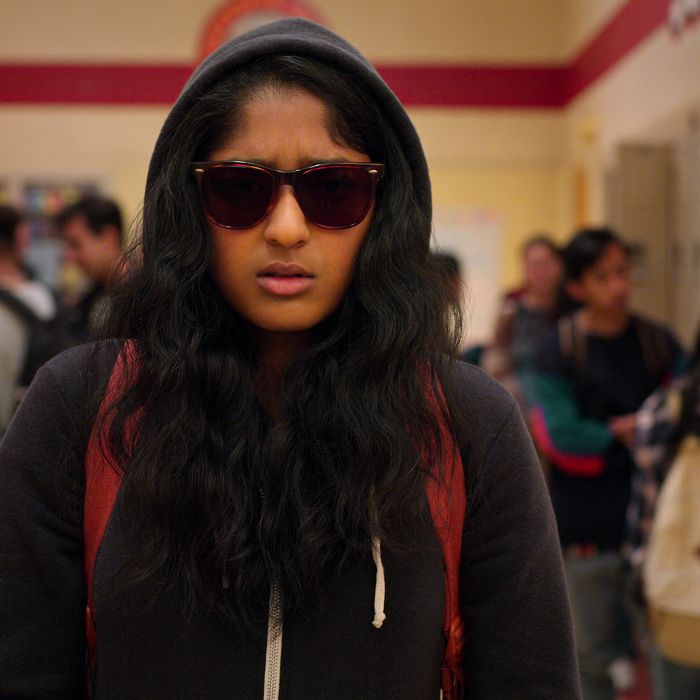 Photo: COURTESY OF NETFLIX
Sometimes for the sake of the joke, or heightening things for humorous effect, the emotional honesty isn't always consistent or convincing on sitcoms. Never Have I Ever mostly avoids that, though. Its characters have very grounded reactions to things, as seen pretty starkly in the scene where Fab finally comes out to her mother. While there have been jokes along the way, when it's all said and done, the scene plays out with a heavy dose of realism and seriousness. Fab's coming out is neither perfectly smooth nor tragic. Her mother Elise's face betrays her; she's shocked. But she isn't disappointed. As the scene progresses, she pieces together that Fab has been trying to tell her for a while.
The scene follows a moment in which Fab is almost outed against her will. Eleanor's mom, Joyce, comes back into the picture when Devi decides to try to get on her friends' good sides again. They're rightfully mad at her for yelling at them, especially since she never even gave them the chance to tell her about the difficult things they each went through while she was away for Model U.N. Since Fab bonded with Jonah over struggling to come out, they've started hanging out with him, and Devi is immediately and selfishly jealous. She feels like she's being replaced, so she throws together a last-minute girls' night, complete with kombucha pong and letting Eleanor sing all of Chicago.
But instead of choosing to come clean to her friends, Devi continues to lie to them. Never Have I Ever deepens the conflict here, leaning into Devi's flaws. Overachievers can be oversteppers. Devi is desperate to ace friendship, and John McEnroe's narration puts a fine point on the problem with her approach: She is so proud of herself for helping a friend … by deliberately going behind that friend's back to insert herself into family drama.
Devi goes to Joyce and pleads with her to talk to Eleanor. But Joyce, not really having much self-awareness about her actions and how they impact her daughter, shows up to school in the middle of the day, emotionally bombarding Eleanor. Devi cares more about appearing like a good friend than she does about her friends' actual emotional states. Her actions cause Eleanor pain, and they almost lead to Fab being outed, since Joyce runs her mouth at the bake sale in front of the other moms. Nalini and Elise bristling at Joyce's return is a great story moment, too, reiterating just how damaging Joyce and her actions can be. Eleanor wants to see the good in her mom, but the other mothers are skeptical, recalling a time when Joyce abandoned the girls at a carnival when they were very young because she got a last-minute audition. When she's baking with the girls, Joyce has the façade of a "cool mom" whom they can gossip and have fun with, but Eleanor doesn't need another friend; she needs a reliable parent. And on that front, Joyce falls extremely short. Her attempts at doing better are extremely short lived.
Joyce first creates chaos at the bake sale, not only nearly outing Fab but also revealing that Devi "dated" and "had sex with" Paxton. Because of Nalini's strict rules about relationships and sex (Devi is not allowed to date until she's "old enough to rent a car"), Devi freaks out trying to cover her tracks and is forced to come forward about her lie. It gets her out of trouble with her mom but back in a bad place with Fab and Eleanor. The friendship dynamics on this show are very strong, especially in terms of conflict.
In this episode, Never Have I Ever also eschews a neat happy ending in favor of something more grounded and real. Eleanor's mom comes to see her rehearse in The Glass Menagerie, and while it initially looks like she might be connecting to the material in the same way Eleanor did so powerfully when auditioning, it's something else that's stirring in her. Joyce leaves again, choosing Broadway over Eleanor, and all she leaves behind is a note. To make matters worse, Devi is finally faced with the opportunity to show up and be a good friend when Fab asks her to come help soothe Eleanor, who quits the play after her mom leaves, but instead she chooses Paxton. The episode ends abruptly on that pointed choice, which will no doubt have consequences.
Between Fab's coming-out scene and Joyce's arc, the episode has a lot of emotions at play, switching between its bouncy, light tone and something more serious. Fab's conversation with her mother has complicated layers to it, and none of the conflict in the episode gets wrapped up neatly. After all, friendship and family, both at the heart of this series, are messy.