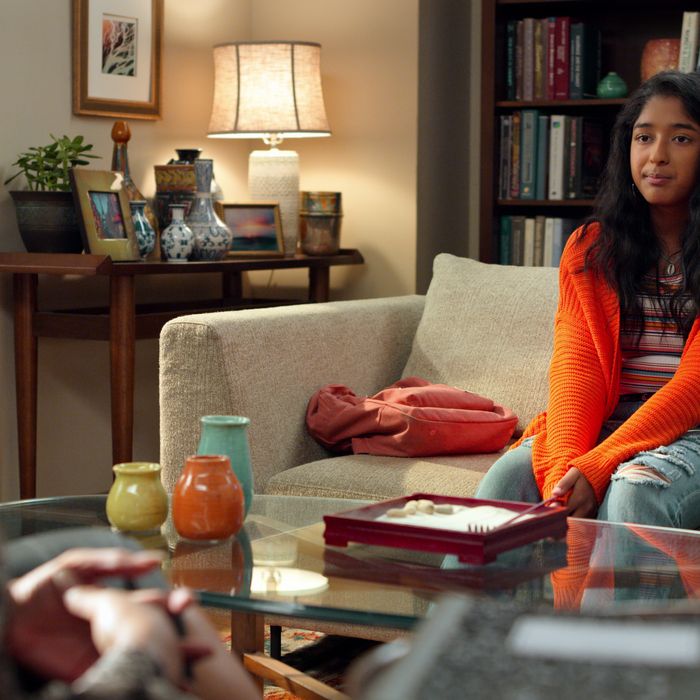 One of the most immediately endearing things about Devi Vishwakumar is that she gets angry. Really angry. Devi, played by Maitreyi Ramakrishnan, is the teen protagonist of Mindy Kaling's new Netflix series Never Have I Ever, a sweet and often surprising rom-com that establishes its voice right away.
On the subject of voice, perhaps the strangest choice of all for this series is to have it be narrated by tennis star John McEnroe. "It'll make sense later, I promise," McEnroe teases at the top of the episode, and Never Have I Ever delivers on that promise, weirdly pulling off this very specific stylistic choice.
It's the start of sophomore year, and Devi is praying for a better one than last. Indeed, her freshman year wasn't just bad — it was tragic. Her father (played by Sendhil Ramamurtny in a brief but infectious performance) died suddenly of a heart attack during a school function, and in her grief, Devi became paralyzed from the waist down. Devi experienced bullying as a result of using a wheelchair and less obvious but still insidious comments from her classmates and teachers. The pilot never fully reckons with that, though, because by the time sophomore year begins, Devi's ability to use her legs suddenly returns, making her previous disability sort of just a blip in her past. It still affects the way she's treated at school, even by her close friends, but Never Have I Ever doesn't yet seem all that interested in exploring disability in a nuanced, meaningful, inclusive way, even though it ends up being a major part of Devi's arc leading up to where she's at emotionally at the start of the series.
But Devi is fleshed out and dynamic in other areas, and the world around her is, too. She lives with her mother (played by Poorna Jagannathan) and her cousin Kamala (Richa Shukla), a biologist who is so beautiful that random men on bikes crash just looking at her. Devi resents Kamala who is, on the surface, the platonic ideal of an Indian woman in the eyes of Devi's mother, but there are early hints that Kamala struggles to live up to the expectations of her family, particularly her hesitation about an arranged marriage. Never Have I Ever doesn't bend over backward to explain Indian culture, Indian-Americanness, or Hinduism to white viewers, which is a welcome surprise. Devi's heritage and culture are definitely a significant part of who she is, but it's all presented in a natural, organic way that makes it all the more authentic and resonant.
At school, Devi's best friends Fabiola (Lee Rodriguez) and Eleanor (Ramona Young) are social outcasts alongside her, but they're not so quick to jump onboard with Devi's plan to make all of them more popular, which involves an overhaul of their personalities and wardrobes and also the mission to secure boyfriends. While Devi has had a longtime crush on athletic cool boy Paxton Hall-Yoshida (incredible name for a high-school heartthrob), she sets the bar low, going after an obviously gay guy who isn't out yet. Unsurprisingly, her plan does not work. Devi takes a lot of losses in the pilot, but the show also has a tremendous amount of empathy for her. There's some signature Kaling self-deprecation at play, but it isn't as seething as it could sometimes be on The Mindy Project.
Never Have I Ever has a sweetness to it, but it also brings the heat. Because, yes, Devi Vishwakumar is a hothead. She flies off the handle, especially when provoked by her nemesis Ben Gross, a snide try-hard who is obsessed with his entertainment-attorney father. Their rivalry is so intense that their history teacher asks them to please tone it down for the sake of the other students, but Devi doesn't really know chill. In addition to being funny, ambitious, charming, awkward, and angsty, she's also full of fiery rage.
In that alone, there's an obvious connection between her and John McEnroe, whose career was often defined by his propensity to fly off the handle. He gets it, and he says as much in his narration, contextualizing Devi's rage. When she learns that Eleanor has been secretly dating a guy for some time, Devi storms home and sends a textbook flying through her bedroom window. A teenage girl's rage is something I haven't seen on television too often, and Never Have I Ever doesn't just play it for laughs. There's something raw and real behind Devi's outbursts, no doubt another lingering side effect of the traumatic loss of her father.
Devi's still heavily in denial about her grief, initially dismissing the suggestion of her therapist (the always delightful Niecy Nash!) to keep a "grief journal" and then filling its first page with a big-bubbled-letter declaration that she's going to have sex with Paxton (something he indeed agrees to after she propositions him for strictly sex). Devi's not quite ready to look into her feelings, but they're definitely there, spilling forth in her outbursts and also taking hold of her dreams.
After a rough day when she finds out that her schoolmates don't call her and her friends the U.N. as a vaguely racist reference to their diversity, but rather because they're seen as "unfuckable nerds," Devi works through her pain in a dream sequence with her father. Here's where we learn the real emotional connection for McEnroe's presence: He was her father's favorite tennis player (here's where I got a little misty eyed, because my own Indian father is a huge tennis fan and I have watched so many matches with him through the years). There's a lot beneath the surface of Devi's outward intensity, and it's exciting to see Never Have I Ever engage with it through these impressive little touches of emotional depth.