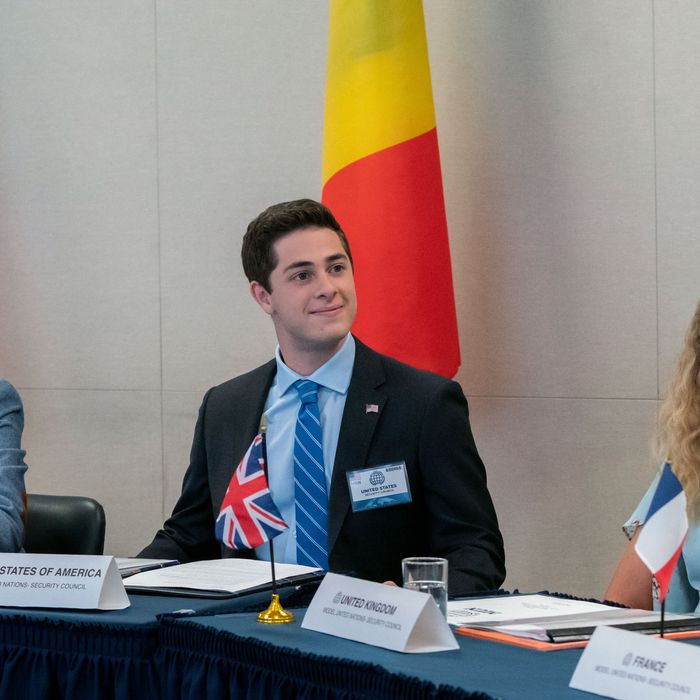 Just when I thought this show couldn't speak more to me personally, it throws in a hilariously realistic Model U.N. story line that gets correct one of the dorkiest high-school activities there is. All of the details — from the outfits to the hotel setting to the secret meetings to thwarted attempts to "rebel" to the intense setting of the Security Council to the checked-out teacher chaperone who desperately wants to be cool — indicate that this was absolutely written by someone with an intimate knowledge of Model U.N., and the authenticity makes it all the funnier.
The Model U.N. overnight trip also provides the perfect setting for Devi to be confronted by the escalation of her lies. What started as a blatant but somewhat small-scale lie when her friends assumed she hooked up with Paxton and she never corrected them blooms into a schoolwide drama as swiftly as the Model U.N. Security Council devolves into World War III (this is also hyperrealistic).
The best part of this episode of Never Have I Ever is that Devi is the worst part of it. She acts selfishly and foolishly, and it makes for a compelling story, exposing the character's biggest flaws. Her nemesis, Ben Gross — who is at first appalled that she, at the last minute, joins the Model U.N. group (it's a blatant violation of the pact they made in sixth grade to split up all extracurriculars) — actually extends an olive branch in the episode, and she pretty much lights it on fire. Perhaps fueled a bit by alcohol, which Devi and Ben secure for an illicit hotel-room party with the other students after an initially botched heist with the Russian delegate, Ben proposes an alliance. He mostly means just in the context of his Model U.N. resolution, but there's the slightest suggestion that this moment between them means a little more — like maybe they're starting to understand each other a bit beyond their years-long rivalry. They critique each other's personalities — Ben is annoyingly braggy about his dad, and Devi is quick to anger — but they do so not with malice but rather an acknowledgment that they are indeed both very flawed.
But when word gets out that Devi is sleeping with Paxton — which she isn't — Devi makes the choice to keep the lie going, basking in the sudden adoration from her fellow U.N. nerds who give her special treatment now that they think she's of a higher social status. And then when word finally gets back to Paxton, Devi diverts her guilt onto Ben. She has only herself to blame for this lie, and yet she decides to blame Ben. Because that's easier, right? Devi is a wonderfully complex character, and Maitreyi Ramakrishnan really brings the layers of the character to life. (Reminder: This is her debut role!) That complexity means there are plenty of things to dislike about Devi, too. She likes to take emotional shortcuts. She likes to blame others for her own mistakes. She likes to deny and avoid and deflect. She is deeply human. She has all the shortsightedness of a teen.
Because even when confronted by Paxton, who is rightfully angry about her using him, she tries to defend herself and downplay everything she has done. She can't even take responsibility when faced by him. And then when her very best friends try to talk to her, she has one of her typical Devi outbursts. But this one is particularly nasty. She yells at them that her problems are bigger than theirs. And when Nalini tells her she's finally ungrounded, she doesn't want to go spend time with her friends, isolating herself.
Little does Devi know that her friends have been going through some serious shit all episode. She doesn't even give them the opportunity to tell her, instantly assuming her world is more important than theirs. In actuality, Eleanor and Fabiola both have very strong, very serious side plots in this episode that deepen them as characters and expand Never Have I Ever's story. Fab continues to struggle with coming out to her parents, sitting them down for a family meeting that includes her college-aged frat-boy brother FaceTiming in. But she's ultimately unable to get past the words "I am" and say that one little three-letter word that she sees as seismic to her life. Instead, she tells them she switched from French to Latin in school, and they humorously reply in the way parents might to a kid coming out. It's funny, but it's also sad — a space Never Have I Ever occupies frequently.
Things go much better when Fab comes out to Eleanor, who swiftly embraces her and tells her not to apologize for not telling her before, but also takes it in the way a theater teen might, celebrating the fact that she finally has a gay friend to support her brand. It's sweet, and then they immediately want to tell Devi, too. But of course, Devi doesn't answer.
Eleanor has a tumultuous emotional experience of her own, one that digs into a different kind of grief and loss regarding a parent than Devi's arc does. Eleanor has long believed that her mother has been off pursuing her dreams of becoming an actress; she left when Eleanor was just 7 years old and communicates through postcards supposedly sent from the Weight Watchers cruise ship where she's in a traveling production of Thoroughly Modern Millie. Eleanor, who loves drama and spectacle (she announces very matter-of-factly in this episode that she has started doing all of her homework with a quill pen), misses her mom but also delights in the magical dreaminess of it all. But Paxton shatters that dream when he offhandedly remarks that he had Eleanor's mom as a server at a Mexican restaurant on the other side of town.
Like Devi, Eleanor goes through a period of denial, but what Paxton said works its way into her, and she and Fab make the journey to the restaurant to find the truth. They find her mother. Not only did she lie, but she has been living just 20 minutes away. The reveal is a gut-punch, and even though Eleanor didn't lose a parent in the same way Devi did, there's definitely a thematic and emotional through line here. Between Devi and Eleanor, Never Have I Ever is poised to tell two deep and meaningful stories about losing a parent.
On that note, nestled in the episode is also another flashback to the night that Mohan died. It pops in unexpectedly, triggered by Devi hearing sirens, and works so well to situate viewers in her head. These flashbacks are persistent and unpredictable for Devi, likely worsened by her tendency to suppress them. Never Have I Ever allows so much room for Devi's many facets. She is indeed an asshole in this episode, and she's also still grieving and hurt, and all those things can be true at once.