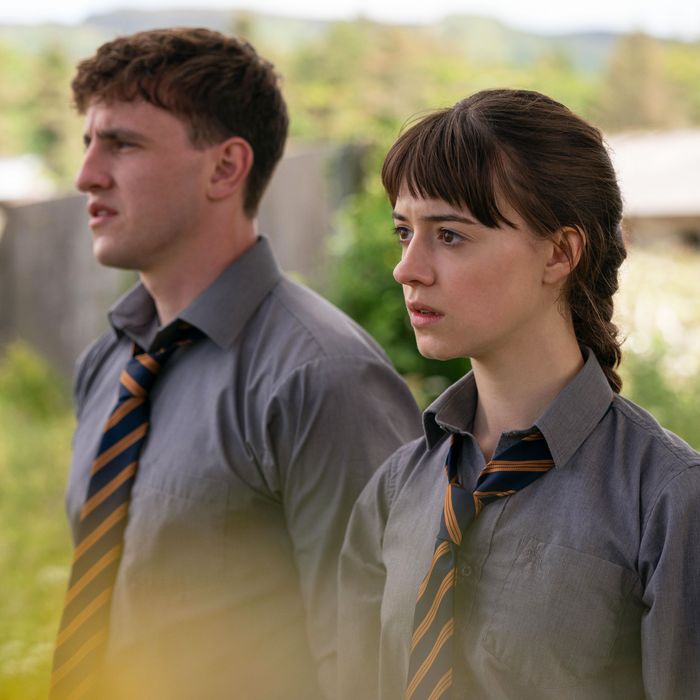 Daisy Edgar-Jones and Paul Mescal in
Normal People
.
Photo: Enda Bowe/Hulu
Teen rom-coms have trained us over the years to equate wealth with popularity. In pretty much all the John Hughes movies as well as Heathers, Clueless, and Mean Girls, not to mention TV shows like Beverly Hills, 90210 and Gossip Girl, members of the in crowd tend to come from money, while the socially outcast (and not-so-secretly cooler) kids often live on the wrong side of the tracks.
But Normal People, which starts out as a teen romance but evolves over its 12 episodes into a richer, broader portrait of the way first love imprints itself on the psyche, turns those notions on their head. That's partly because this BBC/Hulu co-production based on the novel by Sally Rooney, which debuts Wednesday on Hulu, examines issues that extend beyond high school cliques. The fact that its story is set in Ireland and focuses on Irish young people also is significant. While watching this lovely, absorbing series, I was reminded more than once of something that Bono once said: "In the United States, you look at the guy that lives in the mansion on the hill, and you think, you know, one day, if I work really hard, I could live in that mansion. In Ireland, people look up at the guy in the mansion on the hill and go, one day, I'm going to get that bastard."
The quote-unquote bastard in Normal People, at least in the first few episodes, is Marianne Sheridan (Daisy Edgar-Jones), whose family owns not just one but multiple mansions on hills, in Ireland as well as elsewhere in Europe. During secondary school, Marianne, a bright, prickly tongued student, is ridiculed on a daily basis by her peers, especially less-advantaged boys who demean her for being ugly (note: she absolutely is not) and full of herself. Within the crowd of guys who torture Marianne is Connell Waldren (Paul Mescal), a well-liked football player who refrains from insulting Marianne but never stands up for her, either. Connell and Marianne are connected by the fact that Connell's mother Lorraine (Sarah Greene of Penny Dreadful and Dublin Murders) works as a housekeeper for Marianne's mother. Their tentative interactions with each other outside of school lead to them becoming lovers, a relationship kept secret, largely so Connell can escape what he expects will be ridicule from his friends.
In its initial three episodes, Normal People sets a precedent for what will become a signature aspect of the series: sex scenes that are explicit, tender, and extraordinarily intimate. The second episode in particular could rightly be described as a series of love scenes interrupted briefly by some exchanges of dialogue. Lenny Abrahamson, the Oscar-nominated director of Room, who handles the first six episodes, and television veteran Hettie MacDonald, who directs the latter six, alternate between semi-wide shots of naked bodies interlocking and tight close-ups on the faces of their leads as they lose themselves, repeatedly, to heated moments. The series leaves pretty much no body part unexposed, and yet the sex never seems gratuitous. It is vital because it demonstrates the instinct that Marianne and Connell have to love and honor each other, even though other aspects of their lives often make it difficult to demonstrate those same feelings publicly and consistently.
Like the novel, which Rooney adapts for the screen alongside writers Alice Birch and Mark O'Rowe, Normal People follows Marianne and Connell from secondary school in Sligo through their years at Trinity College in Dublin, where the dynamic between them shifts. At university, Marianne's bluntness, dark sense of humor, and intelligence become assets within her group of intellectuals, while Connell's insecurities about not being smart enough rise to the surface, making him the one who has a harder time making friends.
With some clever hair and fashion changes, Edgar-Jones and Mescal make the transition from teenagers to adults completely believable. There's a palpable chemistry between the two actors that never wanes, and makes you root for them to wind up together even though Normal People is too clever to clarify that outcome would be what's best for either of them. As the limited series progresses, it reveals more serious psychological issues that afflict Marianne and Connell, causing major snags in their relationships and lives going forward. Within that trajectory, Edgar-Jones and Mescal are called upon to delve into deeper wellsprings of trauma and both do so credibly, without succumbing to the temptation to oversell the drama.
In addition to crafting a love story that's easy to get swept up in, Normal People also explores class and privilege, the insidious impact of abuse, and how what seem like silly teenage interactions can shape one's sense of identity well into adulthood. There's a tendency to dismiss high-school relationships as temporary, meaningless connections that fade once we grow up and forge our way in a wider world where, at least for many, it's much easier to find your people. While Rooney's series acknowledges that individuals evolve as they grow older, it also does something that only the best coming-of-age stories do: it treats young adults with respect and takes their relationships, especially first loves, seriously. It is well aware that those relationships leave permanent marks.
There's an intoxicating wistful and melancholy vibe in Normal People, conjured by its performances, the misty, bucolic Irish setting, and, especially, the terrific songs featured on its soundtrack. Each one — "Only You" by Yaz, Lord Huron's "The Night We Met," "It Was You" by Mazzy Star — brims over with yearning. Once you get into its headspace, you want to stay in there for a while — I binged practically the whole series on a single, rainy Saturday and was powerless to stop until I got to the end.
Speaking of which, even the last shot of this series — and this is not a spoiler — captures a beautiful moment between Connell and Marianne, two people who are forever bonded to each other by a shared history that can be shared with no one else. In that moment, the two of them sitting on the floor with their knees up and their heads bent toward one another, the outline of their bodies comes very close to forming the shape of a perfect heart.
Want to stream Normal People? You can sign up for Hulu here, or as part of a bundle with Disney+ here. (If you subscribe to a service through our links, Vulture may earn an affiliate commission.)