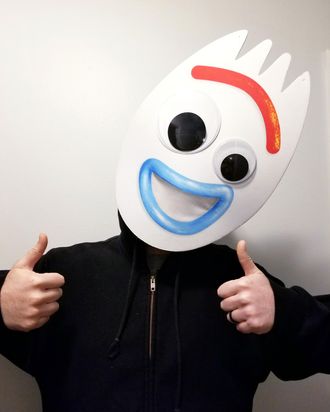 Forky, one of the mystery singers of Staten Island's Frank D. Paulo Intermediate School.
Photo: Courtesy of the subject
In mid-March, moments before President Trump's first national address about the coronavirus, The Masked Singer presented a harbinger of the dark, bizarre times to come as Sarah Palin revealed herself in a furry, pink bear costume and rapped Sir-Mix-a-Lot's "Baby Got Back."
Yet for students and teachers at Staten Island's Frank D. Paulo Intermediate School, The Masked Singer has become a surprising source of comfort and community, as 22 teachers and paraprofessionals compete in the school's very own quarantine-friendly version of the reality show. While there are only about 1,750 staff and students at Paulo, videos of their performances have already amassed more than 55,000 views. "We have a lot of fun teachers at our school, who don't care about embarrassing themselves a little bit, or showing off a little bit," says Carolyn Vento, the sixth-grade math teacher who started the competition the week after New York City schools shut down.
"I didn't know if there would be four of us or 14 of us competing," says Principal Ken Zapata. "But I went with it because she had so much energy for it. I think everybody wants to support the kids and give them something to laugh at."
The contest, now in its third week, is held on a Microsoft video-learning platform called Flipgrid. Teachers post their performances each Wednesday, and the bottom three upload unmasking videos on Sunday. While the videos are public, a Paulo email address is required to vote via Google form. Disguises range from Halloween masks to homespun creations like Mr. Charmin, who wrapped his face in toilet paper for a haunting rendition of Pete Seeger's "If I Had a Hammer," and the Violet Violin Player, who performed "Somewhere Over the Rainbow," with her face hidden in a purple scarf.
Before the coronavirus, Vento, who loves to sing and has performed in several local bands, had toyed with the idea of a Masked Singer for teachers as a school fundraiser. After the schools closed, she had the idea to try hosting the contest on Flipgrid, which her daughter's kindergarten class was using for at-home learning. Zapata (who, Vento says, has danced and crowd-surfed in the eighth grade's annual music video) was immediately onboard, and emailed all the teachers asking for participants.
"I wanted to get to 14 [contestants], because there were 14 weeks left of school," Vento says. She posted her own video as an example, and waited as submissions slowly trickled in. "All of a sudden the last couple days we got all these submissions and we were up to 22, so I was thrilled."
Most importantly, the contest has been a hit with students. "It's really funny to see the teachers dance and sing," says eighth-grader Peter Gioia. "But it probably would have been even better if we were still at school, because I talk about it with my friends, but it's really annoying because I don't see them in real life." Sixth-grader Patrick Malone already thinks it should be an annual competition. "It's desperately needed as we continue this quarantine with barely any entertainment," he says. His current favorite? "Old Bingo Man, because they are hilarious and legit."
With three weeks of performances now under their belts — this week's round is '90s themed — the staff are coming up with increasingly elaborate performances to stay in the competition. Highlights include DJ USA's performance of Eminem's "Lose Yourself," in which he's doused with a plate of "Mom's spaghetti," and No Voice Guy, who changed the lyrics to Adele's "Hello." "I found a parody online and changed a couple lyrics to make it more appealing for the school, like adding something about Tiger King," he says. "It turns out 'Hello' is actually a very hard song to sing."
Many teachers are focusing on relevance, choosing songs that they know will be popular with today's middle schoolers. For week two, Old Bingo Guy rapped K-Camp's "Lottery (Renegade)" accompanied, of course, by her rendition of the viral TikTok dance. "I had students at school trying to teach it to me," she says. "I don't want to be eliminated." Meanwhile, Fedora the Explorer is taking the opposite approach, performing Nirvana's "The Man Who Sold the World" and Kenny Rogers's "Just Dropped In," accompanied by some vigorous dad-dancing. "I was sweating profusely by the time that video was done," he says. "I know I'm an underdog in the competition as I have no previous talent, skills, or any musical abilities."
Forky, a current favorite, has the double advantage of a past life as a professional musician and sound editing equipment at home. For week two, he harmonized with a prerecorded vocal track for "I'll Be There for You," by the Rembrandts, a.k.a. the Friends theme song. He says he warned Vento, "Just to let you know, I have an audio engineering degree, so I'm going to get a little crazy with some stuff." But he also chose to play with visuals for his '90s week rendition of the Goo Goo Dolls' "Slide," splicing the chorus with clips of slide fail videos, and perhaps taking a page from the Jesse Katsopolis playbook.
As the Paulo teachers adjust to the challenges of the virtual classroom, often on top of making sure their own kids are set up with schoolwork, the Masked Singer has become a welcome, though admittedly time-consuming distraction. Fedora the Explorer says he's already making four videos a day, posting prerecorded lessons and answer keys for his students across two grades, while Old Bingo Man has to carve out time on Sundays to make her Masked Singer performances, as she continues to work on lessons over the weekend. But she's found the contest to be a helpful outlet. "I'm an entertainer," she says. "If you're a good teacher, you're entertaining — you're performing as you teach." As Vento fields questions and offers encouragement to her colleagues, she says the Masked Singer is "almost like another class," though, she adds, "I think it's keeping me sane." She plans to run the competition through the end of the school year in late June. "I'm really doubting we'll go back to school this year, but if we did, I was thinking it could be amazing to do a live finale."