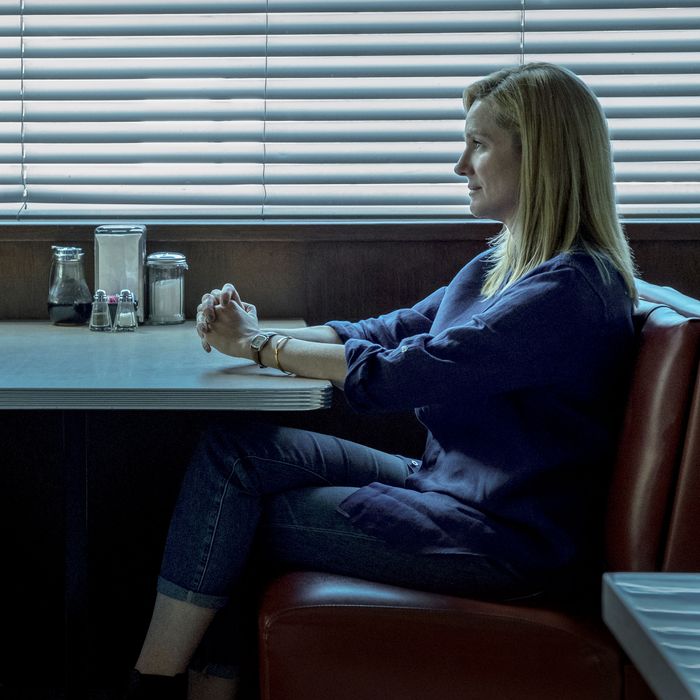 Photo: Steve Dietl/Netflix
Now that everyone's had time to binge the latest season of Netflix's Ozark, it's time to discuss in detail where the Byrdes are at and what dark places they might be going to next. While season three was both entertaining and heartbreaking, it's potentially a bridge between major narratives, a way to get us into a full-blown drug war in the Ozarks in ways that the show has only hinted at for years. Every season has ended with a number of questions to carry us over to the next year, but season three feels like the most crucial table-setter yet. After all, it ended with the death of a major player and put the pieces in place for a violent battle to come. And while Netflix hasn't officially renewed the show quite yet, it's a safe bet given its popularity and that shocking cliff-hanger. What questions do we expect will define season four? Let us guide the way.
Why did Omar Navarro pick Wendy and Marty Byrde over Helen Pierce?
The season climaxed with a battle between the Byrdes and Helen Pierce, one of the Navarro cartel's most loyal soldiers. In the final scene of the season, they arrived at Navarro's compound in Mexico and Helen was quickly executed by one of the kingpin's men, Frank Nelson, Helen's former driver/assassin. With Helen's brain matter still on their faces, the Byrdes were hugged by Navarro as Run the Jewels dropped on the soundtrack and we're left wondering: Wait, what? Why did the modern-day Scarface pick the Byrdes? Was it the promise of protection and perceived legitimacy that they offered? The fact that they played to his family's safety? Did Wendy's willingness to sacrifice her brother play a role? (Don't forget that Helen wouldn't sacrifice her husband earlier in the season.) Exactly why Navarro made that crucial decision should dominate the opening arc of season four, and what the Byrdes may now owe him in return for that choice.
Where will Ruth's loyalties lie?
The final episodes of season three set up a pending turf war between the Byrde/Navarro empire and the resurgent Snell one. Darlene has recruited an army that includes Wyatt, possibly the Cosgroves, and, most importantly, Ruth Langmore. The scene-stealer of Ozark has been loyal to the Byrdes, but she seems convinced by Darlene and Wyatt's arguments that her old allies are toxic. They have been the cause of all of the pain in Ruth's life, including the deaths of her father and boyfriend. Has she completely turned on Wendy and Marty, or is there a way the Byrdes could win her back? Ruth could very easily be the "swing vote" of season four, and which side she ultimately defends could determine the winner.
How solid is Darlene's sudden empire?
On that note, Darlene Snell went from relatively normal days with her stolen baby to running a rebooted drug empire in a short period of time. How solid could that empire really be? She's seen reaching out to Frank Cosgrove and the Kansas City mob, which would give her a great deal of firepower, but do they really trust her yet? (After all, she did shoot off Frank Jr.'s pecker.) What about secondary players like Three Langmore? We know Wyatt is blissfully loyal to her, but that's all we really know for sure when the season ends. And don't forget that Darlene is as unpredictably dangerous as they come. The word solid doesn't really apply to anything she does.
Will the drug cartel war continue?
The backdrop of season three was the intensifying drug war between Navarro and his enemies. The season opened with a horrible massacre of innocent lives, and we saw a mass shooting during a baptism. How will this canvas of violence play into season four? It certainly won't all go away while the Snell and Byrde cartels fight it out. If anything, it seems to be bubbling its way up into the United States and could make things far more violent and difficult than ever.
What role will Maya Miller play?
One of the more frustrating characters in season three was FBI agent Maya Miller, who sometimes felt like someone the writers weren't sure what to do with. At first, she was just more pressure for Marty, further proof that his operating plan to reduce variables was essential, or else the Feds could take them all in. Then she became a potential player in Byrde's long game when Marty tried to turn her, leading her down a road on which she made some bad decisions. The question for Maya is this: Now what? She called Marty to warn him about the plan to make it look like he was entering witness protection, begging him not to get on the plane to Mexico. So she seems to have some affection for the Byrdes. Could she still be turned into their inside source in the government?
Will Jonah forgive his parents?
Poor Jonah Byrde. The A.J. Soprano of this show ended the season in a dark place, realizing that his parents played a role in getting his favorite uncle killed. After pulling a shotgun on Helen Pierce, he's last seen firing it at a window. Has Jonah finally realized the extent of his parents' capacity for evil? If so, how will that impact his role going forward? Will he be drawn into their immoral corruption or pushed away from it? Could he even be pulled into the Snell Empire?
Have we seen the last of Erin Pierce?
Speaking of kids, won't Erin have a few questions too? Just imagine if she pieced together Ben's revelations on her mother's lawn with the fact that Helen disappeared a few days later. It seems unlikely that the writers will find a role for Erin now that her mom is gone, but don't rule out the possibility altogether. She's technically a loose end right now, and we know how Marty Byrde feels about loose ends. (Speaking of which, the feds have a signed confession and witness protection order that will have to be wrapped up somehow.)
Are the Byrdes the villains now?
This is the biggest question that hangs in the air, isn't it? After three seasons, have Wendy and Marty Byrde made the transition from Mr. Chips to Scarface, à la Walter White on Breaking Bad? Think about how many chances they've had to walk away from this all, including not just the end of season two but the promises of protection from Maya Miller this year. Much like that famous New Mexico meth dealer, they seem to be actively moving in the other direction. It's worth considering if the deaths of Ben and Helen mark the moment when the Byrdes truly broke bad and became the bad guys of Ozark. Don't be surprised if you're rooting for Darlene Snell and Ruth Langmore to take them down next season.