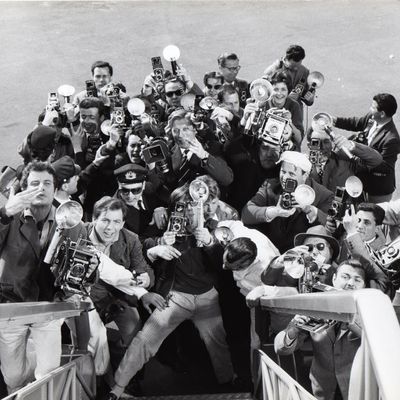 La Dolce Vita.
Photo: Astor Pictures Corporation
People want to see faces. They don't want to see hats, face masks, glasses. They want to see eyes. In the history of photography, I don't think we've had a situation where every celebrity is looking the same way — which is what's happening now. The uniform is the face mask and/or the plastic gloves. There are no longer any red carpet events anywhere in the world. There's no fashion. I think people are getting bored with the face mask pictures.
The kind of photos we used to get — people at restaurants, gyms, nightclubs, the airport — have declined tremendously. So the only supply of celebrity imagery is stuff on the street. Walking to and from the market. Walking to get some exercise. Cabin fever relief. You're seeing lots of celebrities like Jennifer Garner, Arnold Schwarzenegger, Robin Wright and her husband, and Conan O'Brien riding bikes, who used to never ride bikes.
And dogs. Reese Witherspoon — we've got her walking three, four dogs at a time; she's doing it much more than she used to. I saw Ben Affleck walk his German shepherd maybe last year and now you see him every other day walking the dog — especially now that he's got a new girlfriend. Some of these celebrities, we didn't even know they had dogs! My theory is, pre-corona, a lot of these celebrities had dog walkers. But because of social distancing, with their house staffs laid off, maids and nannies and all that, they're doing it themselves.
The social distancing hasn't worked against us. By the very nature of what we do to get the daytimes, the candids — the "sightings" we call them — we purposely keep a distance anyway. (Except for the night stuff where we are kind of in their face.) But there is some difficulty. One of our shooters sent in a set of photos they claimed was Ashley Tisdale. And I'm looking through it, and I'm asking my editors what they think, and I'm saying to people, "That doesn't look like Ashley Tisdale to me." But she has a mask on and a knit cap. It kind of looked like her. I didn't end up putting it out because I couldn't confirm it was her. Generally speaking though, 99 percent of the time, you just know the mannerisms. You know the gait. You know the way they are. Most of our shooters have a sixth sense. They know if it's a celebrity or not. They've been photographing them for so many years. So the mask doesn't hinder recognizing them.
On the whole, I'm not seeing a lot of celebrities breaking lockdown or social-distancing rules. A lot of what we're getting is bread and butter. The ones of Andie MacDowell and her daughters crawling under the fence, doing something they shouldn't be doing, that is a good set of pictures! But I haven't really seen anything similar.
In the long run, the effects of COVID-19 could be bittersweet. The pandemic is helping sales now. Print sales of our pictures are skyrocketing because of the lockdown. Overall, we've been hurt. We usually put out 7,000 images a month. Now, if we're lucky, we're putting out 1,000. Long term, it's hard to say. There may be retro stories on the corona era. That'll see some resale. But from our perspective, we don't want to see the masks. It dates the picture to this time in history. From here on out, anytime there's an archived picture of a celebrity wearing a face mask, we're gonna know when that came from, what period that came from. It's a very specific kind of usage.
From a fan perspective, I feel like social distancing is working for the celebrities because they can actually go out and not be recognized. They would wear masks on a normal day if they could! Now, the ones that are going to a market, they seem a bit more relaxed because nobody is going up to them asking for autographs or selfies. Nobody's going within six feet.
This story has been edited and condensed for clarity.
Want to a share a story about being in Hollywood, anonymously? Email us at anonymousinhollywood@vulture.com.