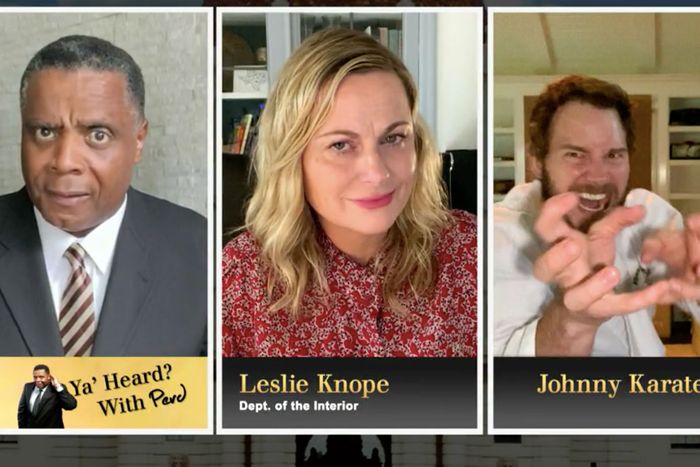 When Parks and Recreation aired its final season in 2015, we got a reassuring glimpse into the characters' futures: Leslie Knope and Ben Wyatt got jobs in DC, Donna moved to Seattle with Joe, and by the 2040s, Jerry Garry Gergich had served ten terms as the beloved mayor of Pawnee. At the time, showrunner Mike Schur and star Amy Poehler seemed to have definitively closed the book on Parks and Rec, even agreeing against a reunion. But tonight, NBC aired A Parks and Recreation Special, which reunited the writers and cast (minus poor Mark Brendanawicz) via the Gryzzl cloud to show fans how their big-hearted optimism is helping them manage the coronavirus pandemic. Here is what the characters of Pawnee's Parks and Recreation department are up to in 2020:
Leslie Knope has spent her entire life convincing others that she herself is an essential service, and so her coronavirus schedule at the Department of the Interior has been full of creating and chairing response committees. She's operating on "only two hours of sleep instead of my usual four, but she still finds the time to organize the daily phone tree with her old Parks Department buddies. Speaking of parks, she's closed all of the national parks in her jurisdiction for the foreseeable future.
While Leslie's in the office, Congressman Ben Wyatt is having a hard time homeschooling the kids because he keeps accidentally getting high off the cleaning products. Ben is in many ways the person best-suited to self isolation: He's got his Letters to Cleo shirt on, and working on a Cones of Dunshire Claymation Movie. It's all his passions in one.
Okay, maybe Ron Swanson is the person best-suited to self isolation. As he says in the reunion, "I've been practicing social distancing since I was four." He and Diane are riding out the pandemic at their secluded cabin, where he went "to hunt meat so I don't have to go to the grocery store."
April Ludgate and Andy Dwyer have been putting all their clothes in garbage bags, picking out five random things at a time to wear. (She's also drumming now?) Andy gets locked in the shed for two days, but he's too proud to ask April to let him out. On the bright side, he does reprise his role as children's entertainer Johnny Karate to record a PSA, telling kids to wash their hands even though he himself never has.
Ann Perkins is working as a nurse, helping with outpatient care in Michigan. She's isolated to "the southeast part of the house," a.k.a. the living room, so she doesn't infect Chris Traeger and the kids. Meanwhile, the CDC has Chris donating his blood four times a week because he's a "super healer" whose blood type is "just positive." While quarantining, he's ground down their StairMaster into "a smooth ramp."
Tom Haverford says he's in Bali, but it sure looks a lot like a fake Zoom Gryzzl background, and by the end of the episode he's wearing a turtleneck with an Alpine backdrop.
Of course Donna Meagle has reached Elite Grizzyl Gold Status, and she's coming to you from a massive walk-in closet at home in Seattle. Her husband, schoolteacher Joe, is doing the lord's work.
Mayor Garry Gergich had to cancel Pawnee's "Annual Popsicle Lick n' Pass," though it was an unpopular but necessary decision. He also gets his face stuck in the following unmayoral filters: dog, juggalo, poo, and baby.
Bobby Newport doesn't even know there's a pandemic going on, because he's at his family's private fox hunting estate in Switzerland.
Joan Callamezzo is hosting Pawnee Today's "At Home with Joan" segment from, you guessed it, from home, where she sits on a velvet couch in front of a portrait of herself, performing for an audience of very creepy dolls. (Did Mo Collins just have those dolls … lying around her house?)
Dennis Feinstein, the mastermind behind fine colognes like Sideboob and Allergic for Men, is venturing into disaster capitalism with his latest fragrance. It's called Miracle Cure, and it is "proven to kill anything it comes into contact with."
Perd Hapley is hosting Ya Heard? With Perd from his home. Good for Perd.
Dr. Jeremy Jamm has given himself a pretty sweet quarantine haircut and is trying to pivot his business to contact-less "home dental delivery," which is even less safe than it sounds.
Jean-Ralphio got run over by a Porsche and is now flush with cash, so he's running ads on Pawnee TV for his phone number (930)-1-RALPHIO because he got banned from Cameo.
Tammy 2 is tied up and gagged in Ron's shed.
Lil' Sebastian, still in horsie heaven.