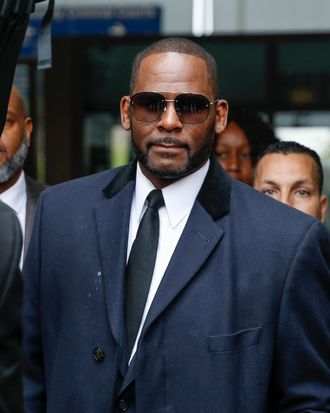 Photo: Kamil Krzaczynski/AFP via Getty Images
R. Kelly's Brooklyn federal court trial for racketeering and sexual-misconduct charges has been moved from summer to late September, as the coronavirus shutdown has caused delays in the court system. During a telephone conference Thursday afternoon, judge Ann M. Donnelly recognized that the July 7 trial date likely wasn't realistic and scheduled jury selection for September 29. Prospective jurors will fill out questionnaires two weeks prior. Questionnaires help prosecutors and defense lawyers speed up jury selection by disqualifying obviously unsuitable jurors early on. Opening arguments will start whenever a panel of jurors is picked. It was recognized, however, that this new trial date might not stick, depending how the outbreak is impacting courts at that time. One of Kelly's lawyers, Steve Greenberg, pointed out that potential jurors might be leery of being in such close proximity. Moving Kelly's trial to the fall is almost guaranteed to delay his Chicago federal trial; before the COVID-19 pandemic hit, that trial had already been postponed from late April to October 13.
Meanwhile, Kelly made yet another pitch for release because of COVID-19. Lawyers for Kelly, whose "emergency" request for home confinement over coronavirus concerns was shot down last week, said that conditions at the federal jail in Chicago where he's being held had worsened. His lawyers said there are at least six detainees with confirmed COVID-19 diagnoses, and "there are likely already many more positive cases" (the Federal Bureau of Prisons claims there are four positive cases among prisoners and ten among staffers at the Chicago site). Citing Bureau of Prisons data that some 500 inmates across the U.S. are COVID-19-positive, his lawyers argued "that Mr. Kelly will be infected with this deadly disease is now unfortunately an absolute probability." Federal prosecutors have until noon on Friday to respond to Kelly's request.
Update, April 17: The Brooklyn U.S. Attorney's Office filed paperwork Friday morning once again opposing Kelly's release. Prosecutors doubled down on their position that Kelly poses a "flight risk and danger to the community," claiming he has the monetary means to escape and alleging a track record of intimidating potential witnesses against him. They wrote that "in the first quarter of 2020 alone, [Kelly] received over $200,000 in royalty proceeds." (Prosecutors don't specify the source of these royalties, but Greenberg told Vulture that he believes any royalties would come from Kelly's music.) Prosecutors also point out that Kelly is accused in Chicago federal court of an "obstruction-of-justice conspiracy involving coercing, threatening, and bribing potential witnesses who could testify against him."
Kelly, they alleged, also has supporters to enable any escape. They don't specify who, but Kelly routinely attracts dedicated fans, some of whom don T-shirts insisting on his innocence, to his court appearances. "Indeed, many of those individuals attempt to do the defendant's bidding by regularly posting and appearing in videos on the internet and publishing on social media in support of the defendant and overtly trying to intimidate the defendant's accusers," they argued. Prosecutors did not provide a link to these videos in this document.