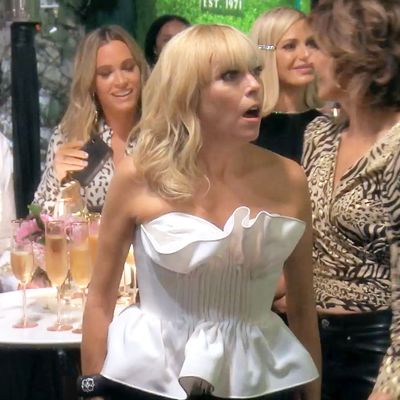 I just realized that Sutton Stracke is not a full-time cast member and therefore not protected by the Eileen Davidson Accord, which means even now, in episode two, we can talk all the shit that we want to about her. Phew, because I have something to say: I hate Sutton. That's it. It's out there. I can't take it back. Sorry, Sutton! I'm sure you are a nice and lovely person, but I want you on my television about as much as I want to see the 800-588-2300 EMPIIIIIRRREEEE commercial.
There are two kinds of Housewives who always fail: those who are trying to be something they're not, and those who want it way too bad. Sutton is definitely the latter. She seems like the type who was always a fan of the show and thought she would make an amazing Housewife, but her hedge-fund husband wouldn't let her do it. Now that he's a distant memory, she's on the show and she is determined to make it work. Look at her dinner with Kyle in New York, when Kyle's flogging her range of silken printed hospital robes at a wholesale fashion convention. She's talking over Kyle, telling her she should call her range "yacht wear," and trying so hard to make an impression she's leaving dents in the table.
The same thing happens at her store opening. First of all, this boutique looks busted. It's right around the corner from Lisa Vanderpump's SUR empire and it is a West Hollywood boutique that has couture clothing and Fornasetti candles. As with florals for spring, I will eye rollingly say, "Groundbreaking." Sutton goes up to all of the women, who are surrounding a cocktail table, and tells them that the mayor of West Hollywood, a man whose name she doesn't even know, is there. I mean, Dorit basically lives with Boy George. Erika Jayne got a personal tour of Ted Kennedy's Senate office. Lisa Rinna is married to a former Sexiest Man Alive. They're going to be impressed with the mayor of WeHo?
Then, when he's giving a little toast, she's up on stage trying to grill him about parking tickets. It reminded me of when Ramona Singer, Dorinda Medley, and Sonja Tremont Morgan of the Kyle By Shahida Too Morgans derailed a charity event with their onstage squabbling. That's the thing about Sutton. Her aggressive energy belongs among the women of New York more than it does with the women of Beverly Hills, who take a more laid-back and passive approach to their drama.
The women of Beverly Hills also take a different tactic with their fashion. Sutton thinks she has better style than she really does. She wears nice, expensive clothes, but they are almost certainly the wrong clothes for her body. She is trying to squeeze herself into the wardrobe of a 19-year-old supermodel and it's not working. That is not a knock on Sutton's body, which appears to be very trim. It is a knock on her knowing how to dress for her body type. Also, she is constantly announcing when something is couture, something Erika finds distasteful because it's rubbing her money in everyone's faces. "Even if it's couture," Erika says in her confessional. "It still looks bad." Exactly. Exactly! Sutton is the type of person who uses the word "fashionista" in the year of our COVID lord 2020 with a complete lack of irony. Pack her up and send her to New York, or better yet, just put her in cold storage, where we don't have to deal with her for the rest of the year.
Since Sutton is not a full-time cast member (I feel like maybe production thought she would be and she just didn't bring the goods), we don't have to spend time alone with her like we do with the rest of the women, who are mostly on solitary journeys this episode. Garcelle takes a tour of her new house, which seems nice, but I have no idea where it's located. It seems like she's living down the street from Mike Hill, Cynthia Bailey's fiancé.
Erika is at home with her husband Tom (I loved when she told Garcelle that she is sick of defending her 20-year marriage) when she gets the news that she's going to play Roxie Hart on Broadway in Chicago, a gig that was sadly cut short when the coronavirus shut down the theaters. It's a sweet, emotional moment for Erika when she relishes the emotional support she gets from her husband, which seems to outshine his financial support. When he tells her, "That's so cool. That's so cool," the joy in his eyes is genuine, and that touched me in the exact opposite place I am touched when watching Denise's husband Aaron.
To be clear, when I am watching Aaron, particularly his thick, muscular arms, I am touched in the genital area because I want to have sex with him, even if he clips electrodes to Denise's ears and puts her on some sort of electromagnetic mattress to help her recover from surgery. After she spends some time talking about her custody situation with her ex, Charlie Sheen, including the devastating revelation that she wants her daughters to have a good relationship with him so that they avoid being the kind of woman that "Charlie entertains," we learn that Denise needs to have hernia surgery.
On the way to the hospital, with Aaron's biceps bulging belovedly next to her, Denise says she wishes she could just go into the future when all this is over. The editors then supply us with trippy footage of her going into the hospital, enduring surgery, sailing through a drugged-out haze afterwards, and finally settling into a hotel room to recover. It is perfect. It's the kind of thing we surely wouldn't have seen even last season, and a stylistic choice that shows that our favorite genre of reality show is certainly evolving into something different, something a little more creative, something willing to dip into magical realism with a sense of humor.
The other noticeable shift for this season is the producer's voice that we hear constantly asking women questions during their interviews. This is something the other franchises — particularly Atlanta and Potomac — have dabbled with, but RHOBH seems to be taking it to a logical extreme. It's most pointed in an interview between Dorit and PK, a pair of used surgical gloves lying in the gutter, after they show off their new $6.5 million manse in the valley, which we will still be calling Surely Rented Manor even though they say they bought it and call it her "forever home," which made me cringe so hard that my belly button fell off.
In the interview, the producer asks about the rumors that PK, the snotty fog on your glasses when the surgical mask you wear to the grocery store is on too tight, has no money and their bankruptcies and various court cases, which have been reported on in the press, but are not part of the show. PK, the guy who keeps farting six feet in front of you in line at that same supermarket, and Dorit are a bit forthcoming about how PK lost all of his money in the 2008 "credit crunch," but they don't explain at all how he made his money back. It certainly wasn't managing Boy George. Still unsatisfied with their answers, the producer says, "This follows you around. Ignoring it won't make it go away." PK responds that he can't spend his life engaging in negative energy. That still is ignoring it and evading the question. Remember the two kinds of Housewives that fail? The first kind is those trying to be something they're not.
I give the producers credit, though, for not letting these two ignore the question away. When Dorit attends Sutton's store opening (I don't know if you heard it, but I said that with a Liza Minnelli lisp) we see an Us Weekly reporter asking her about the bankruptcy stories. The show is going to make this a storyline whether Dorit and PK, the crust inside your lounge pants after wearing them for the 36th consecutive day of lockdown, want it or not, and they aren't afraid to use producers or other intermediaries to make it happen. This is a bold new direction and so far I really like it.
There is something about this season so far that seems a lot zippier. It's moving from scene to scene, point to point, and taking a bit of a heavier hand in the editing. I don't mean that as an insult. It's less of a boring documentary like last season, and more of a constructed piece of entertainment, and so far it's better off. It even managed to make the whole drama about Teddi sending a text inviting everyone to a retreat that none of them wanted to go to somewhat engaging. I mean, only moderately so, but layering in all of the women reacting to the text and how it would go down with the group at least made us anticipatory for the swamp gas's wisp of a fight that would top off the episode.
The drama, I guess, centers on Teddi's invite being half-assed even though she totally wants all the women to come. But she also only wants them to come if they "won't start shit." Teddi, do you know where you work? That's like saying you want a job at Popeye's but only if the grease won't cause periodic acne breakouts. I guess we'll just have to see how this plays out starting next week. Just watch, Sutton is going to be the only one to show up to the retreat because she wants it so bad. God, can't we take Denise's magical temporal drugs and transport ourselves into the future where Sutton no longer exists for us?