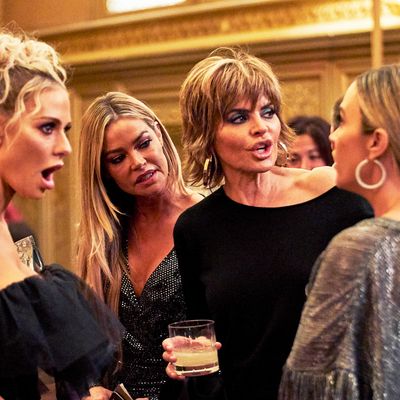 Chills! I have chills from that ending, youze guyz. It has been a long time since I was this excited by the premiere episode of a Real Housewives franchise. After several seasons of Rich Women Doing Things delivering us nothing but rich women doing things, it seems like, this season, the rich women are going to do not just things, but everything. Rich Women Doing Everything You Ever Wanted.
It all goes down in the very last seconds of the episode, after the end of Kyle Richards's very amateur mall-courtyard fashion show at New York Fashion Week. All of the women walked in the show modeling Kyle's Kreations, which was a hodgepodge of ruffles, bright colors, nautical-themed prints, leotards, bustiers, muumuus, silk robes in eye-watering prints, and one dress whose bodice seemed to be made entirely of the seashell-shaped decorative soaps in your Aunt Nancy's guest bathroom.
"We were all so happy that day," Kyle says in a voice-over. "It's hard to even imagine how terrible everything would soon become." We're then told that Denise stopped filming with the group in December, and since NYFW is in early September, that gives them only three months of story line to find out just what lie Denise is hiding. It seems like it has something to do with the relationship she was allegedly having with Brandi Glanville.
This coda shows footage of Denise walking off from various events refusing to talk about something, even at one point telling her husband, Aaron, that they're on-camera and not to say anything. She also starts shouting "Bravo, Bravo, fucking Bravo," a tactic that many Housewives use when they don't want something to air, believing that the network won't show any footage that explicitly mentions its name. It ends with the news of Brandi and Denise's relationship breaking in the press, and Kyle and Lisa Rinna saying they think they'll never hear from Denise again. Then we see Denise sit down for her final confessional interview and hear a producer say, "Are you ready to talk about all of this?" Denise confronts the camera with a purple-lipsticked smirk. I can't wait. I can't wait! If I don't get some of Lisa Rinna's Depends, I might just piddle in my panties in anticipation.
This little bit at the end is shocking for two reasons. First of all, while production has become more and more of a character over the past few years across the franchise, never has the curtain been pulled back like this, showing the women talking in what appear to be unguarded moments, and even showing the green screens and cameras they normally film in front of. This footage is telling us, "Guys, this is so insane and so explosive that the rules are suspended. The formula can't even contain what is about to happen" — and, boy, are we pumped.
Secondly, this seems to be a structural departure for the Housewives franchise. Normally when there's something this monumental — think Teresa's table flip, the fisticuffs at Joe Gorga's christening, the "Good-bye, Kyle!" fight from last season — we're treated to it in the very first minutes of the season and then we get "Three months earlier" and find out just what led up to it. Here, they save the best moments for the very end, teasing us not with the drama itself but with the destruction of the happy norm that leads to all the drama. This better be as good as I think it's going to be.
The episode goes about setting up Denise's heel turn throughout. We see her being not very nice to a waiter whom she accuses of bringing her a "blanco" tequila instead of a "reposado." Then we hear about her custody troubles with ex Charlie Sheen, and all of the women rally around her to give legal advice. Erika even gets her husband, Erin Brockovich lawyer Tom Girardi, on the phone to ask for advice. He volunteers to be Denise's counsel, and what I wouldn't pay to watch that Netflix limited series. Then, after all that, Denise seems to dismiss everyone's concern in a matter that doesn't fit the midwestern-Housewife-of-the-people image that she cultivated last season.
Aside from Denise at the end, there isn't much drama with the rich women this episode. While they were all in New York for Fashion Week, Erika Jayne took Denise, Teddi, and Lisa to Shakers, one of the go-go bars in New Jersey, where she worked as a dancer in her bathing suit back in the day. There is a whole chapter in her memoir, Pretty Mess (co-authored by moi and now available in paperback wherever books are sold, which right now means the internet because that is where everything is sold), about her time working in these clubs and, honestly, it is my favorite part of the whole book.
She tells them all about her time working there as an 18-year-old, and Lisa says she can't imagine either of her daughters, now about 18, doing that. "Don't say, 'Oh, I would never,'" Erika says, mock-clutching her pearls. "Okay, well. Just you wait." She explains to us that, if she had wealthy parents, she might not have ended up at Shakers, but she didn't and she did what she had to in order to pay the bills. But she got herself out of there, and now she is sitting in her home in another killer confessional look: sloppy bun, giant square hoop earrings, a ruby sateen jacket with big sleeves, and a sheer bustier underneath like she's an evil stepmother who just told you that you can't go to the ball. That is winning, bitch. That is winning.
The pall that was over Erika last season seems to have lifted a bit. She doesn't appear annoyed or inconvenienced to be filming anymore. She is present, engaged, and having a good time. I love this Erika, and I'm so glad she's back.
The only other person who gets major screen time is Kyle, who debuted her line Kyle by Shahida Too. The whole fashion show seems like a lukewarm mess. First of all, no one can figure out exactly how Kyle was involved in the design process. She says that she just sends her business partner, Shahida, a bunch of "snapshots" and then Shahida turns it into a sample. But when she shows up to a weird brownstone to look over all the clothes, there are about 100 different caftans of different lengths, fabrics, and patterns, and Kyle has never seen any of them.
She brings Dorit with her to this event because she needs Dorit's fashion-show expertise to tell her what to do. I especially hate Kyle for this, because it means that I have to agree with Dorit for a change. "No need for experience or know-how," Dorit says about this show. "No wonder Kyle is freaking out — she has no idea what she is doing!"
Thank God that Dorit was there to help explain to her that she has to have the same styling for all of her models, that the looks have to flow in a certain order, that she needs to break things up, and that everything has to be organized in a certain way. As it is, Kyle's show reeks of not-ready-for-prime time. She has her friends and daughters all walking in the show along with professional models, so it just makes the amateurs stick out even more.
The real problem is she keeps changing things at the last minute, much to the frustration of Tracie, the magenta-haired fashion-show director. Tracie is very patient with Kyle, no matter her requests. Yes, she told Alex, Kyle's publicist, to keep them apart, but when Kyle approaches her and adds another model — her daughter — at the last minute, Tracie is accommodating but explains this is going to screw up the plan she was up until 5 a.m. creating. Even still, as they're working out the flow of the show, Kyle is backstage putting Lisa in a totally different outfit. Woman, step away from the easel already.
The only Housewives in the audience and not walking in the show are the new girls: Garcelle Beauvais, an actress, and Sutton Stracke, a rich woman who does things and will fit right in. I don't have much to say about them, but Sutton is so rich that she buys Dolce & Gabbana couture. She goes for a fitting on an outfit, and it is a see-through pink pussy-bow blouse with a pointed bra underneath it and a pair of pink shorts. It is not a bad outfit, but it is possibly the least flattering thing I've ever seen on a human body. It is doing Sutton no favors, and she is a very good-looking woman.
While Sutton is trying on her outfit, Lisa is in the atelier, and she takes it upon herself to try on one of the crowns just lying around the place. We hear a soft echo from the past, like a magic mirror talking to itself, say, "The crown is heavy, darling, so leave it where it is." It is such a subtle but savage read, taking Lisa Vanderpump's words and showing that there is a new Lisa who is queen. It is the one nod to the past this episode, and we've already forgotten about it because the Denise-centered future looks so much better.