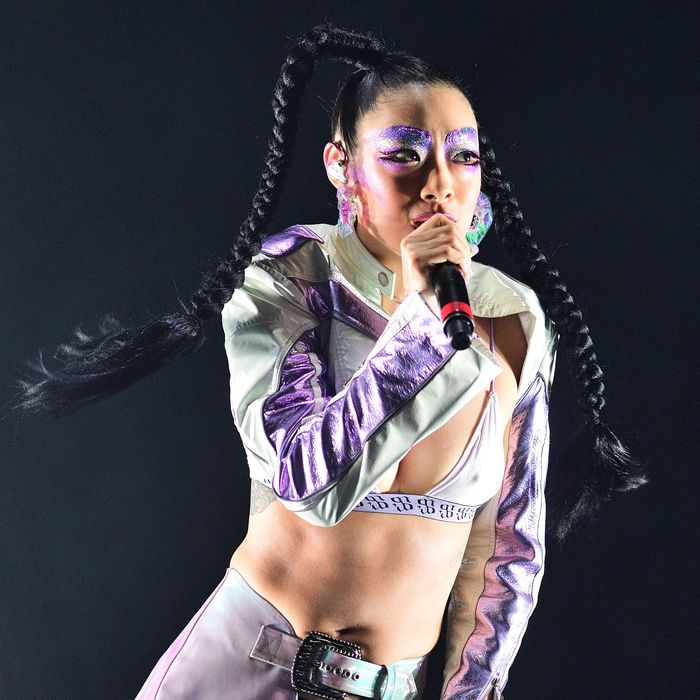 What if pop, rap, punk, and nu metal were able to coexist from the beginning?
Photo: Gus Stewart/Redferns
TRL was always a war. Fans of *NSYNC and Backstreet Boys battled for the run of the MTV music video countdown show in its early years, as did fans on opposing sides of the long-simmering (and overhyped) beef between Britney Spears and Christina Aguilera. Hip-hop heads and nu-metal outcasts rejected the neatness of the mass-marketed singers of the day. Pop-punk kids were only there for good tunes and good humor. TRL was a culture clash that's funny in retrospect. The purity of genre was breaking. Pop stars took beats from rap producers. Rappers dabbled in rock as rock stars borrowed cues from hip-hop. Metal bands featured turntablists. Britney Spears made a song with the Neptunes. The Neptunes formed the rock project N.E.R.D. and made a song with the guys from Good Charlotte. Siloed in our respective factions, we watched this splintering happening, but it took some years to fully appreciate it.
What if pop, rap, punk, and nu metal were able to coexist from the beginning? A handful of adventurous pop acts have been pondering the question. American singer-songwriter Poppy's I Disagree employs loud guitars, electronic music, and pure pop textures in its songs as a designer makes blends out of primary colors. The Japanese group Babymetal infuses extreme metal with elaborate choreography and energetic J-pop. The result is delightfully jarring, like music you might hear at a Dance Dance Revolution machine in hell. The deluxe edition of Canadian singer Grimes's dark, versatile Miss Anthropocene album adds "We Appreciate Power," a crunchy industrial tune that could've been a hit in the era where metal band Orgy gave New Order's "Blue Monday" an edgy makeover. This month, British-Japanese singer-songwriter Rina Sawayama released her debut album, Sawayama, an exercise in making pop out of not-so-popular 2000s nostalgia.
Sawayama refines a style the singer has been whittling down for years. "Alterlife," off her 2017 EP Rina, pushes a mannered dance-pop tune over the edge with outrageous duel guitar leads. "Take Me As I Am" added breakbeats and funk guitar noodling to what could pass for a '90s Max Martin cut. Rina's ace in the hole is Los Angeles performer and producer Clarence Clarity, whose crowded, maximalist music is a cousin to the chaotic electrofunk of early Jamie Lidell and Jai Paul records. Together, Rina Sawayama and Clarence Clarity balance each other out. He tones down the embellishments, and she steps up the lyrics and melodies. Sawayama pops thanks to concise writing and daring arrangements. "XS" matches strummed guitars with a chorus about excess, like a sly mashup of Britney's "Gimme More" and Justin Timberlake's "Like I Love You." On "STFU!" the singer soars over nu-metal riffs. "Paradisin'" aims for radio-ready pop-punk; "Love Me 4 Me" follows with a new jack swing jam about the value of self-esteem.
Sawayama visits moments throughout pop, rock, and metal's past but rarely settles for simple pastiche. If certain pieces of it seem familiar, it's because some of the building blocks the album is playing with carry the baggage of being beloved by frosted-tipped '80s babies whose sense of cool was proved passé by rapid advances in tech and culture. The idea that pop from this era can be repurposed into something else that feels fresh and not at all embarrassing or old-hat is still emerging, alongside songs by Ariana Grande, Tyga, and the Black Eyed Peas, built on samples of late-20th-century hits critics never blinked at. (For more on how millennials feel about the era, check the recent "Me at 20" challenge and all the baggy clothes, asymmetrical haircuts, and questionable dye jobs people clowned themselves for wearing in photos of themselves fresh out of their teens. The result is heartwarming cringe, if it's possible for such a thing to exist.) The ways old sounds clash and combine with modern ideas and production feel new.
Rina's perspective as a writer makes Sawayama feel modern. Her songs offer tough-love pep talks and observations about the unfairness of the world as it's currently structured. They can be as light as "Love Me 4 Me," which flips a catchphrase from RuPaul's Drag Race into a lyric about doing right by yourself, and "Paradisin'," a celebration of youthful rebellion. They can also run deep and dark. "Akasaka Sad" is a prescient tune about loneliness and navigating a life that doesn't look like what we planned for as children. "Comme des Garçons (Like the Boys)" bristles at gender tropes and double standards, while "Chosen Family" celebrates the shared experiences that unite the LGBTQ community. "STFU!" is a quick vent session; "Fuck This World" is the obligatory climate apocalypse anxiety spiral. Sawayama carries a song and a sound for every mood.