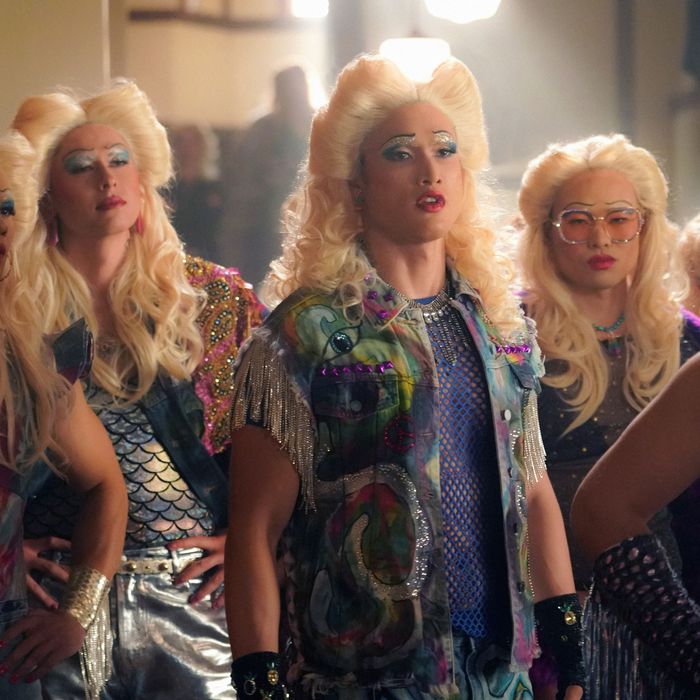 Photo: Shane Harvey/The CW
Hi! How are you? Are you okay? I am so starved for human contact and a sense of normalcy that I am unreasonably overjoyed that Riverdale is back. Now I can stop whispering my deepest, darkest secrets into my sourdough starter and tell them to you instead. Let's get to it!
Hedwig and the Angry Inch is one of my very favorite musicals and certainly my favorite musical about a trans glam rock singer from East Germany bending and transcending the gender binary. And yet this is my least favorite of Riverdale's, to date, reliably fun musical episodes, one that falls depressingly short of conveying just how radical and bizarre and heartbreaking and funny its source material is.
We open with an ensemble performance of "Wicked Little Town" that I do, frankly, fuck with (the women more than carry their weight while Riverdale's dads half-heartedly lip-sync, perfect), as everyone sits in their house and … watches the latest round of creepy home-surveillance video tapes deposited on their doorsteps. I'd personally pair that presumably terrifying experience with something more along the lines of, I don't know, that horribly shrill Sweeney Todd factory whistle, but I'm glad they're having fun.
Kevin (remember Kevin? I feel like we haven't seen poor Kevin in longer than this show has been on the air!) submits the list of acts for his variety show for principal approval, but Mr. Honey nixes the producer's own planned number from Hedwig on the grounds that it's inappropriate. (Instead, he suggests a more wholesome suggestion from Carousel, a show that deals in the wholesome subject matter of domestic violence and suicide and also an invisible ghost dad, but sure, "June Is Bustin' Out All Over" slaps.)
In the face of censorship, Kevin expresses his frustration, on behalf of all his Gen Z peers, via "Random Number Generation," during which disaffected students wearing T-shirts with, you guessed it, random numbers printed on them ransack their own lockers and perform desk-punching choreography straight out of Zumba class. Archie, meanwhile, signs his friends up without their consent to perform as a band in the variety show, a band that (in keeping with "Archie" comics tradition) he has named The Archies. Take a moment to really, real-life consider this. If your friend did this (to review: compel you to perform in a talent show, in a band that did not exist until this very moment, which he has decided to name his own first name, plural) — well, your friend would be an insane person. This is my favorite part of the episode. I love it.
Kevin elects to go rogue, donning full Hedwig costume and glam — including cape, blonde sausage-curls wig, and blue eyeshadow up to the scalp — to take over the music room for a raucous, Archie-smooching performance of "Tear Me Down" that inspires Mr. Honey to boot him from the variety show entirely.
At a sleepover at the Cooper house, the girls cheer up Kevin with a series of drag makeovers set to "Wig in a Box." Frankly, I should not be allowed to comment on "Wig in a Box" at all, because I love it too much. This is like my personal "The new Ghostbusters is ruining my childhood." The scene is certainly cute, but the syrupy-sweet Kidz Bop vocals and "Look at Me, I'm Sandra Dee" staging rob the song of its catharsis, its punk inflection, and its humor, even if it's enjoyable to see Kevin's face beat for the gods and your faves having a colorfully bewigged pillow fight.
What if everyone performed a song from Hedwig at the variety show, Betty suggests. Cheryl takes it upon herself and the Pretty Poisons to gyratingly cover "Sugar Daddy" at the school principal (okay, this is pretty fun) in an attempt to win him over to their cause. Now anyone who performs a Hedwig song at the variety show will be banned from senior prom.
Then Mr. Honey finds what appears to be the entire student body dressed as Hedwig assembled in the halls of Riverdale High. (The human-hours that went into the makeup alone! The wig shop that handled this bulk express order! Reggie!) This protest gets the variety show canceled altogether. I would be remiss not to address that, for all this episode's talk of Hedwig being controversial and for all the fun drag, it doesn't really engage with the actual content of the show. At least that I can remember, there is a nary a mention of, for one thing, the titular one-inch mound of flesh.
Veronica is mad at Archie for telling her that her sick dad has still been training at the gym, because he didn't tell her right away. Betty's campaign to drag Jughead into graduating on time by foisting a series of book reports and essays on him meets resistance from her boyfriend, who would prefer to hide in the bunker and secretly review surveillance footage borrowed from Charles instead, thank you. Betty is furious to find him there, and the intense argument that erupts — how are they supposed to stay together when she's off to Yale and he's "dead-end Jughead"? And, uh, can she give him a break because he just, like, died, sort of? — becomes a confrontational performance of "Exquisite Corpse" that I do like, at least until it begins to split itself up between theirs and Archie and Veronica's simultaneous, significantly less motivated fight.
Lo and behold, Betty and Archie are the only two members of the internally battling Archies (very Fleetwood Mac) who show up for rehearsal, and their oddly chopped-up version of "The Origin of Love" (why didn't they give this song to Choni?) ends with Archie and Betty kissing, which A) I don't really buy, sorry, no matter how many endgame-y flashbacks to season one they went to the trouble of editing into this episode, and B) is kind of insulting. Way to reduce an iconic queer musical into a means of smushing two cishet characters' faces together, team.
Their respective significant others soon show up and sweetly apologize, leaving them both wracked with guilt — and to stare into each other's eyes via their bedroom windows, each with a hand pressed against the glass. Cue "Wicked Little Town (Reprise)," a brief dream sequence featuring present-day Archie and Betty slow-dancing and singing into each other's faces in their semi-formal outfits from the pilot. (They look so much older already, my God! Our children are growing up before our eyes!) Like Marie Kondo, I love mess, but Barchie's late, great coming together feels forced to me. And besides, Betty needs to go to college and not throw her one wild and precious life away over any BOY, whatever the color of his hair — you could get murdered literally any day in this town, young lady, the statistics are not on your side.
The variety show is inevitably relocated to the Le La Bon Bonne Nuit, where the finale performance belongs not to Kevin, as it obviously should, but to the Archies — and, okay, to Kevin shoehorned in on a keyboard teetering off the far edge of the stage. "Midnight Radio" (I am prepared to admit I think Archie would make a good Tommy Gnosis) sees the band mysteriously transported to the diner's roof and the entire town assembled below, waving candles. That includes Mr. Honey, wearing a facial expression that can best be described as "IBS flareup."
I'm disappointed, but I will say this: I first discovered Hedwig when I was a teenager, and it makes me happy to think that this episode might mean that some Riverdale fans get to do the same.
Anyway, Jughead watches a clip of someone in a creepy Jughead mask being bludgeoned in the head with a rock by someone in a creepy Betty mask, so life in Riverdale — and death in Riverdale — goes on.