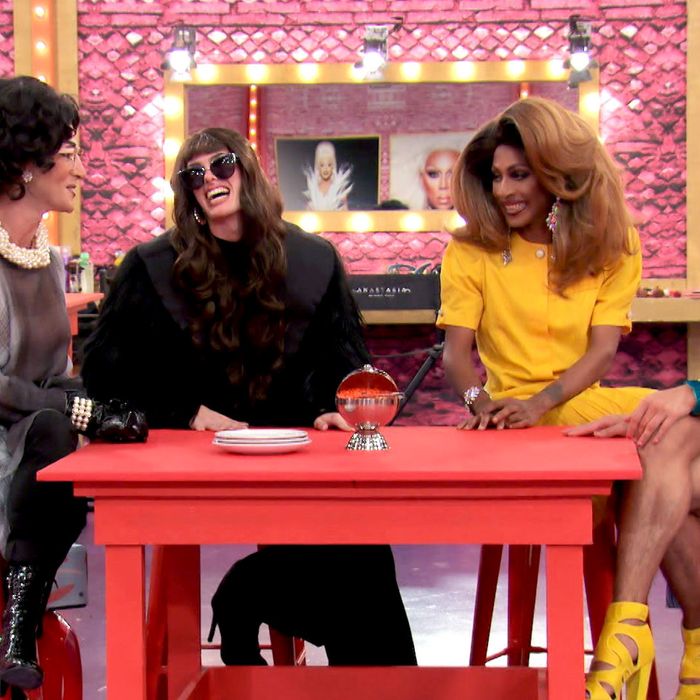 Oh, we NEEDED this episode. It has everything. The first signs of vulnerability in two strong frontrunners, the rise of our underdogs, and Chaka Khan learning what a merkin is. What more could you want? For the first half of this season, Gigi Goode and Sherry Pie have been running away with this competition, either winning or receiving high placement in each challenge. Gigi in particular seemed invincible, but tonight we found her kryptonite: The girl is cocky. To some extent, we already knew this. In the Snatch Game, Gigi could not have been more unfazed by Ru's concerns during her walkaround, easily brushing them off with a knowing smile. However, there is a difference between the confidence she embodied in the Snatch Game and the arrogance that is on display tonight. "Gigi, you've won three times!" says Jackie through gritted teeth. "Well, hopefully there's going to be a fourth, a fifth, a sixth," Gigi replies. Perhaps Gigi is feeling a little too comfortable with her trajectory in this competition. But we'll get to that later.
First, let's touch on a queen with a more mystifying (and more gratifying) failure: Sherry Pie. Drag Race production clearly anticipated that Sherry would be a likeable, obvious frontrunner, but the discovery of her pattern of sexual misconduct has since rendered her the season's de facto villain. The problem? She's been doing pretty damn well. Sherry is a seasoned comedy queen, bringing a level of polish that has been hard to critique. Until tonight, that is. When presented with an over-the-top comedy challenge, the self-proclaimed "queen of camp" totally whiffs. It is hard to say why Sherry stumbles (mostly because she's all but edited out of two thirds of this episode). It could be anything from overconfidence to a Katharine Hepburn curse from beyond the grave, but suffice it to say that Sherry is fallible, and this season won't be a runaway.
The vector responsible for all this conflama is this season's branding challenge. This year, the queens are responsible for designing and marketing a product for Ru's new expensive luxury brand, Droop. Droop is a parody of the infamous Goop, a lifestyle brand founded by actress, entrepreneur, and drag queen Gwyneth Paltrow. Goop already exists in a space that is almost beyond parody, in a luxe living room of sorts, furnished with vagina-scented candles, $95 avocado face masks, and rich women doing remote sessions with energy healers over Zoom. But if any institution can make this brand seem even less accessible and even more incoherent, it is RuPaul's Drag Race.
The commercials are a lot of fun. There are a couple clunkers to be sure, but they only make the gems (from Jaida, Crystal, and Heidi) all the more exciting. As I once told a therapist, let's start by discussing this week's tops.
First up, Jaida, who slays by marketing the Luxratuck: diamond-encrusted tucking panties woven from rare spider silk. Jaida is self-deprecating, kooky, and compelling. While she might not have the funniest written ad, Jaida's delusional, hot rich bitch persona sells it completely and feels very in line with the Droop ethos. Combine it with another 10/10 runway look, and we have two great weeks in a row for Miss Jaida Essence Hall. I'm absolutely thrilled to see it. Hall Monitors, let me hear you make some noise!
Crystal has an equally great week selling the Magic Mullet, a mullet wig that boosts your mood, conifdence, and sex appeal. Crystal's ad is perfect. The unrelenting, energetic aesthetic is a mix of an '80s infomercial and a Scientology propaganda film, a combo I never knew I needed. Come for hitting wigs with hammers, stay for "you could die at any minute!" To top it all off, she looks gorgeous on the runway, and her zombie bride look is a welcome break from the parade of polished pageantry the rest of the queens served. Crystal capitalizes on her growing #methmentum, and proves that her bounce back from last week was no fluke.
Do you hear that? That raucous cry is the sound of thousands of twinks across this great nation celebrating the first main challenge win of Miss Heidi N. Closet, who triumphs selling Heidi Hydrates Multipurpose Lotion. Heidi had me laughing every second she was on screen. She fake cries and squeezes her tears into a tiny bottle of lotion, she whistles out of her tooth gap, she makes fart jokes. It is truly drag excellence. She easily has the most jokes per minute of any other queen on stage. Tina Fey, take notes! Ross puts it perfectly: "It's just so fun to see somebody who I instantly love have all the goods to back it up." Indeed, we've all fallen in love with Heidi, so to see her finally take this first challenge win is the cherry on top of a great episode.
Jackie Cox rounds out the top half of the girls with her Magic Carpet merkin. There's nothing technically wrong with Jackie's performance. As usual, she's perfectly good and delivers a solid product, she's just never anyone's absolute favorite. The Rita Ora of drag. Jackie must be frustrated. If this week's mini challenge shows us anything, it's that the New York cabaret queen is funny as hell. She shines in a battle of quick wits, but when it comes to bringing said wits to a more formal comedy challenge, much of that magic is undeniably lost. With zero wins, and an ever widening gap between her and the rest of the top seven, it's hard to imagine Jackie going much further in this competition.
Now let's talk about the subjects of the biggest upsets of the evening: Gigi and Sherry. While Gigi and Sherry were our incumbents coming into this evening, they were primaried and ultimately unseated by the trio of feisty up-and-comers we just discussed. (Yes, I know this metaphor would've worked better last week when AOC was the guest judge, but LET ME HAVE THIS.) Gigi and Sherry escape the bottom two this week, but not by much. In Sherry's ad, there's barely one joke to be had, and in Gigi's she's smug to the point of unlikeability. While Gigi is still far and away the frontrunner for the crown, this week provided a much needed shakeup, and it shows that this race is ultimately just getting started. However, the ads aren't unsalvageable, and when we take into account both queens' stunning runway looks, they are spared from lip syncing. That honor is saved for Jan and Widow.
When we last left Jan, her spirit was broken by the dual blow of being robbed of her Madonna Tony Award and losing her best friend Brita, all in the span of minutes. Jan would have us believe that her grief was due to a 50/50 split of those events, but, as other queens point out, it's probably closer to 80/20. However, optimist that she is, Jan is determined to bounce back this week as she sets out to market her product, "Sure, Jan": A fragrance that makes you look gorgeous, sing beautifully, and win awards. While this ad succeeds as a very pointed glimpse into Jan's psyche, it does not triumph as a piece of comedy. Frenetic, unrelenting, and bewildering, Jan's ad reads less "comedic commercial" and more "David Lynch directs a Kristen Chenoweth TikTok." Chaka Khan sums it up well: "It was a little WUWUWUWU!" Despite looking beautiful on the runway, and serving an impassioned performance to Chaka's "This is My Night," Jan is no match for Widow in the lip sync. I'm going to miss you, Jan. As a high-functioning musical theatre gay myself, Jan was the representation I craved. Goodbye, my queen.
While not quite as despirited as Jan, Widow has a rough go of it this week as well. Widow set the bar high for herself this season when she danced and rapped her face off in the premiere, and subsequently murdered a lip sync to "Starships." And while she's had some good episodes since, she's yet to come close to matching that level of dominance. Ru tells her as much in his Werk Room walkthrough, and Widow can't seem to get it out of her head. She fumbles as she markets Throaté, a throat coating spray made from spider venom. There are no jokes, and the typically vivacious Widow seems almost subdued. It's difficult to watch, especially given that she's in the presence of her idol, Chaka Khan. To crush her even more, when Ru asks who should go home tonight, every queen says her name as they go down the line. However, it all feels worth it when Widow is made to lip sync. Widow embodies "This is My Night." It's ferocious, it's powerful, and it's lived in. Each time Widow lip syncs the song's title, you believe her. As Jackie observes, the spirit of Chaka Khan has possessed Widow, and, indeed, the night is hers.
The race is narrowing, and eliminations are getting harder and harder to predict. Tonight's episode showed that despite appearances, even the strongest queens of the season are prone to a slip-up now and then. And given the excellence across the board in the top seven, any slip-up could be fatal. Heidi Hoes: tonight, we dance and celebrate. Jan Stans: tonight, we mourn and listen to Rent (the Original Broadway Cast version). I'll see you next week!
"It DO Take Nerve"
Quotes that left me mouth agape
• "This morning, I feel fine!" - Jan
Do you, Jan.
• "Mama Ru, Imma give you 2.3 percent of all Heidi Hydrates sales. I think that's a generous deal, and I'm looking forward to doing business with you, partner!" - Heidi
I knew we were in for a treat this week when I saw Heidi scribbling with that lil' Sharpie. Here's to more challenge wins for the most delightful queen of the season!
• Heidi: "This is hard…"
Widow: "Say it."
WHEW, this got me. Despite the friendship Heidi and Widow have formed, Heidi still tells Ru she thinks Widow should go home, and, through gritted teeth, Widow gives her permission. High drama.