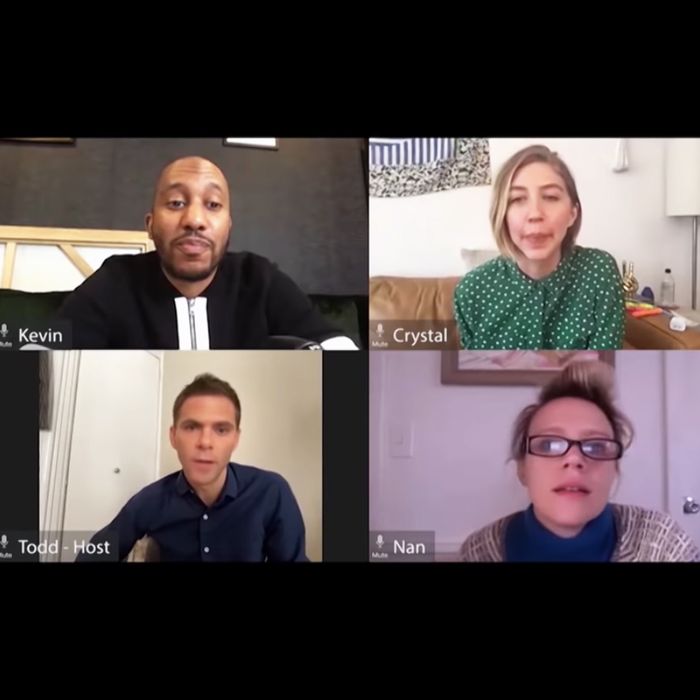 A Zoom meeting,
SNL
-sketch style.
Photo: Saturday Night Live/YouTube
Over the weekend, Saturday Night Live delivered a new episode that was not live, not recorded in Studio 8H, and, owing to social distancing, featured sketches in which none of the cast members occupied the same physical space.
Dubbed Saturday Night Live at Home, the nationally televised comedy experiment was a testament to the spirit that has defined the 45-year-old NBC institution from the beginning: that a show will be put on Saturday at 11:30 p.m. come hell or pandemic. But it also demonstrated that, no matter how creative and resourceful everyone gets within the confines of their apartments and homes, there are limits to doing sketch comedy when the sketches cannot be done in person.
Saturday Night Live at Home was by no means a complete disaster. The opening monologue wasn't necessarily a laugh riot, but it was still comforting to see "host" Tom Hanks telling jokes from his kitchen, clearly in good health again after recovering, along with wife, Rita Wilson, from his bout with COVID-19. The inevitable portrait of the absurdities of Zoom conference calls — featuring the technologically challenged receptionists Henriette and Nan, played by Aidy Bryant and Kate McKinnon, previously seen in this sketch from last year — was a tad predictable but still funny.
I'm pretty sure Chloe Fineman constructed her entire "Masterclass" parody, in which she impersonated Timothée Chalamet, Jojo Siwa, and Carole Baskin, around the wigs she was able to yank most quickly out of her bedroom closet. But so what? Her portrayals were spot-on, and it gave her an opportunity to fully shine on her own, something a typical episode of SNL doesn't always afford her. The animated short Middle-Aged Mutant Ninja Turtles worked as well in the "at home" format as it would have in a typical episode, which is to say that its concept was more clever than its execution. But it still made me giggle in the midnight hour, which is a pleasant change from the mood most of us are in when we stay up too late these days.
Still, there was something fundamentally awkward about the Saturday Night Live at Home experience that couldn't be avoided. Almost every sketch wound up being a riff on a digital form: Pete Davidson's rap parodies, Mikey Day's Twitch gamer show "Cam Playz Dat," Heidi Gardner's adaptation of her "Weekend Update" bit as the YouTube video "Bailey at the Movies," Kate McKinnon's Ruth Bader Ginsburg impression reimagined as workout video, Ego Nwodim's funny makeup tutorial done with Crayola markers. Given the limits of having to do everything individually and online, this kind of repetition was inevitable and understandable. That didn't make it less repetitive.
The SNL staple that seems easiest to replicate in a videoconferencing format is "Weekend Update," but even that didn't work quite as well as it could have. Colin Jost and Michael Che made the decision to include a laugh track, a.k.a. Zoom audio of a handful of staffers cracking up at their jokes about Bernie Sanders and Rudy Giuliani. That was supposed to make "Weekend Update" feel more like it does under normal circumstances, but it had the opposite effect: It was a distraction that made the whole segment seem like a contrived exercise in trying too hard.
The best part of "Weekend Update" was the one-sided joke swap at the end, when Che, who lost his grandmother last week to COVID-19, asked Jost to read a joke he had not seen in advance because that was his grandmother's favorite recurring bit on "Weekend Update." Jost complied, reading a joke emailed to him by Pete Davidson that, in keeping with tradition, made him look racist. It didn't seem like he had read it before, either, and that made it the most organic, natural part of the segment, taken up a notch by Che's kicker, in which he revealed that his grandmother was not really a fan of "Joke Swap." "My grandmother has never seen this show," he said. "I just wanted you to do that."
That spontaneity is what has made the at-home versions of other late-night shows work and also highlights what makes it harder for Saturday Night Live to do the same. Jimmy Fallon, Jimmy Kimmel, Stephen Colbert, Trevor Noah, Conan O'Brien, and Samantha Bee have been successful at retooling their shows for the social-distancing moment by making them more personal and turning the low-budget, outside-the-studio situation into an asset. That's not easy, but it is easier for them to do because, at their core, talk shows either thrive or don't based on the personalities of their hosts and the one-on-one conversations they have with their guests. All the taped bits and karaoke sessions are fine, but ultimately, they're not central to what a late-night talk show needs to do.
Noah can still do acidic takes on the news from his apartment, and Bee can do them from deep in the woods, even if there isn't an audience there. Fallon is able to be more charming by incorporating his wife and his daughters into his show. O'Brien, Kimmel, and Colbert can still have fun back-and-forths with guests over Zoom. I'd argue those conversations seem even more genuine and interesting now without all the focus on whatever projects people would ordinarily be on the talk-show circuit to promote.
Saturday Night Live is a different animal. We expect SNL to be both polished, with sketches that are well written and smartly realized by an agile production staff, and rough, as sketches are live, which means a screwup is always just a second away. In a socially distanced format, the show can't be polished. There are no real costumes. Sets and backdrops in Saturday night's episode consisted mostly of homemade signs. And because all the bits are pretaped, the unpredictability that comes from going live is missing. What has always given SNL its zing, even on its bad nights, is the energy that comes from having a group of comedy pros bouncing silliness off each other. That energy can't be replicated when the players are not in the same space. It just can't, even when a valiant, technologically supported effort is made.
That said, I'd still like to see some new episodes of SNL this season, and the last segment of Saturday Night Live at Home, which was also its best, explains why. The show ended Saturday night with a tribute to Hal Willner, the show's longtime music producer who died last week after experiencing symptoms consistent with the novel coronavirus. Multiple cast members, current and past, appeared on video to pay tribute to Willner. Several former female cast members and writers — including Tina Fey, Ana Gasteyer, Amy Poehler, and Maya Rudolph — sang Lou Reed's "Perfect Day" together on Zoom. Adam Sandler, John Mulaney, Fred Armisen, and Bill Hader spoke about the joys of working with Willner. It wasn't a bit that was going for laughs, obviously, but it spoke to why we need SNL right now. Because Saturday Night Live is a tradition. Because, as dysfunctional as its climate has often been, its cast and alumni feel like family. Because you want to see all the faces in that family to make sure they're all doing okay.
For those reasons, I think SNL should continue to air in the 11:30 time slot, not just as repeats but perhaps not in exactly the Saturday Night Live at Home format, either. Trying to make SNL look like usual SNL is just not possible right now. Instead, maybe Lorne Michaels & Co. should plan to do a combination of clip show and new content. Ask cast members new and old to take turns curating episodes of Saturday Night Live that would allow them to talk about, and then show, some of their favorite clips from its nearly five-decade history — not just clips of their own performances but of sketches that they loved from the '70s, '80s, and '90s. Maybe put together an episode of nothing but sketches that were filmed in dress rehearsal and cut for time. I would 100 percent watch that every week. There are a lot of ways to make Saturday Night Live into a must-watch weekly event without trying to do it the way it's always been done. Part of living through this pandemic means realizing that we have to let go of certain habits and approach them entirely differently. This seems like a moment for Saturday Night Live to do exactly that.