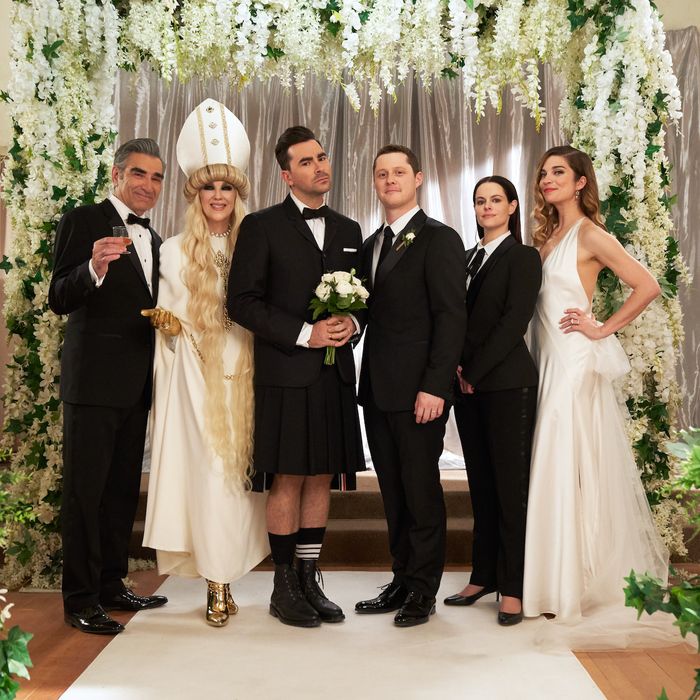 My dearest Schitt-heads, we have made it to the end of the road and it is the most bittersweet. It's hard not to have a heavy heart, knowing that this finale is the last adventure we'll have with the Roses. Schitt's Creek is a rarity: a show filled with so much joy and kindness that is also funny as hell. Sure, that's the type of show we need now, but honestly, it's the type of show we need always. On top of its tone, sense of humor, whip-smarts, and beloved cast of characters (as if you really need more), it's also an incredibly well-constructed show. Please, tell me another series that improved upon every single season throughout its run. Thanks to consistent character growth and a purposeful series arc, in its final season, Schitt's Creek has never been better. So, as sad as it is to say good-bye, what a pleasure it is to see a show go out at the top of its game, giving all of its characters the happy endings they deserve.
And I'm here to report that for some, that is a literal happy ending. For its final bow, Schitt's Creek is giving us a wedding episode, and this is a sitcom, so wedding hijinks are basically a requirement. There is a storm rolling through Schitt's Creek, which means David's (and Patrick's) dream outdoor wedding is off the table. He had to choose between a tent and wood fire pizza oven, and we all know which way he went. Johnny, Stevie, and Patrick will work on finding a new venue. There is also, however, a problem with the officiant, a haikuist named Fabian. He only rides a penny farthing (I treasure this detail), and so had to cancel because of the rain. Johnny offers up his services, but can't even get the word "son" out without crying, so he is of no use. Moira, however, killed when she officiated Pat Sajak's first wedding ("Can I buy a vow?"), and since she is the least sentimental of the group, she is up for the task.
So Moira is off to write her speech for the wedding, a job that proves tougher when an emotional Alexis walks in and gets upset thinking about how she won't be able to just pop in and see her mom anymore, and how maybe it was a good thing they lost their money, which is just the start of Moira's hard exterior crumbling. And while the rest of the town tries to figure out how to move the wedding to the Town Hall, David is ordered to stay at Patrick's to relax. Even if things had been going smoothly, Patrick knew David would be incredibly anxious, and so booked him a massage. David's into it, and then the masseuse is very into it, by which I mean he proceeds to give David Rose his very own happy ending.
When Patrick and Stevie return to tell David about the change of venue, they are disturbed by how calm he is. "Calm" is a word that has never been used to describe David Rose. But he tells them: He's never had a happy ending before and he couldn't believe Patrick paid for one, but he's very thankful. Patrick is floored. He made no such request. Friends, "Why would I want you to get a happy ending from a stranger on our wedding day, David?" might be one of the most perfect lines ever uttered on this show. I mean, what's done is done, and David ends up comforting Patrick while also motioning to Stevie that yes, the happy ending was very good.
This is not the last wedding day crisis David will have to deal with. He shows up back at the motel to get dressed for the ceremony and finds Alexis there, ready to go, looking gorgeous… in a wedding dress. Alexis claims it's just a white evening gown and it didn't come with a veil, it came with a headdress made out of white tulle. David is beside himself — we know this because his voice keeps getting higher — because now when Alexis walks him down the aisle, it will look like they are the ones getting married. Stevie assures them that the town of Schitt's Creek has seen much weirder things and it will be fine.
With all of those fires put out, the time has come for David and Patrick to get married. I can't lie to you people, I'm tearing up just writing about it. And full disclosure, the moment the Jazzagals stood up around the perimeter of the Town Hall and started singing "Precious Love" I flat out burst into tears. That scene from the season-two finale in which the Roses all dance together to that song in Mutt's barn remains one of my favorite moments of the entire series, so, uh, yeah, that one hit hard.
Luckily, I couldn't cry for too long because Moira Rose makes her grand entrance as officiant and honestly, if they don't make a Young Pope spinoff with Catherine O'Hara after this, what are we even doing here? Moira's papal outfit and ridiculously long blonde hair is truly the perfect way for TV's Moira Rose to go out. She's followed by Johnny and Stevie, and then we find Alexis and David waiting in the back. Alexis is freaking out because finally she can admit that yes, she looks like she's in a wedding dress and she has ruined David's day when all she wanted to do was impress him. Again, David's the voice of reason here: The wedding was ruined long before Alexis came around and also, "for what it's worth, I am continuously impressed by you," he adds. NO ONE IS OKAY RIGHT NOW.
Alexis walks David down the aisle to the tune of, yes, you guessed it, "The Best," and by the time Moira has to begin her speech, she can barely get a word out. Obviously, yes, we are supposed to be feeling all the feelings at this moment, but let's give it up for yet another comedy masterclass by O'Hara. She is everything you want her to be in this scene as she tries to get through her speech to her son. The vows, too, offer no reprieve from tears: Patrick sings David "Always Be My Baby" by Mariah Carey as a nod to the first time they said "I love you" and David gives a gorgeous speech about never feeling safer than he does with Patrick, never knowing love like the love he knows now. He caps the whole thing off by reminding Patrick that he's his real happy ending because hi, hello, Schitt's Creek is first and foremost a comedy.
And just like that, our guys are married. It is a ceremony befitting them as a couple and a scene befitting this show. All that's left is for Johnny and Moira to take off for California the next morning. The kids — and we're including Stevie and Patrick in that group — line up outside the motel to bid them farewell. It's full of tears and I love yous and I'm so prouds and you just know some of this is real life bleeding into the show. Johnny hands Stevie his motel keys and they're off. But Johnny has one last thing to do. As he and Moira are driven out of the town they were forced to flee to three years ago, the town that changed their lives and their family for the better, Johnny takes a look at the notorious "Welcome to Schitt's Creek" sign for the last time and discovers Roland's parting gift to the Roses: Instead of the painting's brother and sister doing something questionable in the creek, they've been replaced by Johnny and Moira, as David and Alexis watch from afar. A perfect send off. Johnny rolls his window up and tells the driver to head out because they're ready, even if we aren't. Oh, my precious bébés, best wishes and warmest regards, always.
The Wig Wall
• I love that so many of our Schitt's Creek citizens got one last little moment to remind us why we love them: Ray Butani filming everything, Bob still waiting for Gwen to return, and Ronnie asking the florist (who she knows) for a favor but only for David. Ronnie's undying hatred for Patrick will make me laugh forever and ever.
• When Moira asks if the reason why Alexis is so upset is because David said something mean, she reminds her daughter that "he can be very cruel, but it's all fear-based, dear, so don't take it personally."
• When Stevie points out that David didn't ask the masseuse to stop during the happy ending debacle, David's response truly sparks joy: "Okay, Marcia Clarke, court's adjourned for the day."
• We, too, are given a parting gift, and I'm not just talking about the way Catherine O'Hara has Moira pronounce "looky-loo binoculars," but also a reminder at how much depth O'Hara imbued into the truly wackiest of characters, never better illustrated than her wedding speech: "Our lives are like little bébé crows carried upon a curious wind. And all we can wish, for our families, for those we love is that that wind will eventually place us on solid ground. And I believe it's done just that for my family, in this little town, in the middle of nowhere."
• "There's a time and place for sentimentality and your only son's wedding day is hardly the moment."