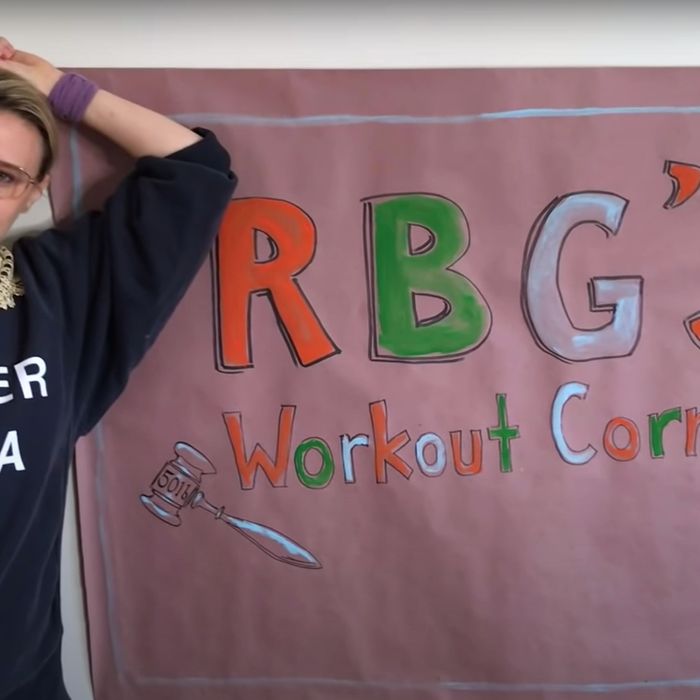 This week, SNL is as much a public service as it is a show. During these strange days of staring out the window while eating twice the RDA of everything, opportunities to laugh together are in short supply. While late-night hosts have been providing stripped-down showlets from their living rooms and attics, and performers are streaming glitchy variety shows on Zoom, "Saturday Night Live at Home" lies somewhere between the two. The host was Tom Hanks, though beyond a monologue, his involvement amounted to an intro for musician Chris Martin and a good-bye. Guest spots came from Larry David, Alec Baldwin, Fred Armisen, and a slew of famous alums who sang a heartfelt tribute to music director Hal Willner. And finally, no, Brad Pitt did not play Anthony Fauci. It was something that Fauci himself requested — so hey, SNL, if this kind of thing should happen again, it really is the least we could do for the guy.
Other things to keep in mind for this unusual show: One, it definitely wasn't live. All the bits were filmed and edited at an earlier time. Two, the show comprises a lot of sketches, and these sketches are simpler and shorter than most of the things that make air. Given the unusual circumstances and required delivery method, it follows that most of the pieces are the sort of front-facing comedy that dominates social-media platforms. There isn't an abundance of technical wizardry on display — beyond the initial magic and ease of Zoom — and the production quality of any given sketch is essentially based on whatever the cast member has around the house.
SNL is a well-funded, well-oiled machine — when it films at 30 Rock. This isn't what it was built for, so the usual standards we might use for an in-studio show can't apply here. After issuing similar caveats in his monologue, Tom Hanks sets the tone this way: "Will it make you laugh? Eh, it's SNL. There'll be some good stuff, maybe one or two stinkers. You know the drill."
One final caveat: As many of the sketches are simple bits that the performers are hammering out in their living rooms, they're almost impossible not to ruin. So if you think our usual dissection gives away too much, watch the bits first.
Tom Hanks At-Home Monologue
From his kitchen, Hanks delivers a monologue about the coronavirus, being the "celebrity canary in the coal mine" for the coronavirus, and being in Australia when getting the coronavirus. He confesses that the entire ordeal has made him more America's dad than ever: "No one wants to be around me very long, and I make people uncomfortable." There's another fine zinger about women in Hollywood, and then Hanks pops up as people in the audience asking questions. Really, as the aforementioned canary, and a friend of SNL who has hosted the show throughout his career, there is no one better to tackle this odd and lovely gig. Even in this "weird" circumstance, Hanks looks at home — in part because he is literally at home.
If you watch the clip, you'll see the intro was part of the fun; the usual recording of cast members laughing and doing bits in public is supplanted with footage of the cast home baking, watering plants, and playing with their kids. Much of the joy of this show is the fact that it happened despite the inconvenient circumstances, and this twist on the usual format feels both fun and comforting.
How Low Will You Go
On this game show, host Alex Burpee (Beck Bennett) invites contestants to see how "desperate they are to touch another human body." Tara (Ego Nwodim), Hayley (Heidi Gardner), and Ashley (Aidy Bryant) have all wrecked their vibrators and are ready for someone — anyone — to help them out. Tip (Mikey Day), Dern (Pete Davidson), and Townsen (Kenan Thompson) are all social misfits of some sort of other, but this doesn't faze anyone. This premise is the clearest and most effective of the show, there are some great little character portraits, and the timing of the ladies' responses is excellent. This one would have made it at 8H.
Bernie Sanders Address
Addressing his supporters, Bernie Sanders (Larry David) laments the end of his campaign. "Always a bridesmaid, never the Democratic nominee," he says with a sigh. While he does address questions about endorsing Joe Biden, he can't help but talk about the coronavirus and how things have changed for everyone. As for his future, Bernie plans to relax and "finish that heart attack from October." Because it's David without a hairpiece, recording from home, this kvetching Bern feels more like David than ever before. While there's a decent Curb Your Enthusiasm waiting in all the social faux pas described here, the piece is also a nice stand-in for SNL's usual cold opens.
Masterclass Quarantine Edition
The online school offers three new classes from celebrities looking to impart their wisdom: Timothée Chalamet offers fashion advice, JoJo Siwa teaches the art of TikTok videos, and Tiger King's Carole Baskin takes on bike riding. (All three roles are played by Chloe Fineman.) In short, Timothée advocates hoodies, JoJo backs up her reputation as a "viral loudmouth," and Carole pedals in a circle while trying to convince everyone she didn't kill her husband. From concept to execution, this bit wins. It makes sense that Fineman would excel here: Long before she was on SNL, she delivered her impressions on Instagram, so she knows the format intimately.
RBG Workout
Wearing her judge's collar and a T-shirt that reads "Super Diva," Ruth Bader Ginsberg (Kate McKinnon) shows off her quarantine exercise regimen. While working on her "abs, gams, and tuchus," Ginsberg delivers some of her patented "Ginsburns," directed at the current administration as well as conservative members of the Supreme Court. In the midst of it all, Ginsberg is harassed by her cruel trainer (Kate McKinnon's cat). This impression has been in McKinnon's repertoire for a while, the gags are well-written, and it's fun to watch McKinnon get creative with props (or cats) she has around the house.
Middle-Aged Mutant Ninja Turtles
This parody toys with the original animated Turtles' credit sequence and theme song, giving Leonardo (Mikey Day) and the boys challenges more befitting 40-year-olds. They've long since moved out of the sewers and given up ass-kicking. Now, they're sober, shopping at Whole Foods, and lugging out the recycling bins. The disturbing phone call Donatello gets from his doctor, and the interminable wait he suffers, really illustrate where the heroes are in their lives. Both the animation and the song have a lot of excellent detail to them, and anyone who grew up with the Turtles will feel a twinge when hearing, "Their best days are … way behind them."
Weekend Update: Home Edition
This week, Colin Jost and Michael Che skip the suits for a more informal Update performed for a small audience on Zoom. (Without laughs, Che says, it would look like "hostage footage.") They zoom in on Anthony Fauci, Joe Biden, and how the coronavirus affects different communities. There are a couple of stray jokes about Kylie Jenner's millions and Harvey Weinstein's recovery from the virus — they may be the best of the lot. Donald Trump (Alec Baldwin) phones in to talk about how America is number one; whether or not that has to do with coronavirus cases seems unimportant. These gags are stand-ins for what would probably otherwise be used for a cold open, and there are some nice ones about Trump's inconsistent messaging and whom it is he seems to trust.
In the second half, there are some good-and-tasteless bits about, among other things, gerbils. The best moments come when Che lets it be known that he lost his grandmother, and convinces Jost to do a joke swap because it was her favorite bit of the show. After Jost agrees to tell a joke that paints him as a racist, Che confesses that his grandmother never watched the show. It's a flash of the playful torture between these guys that has always been a highlight of their Updates.
Zoom Call
The boss at Sales Corp Industry (Mikey Day) welcomes a bunch of his employees to their first Zoom call. Everyone seems to get it other than the receptionists, Henria and Nan (Aidy Bryant and Kate McKinnon). These two get too close to the camera, take their laptops into the bathroom, and accidentally use Wayne Brady as an avatar. Eventually, the two of them break down, wailing things like, "If I can't kiss my kids on the mouth, I'm gonna eat an animal!" This piece is one of the few traditional sketches in the show, and the message hints at the limitations of the medium. The sketch is about the Zoom foibles we've all been privy to, or just witnessed through others' eyes, but it's really another opportunity to wind Bryant and McKinnon up and just watch them go.
Sport Report
From his house, Brit Bob Tisdale (Alex Moffat) delivers a report on sports from a cloistered world entirely devoid of sports. His highlights include competitions to see which of four popcorn kernels will pop first, which of two matches will outlast the other, and which banana will ripen the fastest. There's also a round-up of what Tisdale and his wife saw out the window. The whole package is clever and pitch-perfect. The empty sports patter doesn't only articulate a moment at which people are at loose ends in their own homes, but illustrates the emptiness of sports patter in general.
Whatcha Cookin'?
Longtime creative partners Beck Bennett and Kyle Mooney FaceTime each other to brainstorm ideas for the show. Unfortunately, neither of them have a clue. Thanks to some helpful editing, their dissembling turns into a rhythmic patter, which morphs into a little ditty about creative blockage. Eventually, they're joined by Fred Armisen. Armisen doesn't have any thoughts, but he's pretty sure Lorne et al aren't going to pick an idea about people not having ideas. Indebted though it is to Doug Lussenhop (editor for Tim & Eric Awesome Show, Great Job!, and Portlandia), there's real charm to the pals' goofiness.
Quarantine QT
Doing her best to look good while sheltering in place, Ego Nwodim offers her beauty tips to the online audience. She goes from highlighting her eyebrows to adding blush to her cheeks and color to her lips. It would be a standard tutorial, if she weren't trapped at home and using whatever she had around the house — and, more than anything, it seems she has a lot of Crayola markers. Nwodim plays this just right, without much of a wink to the audience. In doing so, she provides an excellent picture of the deterioration of brain function without a lot of human contact while in quarantine.
Bailey Gismet Youtube Channel
Teen movie critic Bailey Gismert (Heidi Garder) reviews all the movies she's been watching while in quarantine, despite the fact that her parents "are being awkward." She's seen The Hunt and Emma, both of which were awkward, and The Invisible Man, which was cute. Meanwhile, Bailey's mom is posting pictures of herself in a bikini and otherwise making Bailey feel invisible. The material is clever, and as the character appears on Update, it translates easily to this format. It's fun to see this character in the comfort of her own home, which means less fidgeting and fumbling in the presence of guys like Michael Che.
Visualizations With Aidy
In order to help achieve a sense of calm, Aidy Bryant leads the audience in a series of soothing visualizations. Comforting environments, fantasy scenarios, favorite foods — anything might be the right thing to encourage a state of relaxation. Sadly, for every little moment of happiness she finds, Bryant can't help her mind from drifting toward snakes, World War I, and how silly generalized images of relaxation can be. The writing here isn't stellar, but Bryant's endearing presence makes everything hold together.
Pete Davidson "Andre 2000" Music Video
As a young, new rapper, Davidson is "flexing with everything I've got." This means whatever cars he's got in the driveway and a handful of cash that looks impressive on camera. Which, when broken down, isn't really all that much. Though Davidson's "Drake" video is bound to get more hits because it's got Drake in the title, the specificity of this one makes it the better of the two.
Pete Davidson "Drake" Music Video
Drake has his quarantine jam, "Toosie Slide," and Davidson has this. While "Toosie Slide" finds Drake wandering around his well-appointed palace alone in a balaclava, Davidson imagines there's more going on behind the scenes. Namely, that the Canadian rapper misses his ex. Drake takes a lot of shit for being a sensitive guy, and this is more merde for the heap. That said, the track flows nicely, and it was filmed in Davidson's mom's basement and directed by Davidson's mom.
Twitch Stream
On his feed, Cam of Cam Playz Dat takes on first-person shooter Call of Duty: Warzone. Before things really get underway, he gets picked off. After re-spawning, he's picked off again. And then again. "Go back to Fortnite," one of his rivals taunts him. Eventually, he gives up and tries a speed run in Super Mario Bros. The initial joke is fun, but there isn't much room for it to develop. The remainder of the bit is essentially filled by gamer clichés.
From the moment the intro kicks off, it's clear the show is going to have a different sort of flair. Anyone who has watched (or tried to watch) a live show on Zoom in the past few weeks knows there are a lot of things that can go wrong; so SNL was probably smart to avoid the live element of the show. Some, like Chloe Fineman, understand the front-facing-comedy medium and know how to make it work for them. Others, like Mikey Day, get help from editors and producers, and it's not quite enough to make the material sing. There's limited time, as always, but it's sad not to see Cecily Strong, Melissa Villaseñor, or Bowen Yang — and so little Kenan Thompson, to boot. But all that said, this show was less a risk than a gesture of solidarity. The star-studded tribute to musical director Hal Willner solidifies that impression. At the close of the show, Hanks says he hopes it gave the audience "something to do." It did that, and more.