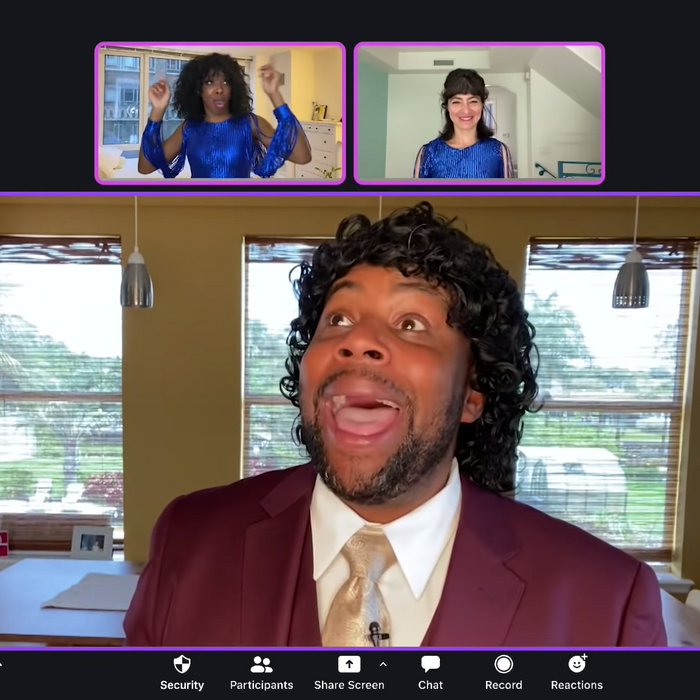 The first Saturday Night Live at Home — which aired a couple of weeks ago, or maybe a few years ago, or possibly yesterday — illustrated the good and bad of shows created in quarantine. The Zoom sketches made clear the limitations of the app, and pre-recorded video couldn't replicate the energy of a live show. That said, as the coronavirus hasn't been providing a lot of laughs, that first At Home SNL was a stripped-down, heartfelt gesture of solidarity on the part of the producers, writers, and cast. This week, however, the crew had a better sense of the tools at their disposal and got creative. Broadcast TV isn't like Instagram, Twitter, or TikTok — which are tailor-made for fits of low-fi, creative energy — and this week, SNL did its best to ramp up production and polish things.
As was the case with the first at-home edition, there are a lot of shorter pieces, and many of those are essentially one-person character monologues from the cast. We're still ranking the sketches from best to worst, but for the sake of tightening things up just a bit, we've bundled (and ranked) these monologues together.
Dr. Anthony Fauci Cold Open
Dr. Anthony Fauci (Brad Pitt) is here to rebut all of the strange, misleading, and downright false claims President Trump has made about the coronavirus thus far. Among the claims: This will all be over "relatively soon," that "everyone" can get tests and, of course, this week's weird rant about powerful light and disinfectants eliminating the virus. The fact that this was prerecorded, and on a quality camera, means that the nuances of Pitt's performance are clear; in particular, there are some pauses and takes to the camera that wouldn't quite read in a live format. The jokes aren't all that surprising, but whatever, this is a coup; Fauci made an offhand comment that Pitt should play him on SNL, and it actually fucking happened.
What Up With That? At Home
As is his way, Diondre Cole (Kenan Thompson) invites a bunch of guests on his show — this time, it's Charles Barkley, DJ Khaled, and Lindsey Buckingham (a still picture of Bill Hader) — only to interrupt them with extended versions of the "What Up With That?" theme song. Even in quarantine, Cole has access to his singers (Ego Nwodim, Melissa Villaseñor), his oddball entourage (Fred Armisen, Jason Sudeikis, Mikey Day), and disco queen Quarantina (Cecily Strong). In this moment, Thompson's energy and the ridiculousness of this sketch is the perfect sort of distraction. Ignore the fact that Barkley is kinda trying to act and just enjoy the editing feats, graphics of wand-wielding kittens, and Sudeikis's always hypnotic B-boy.
Weekend Update
Much of the first half of this quarantine Update looks at Trump's frightening comments about disinfectant and how he asked whether doctors might "bring light inside the body" — a comment that Colin Jost imagines was the last thing said at Jonestown before the Kool-Aid. Though there's some condescending talk of rednecks and rural existence, Michael Che makes a fine point about the protesters who are quick to talk about patriotism but show up with guns when their country asks something of them. Pete Davidson appears, from his mom's basement, to talk about sex (or lack thereof) during the quarantine. Turns out, the city issued some guidelines about this, including an attempt to curb what Davidson is forced to call "heinie smoocheroos." It's a sad, horny lament that works despite any audible laughs.
In the second half, there are jokes about Banksy, the Michael Jordan doc The Last Dance, and a postal worker who stole a phone and 1,000 Viagra tablets. Jost presumes that postal worker is texting people "I'm up." (Che calls this a ten-year-old joke, so it says something about me that it's my favorite of the segment.) As Che made Jost tell an overtly racist joke last week, it's only fitting that Jost makes Che tell a sexist joke this time — you know, for charity. Jost coaxes Che to be part of an All-In Challenge, in which the raffle winner will get to write a joke for the Update hosts, and wants to give potential donors a preview of what they'll win.
Soulcycle at Home
With so many people sheltering in place, a long string of batshit crazy SoulCycle instructors introduce themselves and get their viewers' blood pumping from suspiciously bike-free homes. Phoenix (Cecily Strong), Korona-with-a-K (Ego Nwodim), and the rest of the gang (Bowen Yang, Chris Redd, Beck Bennett, Heidi Gardner) eschew antibodies because they're very pro-bodies and are upset to learn that Cosby got cancelled "because we need doctors right now." This recurring sketch still works — regardless of whether everyone is in the same room or not — thanks to committed performances and the relentless string of hard jokes that justify the caricatures.
Stuck in the House
Like many people in quarantine, Pete Davidson misses life outside the house, and this rap song details the many ways in which he's going crazy. Then Adam Sandler jumps in for a verse in full man-child mode, wearing a face mask made of underwear and crafting a cameo for Rob Schneider that almost makes you miss him. Almost. Davidson's framework is cute, but it's Sandler's presence that takes things a step further. No doubt Sandler's experience in silly songwriting has something to do with it, but his specifics (e.g. a complaint that he's now "using both sides of my toilet paper") steal the sketch.
Grocery Store Ad
Kathy and Suzanna-Anne-Helen (Kate McKinnon and Aidy Bryant) of Bartenson's grocery have run out of all the staples one might expect — eggs, soap, TP — so in the meantime, they need customers to buy all of the things that they do have: Mint Pringles, Boy Scout Cookies, and everyone's least favorite, Dasani Water. There are a lot of excellent (and fairly disturbing) product names here, and the McKinnon-Bryant buddy dynamic feels intact despite the distance.
FaceTime With Paul Rudd
Paul Rudd checks in with his cousin Mandy (Heidi Gardner), a.k.a. Pretty Mandy, whom he hasn't talked to since he was 7 years old. After the initial catch-up ("Do you still go swimming?"), Mandy just goads Rudd because he wasn't featured in Gal Gadot's "Imagine" singalong and he lost the Golden Globe to Ramy Youssef. As it was in the James Franco episode, Gardner's performance as the overconfident schlub is oddly compelling, and Rudd, naturally, makes for a dynamic straight man.
Released Early
After getting out of jail earlier than expected, former inmate Terrence (Chris Redd) calls all of the ladies in his phone to see about a chance for a hook-up. Sheila (Ego Nwodim) is social distancing, K.K. (Aidy Bryant) has a family and can never hear from him again, and Stacy (Cecily Strong) is incredibly ill. Several of the details — e.g., Terrence was serving a "600-year" sentence for bootlegging Sopranos DVDs — are well-imagined, and even in this compressed form, the performances have some nice flourishes.
What's My Name?
At a party where every single attendee is played by Kyle Mooney in a different outfit, Rob runs into someone he can't quite remember. That forgettable guy demands that Rob say his name, which sends Rob on a musical flight of fancy. (He thinks that being put on the spot "stinks.") The mix of awkward Mooneyisms and '80s video cheese works well here, in part because the circumstance he's playing with is easily recognizable.
The Reveal
In the quarantine era, murder investigations take place over Zoom. Detective Simms (Beck Bennett) gathers suspects (Bowen Yang, Cecily Strong, and Chris Redd) in a chat, but they have to pass the time until the arrival of one final suspect, Debbie (Heidi Gardner). In the meantime, one of the suspects (Strong) reveals a hidden musical talent and Simms decides to share his songwriting, too. He's so involved in his "masculine rock" jam about filling someone up with red steak he hardly has time to process when Debbie hops on the call and confesses. This sketch feels a bit like two premises, but all of the terrible lyrics are intriguing enough to see it through.
PornHub
This ad acknowledges all of the uncertainty inherent in the moment of the coronavirus, and what's getting all of us through the uncertainty: porn. The joke doesn't extend much further than this, but it's the build that matters. The voiceover and the imagery nail that sober yet comforting vibe that a lot of ad agencies are going for just now.
Snapchat Filter Reporter
While newscaster Brian Sutter (Mikey Day) is at home with COVID-19, his cohort Valerie Weber (Ego Nwodim) interviews him about his experience. While he talks about painful fevers, presidential responsibility, and irresponsible protestors, his camera-wielding daughter uses Snapchat filters to make her dad look like a baby or a banana. The gag relies entirely on the filters, so while it isn't a long sketch, it still doesn't quite earn its air time.
Monologues
Whiskers R We
Barbara DeDrew (Kate McKinnon) hopes people will adopt the real "bottom of the barrel" felines she has available online — including Boots, a "dominatrix who specializes in spit play and ding-dong punishment." McKinnon's actual cat is the costar here, and it's all really pretty endearing.
Airbnb Commercial
In this Airbnb ad, benevolent host Natalie (Chloe Fineman) hosts a rainbow-clad Swedish girl called Ooli (also Fineman). This is fine until quarantine sets in, when the overbearing visitor can't go home and starts doing naked yoga in the yard. Fineman gives great weirdo here.
Big Dominican Lunch With Big Papi
Former Red Sox player David Ortiz (Kenan Thompson) hosts a cooking show to make Seven Meat Sancocho, and gets an assist from pot salesman Big Bunny (Bad Bunny). While Thompson's usual Big Papi shtick applies here, the framing and graphics give it an extra dimension.
Melissa Seals the Deal
Melissa Villaseñor goes on a very successful date; there's flirting, a real connection, and eventually, sex. The twist: She's either on a date with the Invisible Man or a figment of her imagination. The absurdity here offers a nice twist on a simple premise.
Aidy Bryant's Childhood Journals
Aidy Bryant guides a tour through her childhood journals, which include entries on her early turtle obsession and lists of cool things — TVs, phones, Tamagotchi. While Bryant is always charming, this anecdotal introduction to her early scribblings could use a bit more structure.
OJ Address
O.J. Simpson (Kenan Thompson) tackles the subject of coronavirus via a predictable strain of jokes — specifically, he can't stop making reference to the murders. It's a challenge to make this material feel fresh, and this sketch doesn't manage to do it.
From the first shot of the cold open, it was clear the SNL team learned a lot doing its first At Home. Among the tricks employed: high-def cameras in the filmed pieces, cleaner Zoom relays, craftier editing, more robust graphics, and more costume pieces. The writers and the performers, for their part, found new freedoms in the form and carved out many more little moments for themselves. There was so much material that the savviest bit of political satire, Cecily Strong's monologue as Labatt's-sipping Michigan governor Gretchen Whitmer, complete with regional accent, didn't even make air. No, it isn't live, but SNL is proving that the At-Home experiment can do more than just provide something comedy-like interspersed with interesting cameos; it has the potential to gather a variety of genuinely funny perspectives and styles and filter them through a still-strange but increasingly compelling new context.