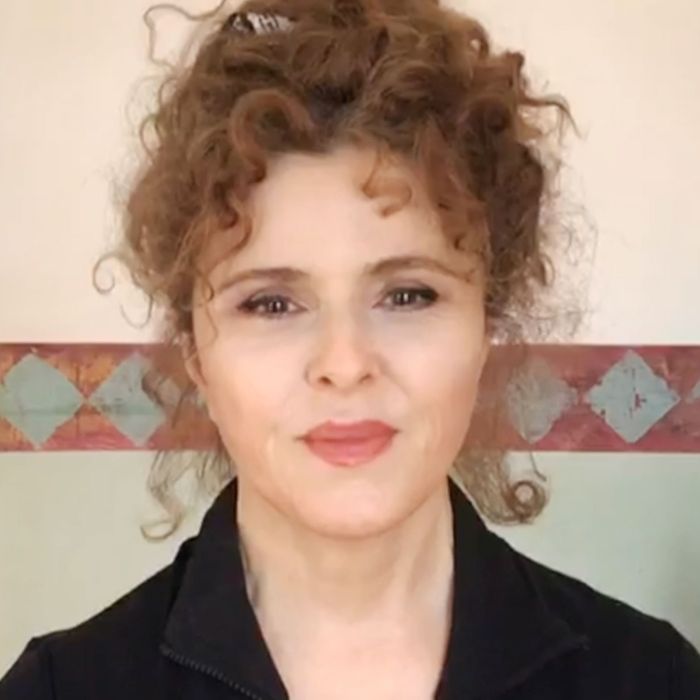 Of course Bernadette Peters gets to use "Steve."
Photo: Broadway.com
On Sunday night, after about an hour of technical difficulties, the theater world got to spend time watching its greats all remotely salute the career of legendary composer Stephen Sondheim in honor of his 90th birthday. The celebration, put together by Broadway.com in order to benefit ASTEP, was sorta almost hosted by Raúl Esparza, once he could call in to the show, and featured a bunch of pretaped performances from some of Sondheim's most famous collaborators, including a raucous trio of Christine Baranski, Audra McDonald, and Meryl Streep. But aside from the music and the chance to see which Broadway performers have ring lights on hand, the show was also a nice little glance into the subtle hierarchy of everyone's level of comfort with the actual Stephen Sondheim himself, specifically whether they felt sure enough to tape themselves on camera calling him "Steve." Bernadette and Mandy, of course, get to be nice and familiar, while someone like Beanie Feldstein sticks with a little formality. Because — at this point, why not? — we watched everyone's performances through again and noted how exactly they got to refer to The Great Man himself.
Stephen Schwartz: "Happy birthday, Steve."
Sutton Foster: Doesn't directly name Sondheim.
Sutton Foster's daughter: "Happy birthday to Stephen, uhh, Sondheim."
Neil Patrick Harris: "Happy birthday, Steve."
Kelli O'Hara: "Happy, happy birthday, Stephen Sondheim." "Stephen Sondheim, I love you so much."
Judy Kuhn: "The song I'm singing is actually not from one of Steve's shows; it's from the movie Dick Tracy." "Happy birthday, Steve."
Victor Garber: "I have worked with Steve on many shows since [Sweeney Todd] … Thank you, Stephen."
Katrina Lenk: *just breaks your heart with "Johanna"*
Aaron Tveit: "When I started out as an actor, I have to admit I was very intimidated by Mr. Sondheim's work." "Happy birthday, Mr. Sondheim."
Iain Armitage: "I've grown up in a household where every day I get to sing and talk about Shakespeare and Sondheim."
Beanie Feldstein: "Happy birthday, Mr. Sondheim."
Ben Platt: Let Beanie do the talking.
Brandon Uranowitz: "While probably all of Sondheim's lyrics are timeless, this one felt particularly prescient." "While the immediate future is unknown and scary, we have Stephen and we have his legacy."
Mary-Mitchell Campbell: "Thank you for being here for this very special birthday celebration for Stephen Sondheim."
Melissa Errico: "This is an honor to get to sing, and especially for this cause and these vulnerable children. In my own personal story, I know a lot about just how much I value both things." "I gotta go make dinner, bye."
Randy Rainbow: "Oh, Mr. Sondheim — hey, can I call you Stephen? — Steve, you don't know how rough it's been through the years watching some of your greatest songs go to the girls."
Elizabeth Stanley: "Sondheim was maybe the only musical-theater composer that was permitted on the classical voice recital juries." "Happy birthday, Steve."
Mandy Patinkin: "When I describe the impact's Steve's work had had on me …"
Steven Spielberg: "Hi, Stephen, it's Steven No. 2." "Happy, happy birthday, Steve."
Maria Friedman: "I'm singing 'Broadway Baby,' because it was the first song I ever sang in front of Stephen Sondheim."
Lin-Manuel Miranda: *just launches into "Giants in the Sky"*
Lonny Price: "Happy birthday, Steve."
Lea Salonga: "Stephen, this is Lea, and I just wanted to wish you a very happy 90th birthday."
Laura Benanti: *just sings "I Remember" while bathtub-adjacent*
Raúl Esparza: describing what the arts can do: "They might not make us Mozart, or Shakespeare, or [gestures toward the screen] you know, but …"
Chip Zien: "I thought, 'I'm friends with Steve Sondheim.'" [while fondling his actual Into the Woods hat] "Thank you, Steve. Happy birthday."
Joanna Gleason: "One of my greatest pleasures of my life, Steve, is watching you watch all of us."
Josh Groban: "Happiest of birthdays to you, sir."
John Weidman: "Over 30 years ago, I went over to Steve's house one afternoon with an idea for a new show." "Steve, I send you heartfelt thanks, much love, and happy birthday."
Brian Stokes Mitchell:  "Steve asked me to sing ["Flag Song"] at a benefit a few years back."
Michael Cerveris (and dog): "Happy birthday, Steve."
Jason Alexander: "I'm making my Broadway debut in Merrily We Roll Along and I'm working with and for Stephen Sondheim. And Stephen comes to me one day …"
Linda Lavin: "Hello and happy birthday, Stephen Sondheim."
Alexander Gemignani: *clearly too worn out from singing "Buddy's Blues" to say anything*
Ann Harada, Austin Ku, Kelvin Moon Loh, Thom Sesma: *listen, if you pull off "Someone in a Tree" this well you don't have to say anything*
Nathan Lane: "I just want to wish Steve Sondheim a very happy birthday." And, probably, more risky: "Yeah, there, I said it, The Frogs!"
Donna Murphy: "Happy birthday, Steve. I love you."
Audra McDonald: "Happy birthday, Steve."
Christine Baranski: "Happy anniversary, Steve."
Meryl Streep: "We love you, Steve."
Audra, Christine, and Meryl as a group: "Cheers, Steve!"
Jake Gyllenhaal: "Happy birthday, Steve."
Annaleigh Ashford: *sings "Move On" with Jake"
Patti LuPone: "Hi, everyone, I chose this song — it just moves me deeply."
Bernadette Peters: "Well, not only is Steve Sondheim a genius, he's a wonderful person, and I love him."
Raúl Esparza, again: "The greatest thing I know about Stephen Sondheim, he never stops trying." "Thank you, and happy birthday, Steve."
From our notes, we can see that, at 38, Randy Rainbow is the youngest to attempt a "Steve," though Jake Gyllenhaal, 39, is the youngest to just say "Steve" directly without even joking. Brandon Uranowitz, 33, is the youngest "Stephen," while below that we stick to some more formal full-name usage and, of course, a "sir" or two. If you want to get to the "Steve" level, you've got to be really famous and/or a close friend or collaborator. To mention The Frogs, you've got to be Nathan Lane.
Happy birthday, Mr. Stephen Sondheim, your excellency, sir.