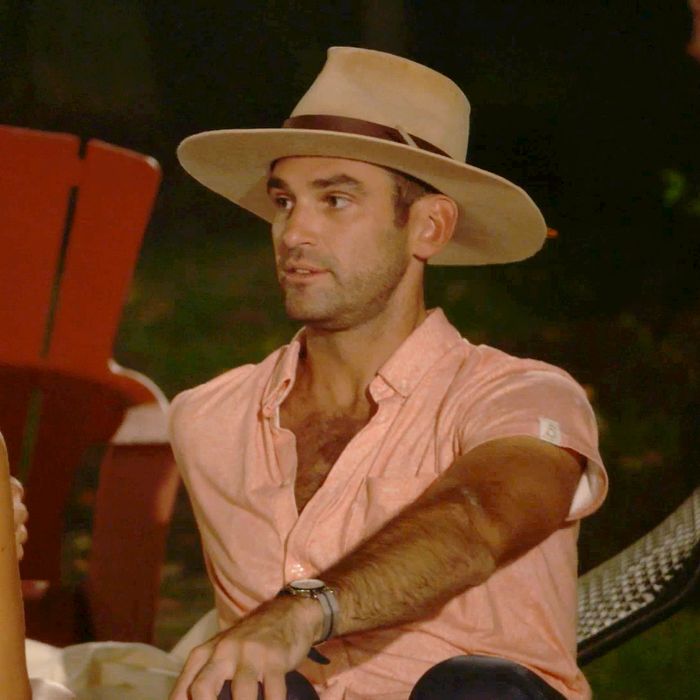 So is Danielle in this house or not? She has been out literally every weekend and is shuttled from bed to bed like the worn-out comforter that no one wants. On one of the nights this episode, Hannah was taking up the second half of Luke's bed and Paige slumbered alone while Danielle was curled up on the couch with one lonely throw pillow. Couldn't Paige have relaxed the rules of her clique just a little bit to let Danielle have a night in a real bed?
When I was the "house mother" of a Fire Island share, there were only a few rules: no "kai kai" in the house, no high heels on the pool, and no guests on the couch. That meant if someone had a guest for the weekend, they had to be sharing a bed with their "sponsor," on the floor in their room, spending the night at some new gentleman friend's house, or something. The living room is a common area, and no one should feel uncomfortable if they want to hang out or make noise in what has essentially been converted into someone's bedroom. What I'm saying is that Danielle should have a place of her own. While she's a little bit sleepier and a little more in possession of a real job than the rest of the cast, she has served a function all season, so give this girl an air mattress in the basement already. Geez. Hashtag Find Danielle a Bed. Hashtag Justice for Danica. Hashtag Give Marlo a Peach.
That was my big takeaway from this episode, which was a bit more sedate than we've come to expect from Summer House. Well, my other takeaway is to never have a murder-mystery party at your house. We saw one a couple of seasons ago on Real Housewives of New York City and just this year as one of the googol of parties surrounding Jax and Brittany's wedding on Vanderpump Rules. At both of these affairs, it seemed like the cast mostly ignored the proceedings and used them as an opportunity to dress up. The same goes for our favorite Montauk Monsters, though they were assigned characters before donning their costumes. Carl was playing a 10-year-old girl. Shabby work ethic, disorganized, prone to emotional outbursts, yeah, Carl does sound like a pre-tween, except for all of his drinking.
This affair, which was hosted for Lindsay's birthday, seems like way too much work. The cast has giant fake dollars with questions on them, and they have to bribe the other people to ask them questions they may or may not have had the answers to. It seems like a game of Dungeons & Dragons but without the retro nerd appeal. Lindsay is, of course, the murderer because even someone who met her for about five seconds could intuit that if anyone in the house is going to snap, it would be her.
The central drama of the episode surrounds a fight that I find as baffling as the disappearance of the Lindbergh baby, the death of Jimmy Hoffa, and the continued sex appeal of Leonardo DiCaprio combined. It's something to do with Hannah talking shit about how close Amanda and Paige have gotten to Lindsay and then Lindsay trying to force Hannah to stand up to them even though Hannah doesn't want to. The fight then becomes about the three of them getting mad at Lindsay for trying to bust up their "clique." Paige yells at Lindsay for making up a fake story to get Hannah mad at her and then Lindsay says, "Don't make drama on my birthday," to which Amanda perfectly replies, "Dude, you start drama all the time and tomorrow is your birthday." Mic drop, buff your nails, retire forever. Amanda will never do better than that.
The following weekend there is a similar but different fight, this time between Hannah and Amanda, where Hannah is mad that Amanda is always "butting heads" with Luke and Amanda is mad that Hannah is always defending Luke. This also has something to do with the fact that Hannah and Kyle butt heads and Amanda doesn't defend Kyle, but Kyle is often indefensible when he's yelling at Hannah. Honestly, I have no clue what this is about or whose side to be on, nor do I have enough energy to care about it. I would much rather just watch the shots of Luke strutting around in his bedroom in his tiny briefs while changing pants.
What is clear is that there is some tension between the girls because of what is going on with Luke and, well, Luke is sick of everyone talking about what is going on with Luke and Hannah when there isn't that much going on with Luke and Hannah. (Lannah? Huke? We need to workshop this.) Their relationship has been going on longer than Sarah the Barry's Bootcamp instructor and Carl's and Lindsay and her new dude Stephen's. Yet both Carl and Sarah and Lindsay and Stephen have banged and Luke and Hannah have not. (Carl says he had sex with Sarah once and then she mysteriously stopped wanting to hang out. Is there a correlation or a causation?)
I love that Hannah is a sexually powerful woman who says what she wants out of her time with Luke is not a long-term relationship or anything really involving feelings. She just wants to bang. She wants to bone. She wants to do the horizontal hula, knock boots, clean up a dirty Sanchez. She wants that P in the V ASAP, you know what I mean? Can anyone blame her? She says she feels like Luke is trying to be her boyfriend but isn't putting out so she can tell if he's worth sticking around for.
I don't want to be one of those people who's like, "What kind of guy shares a bed with a girl and doesn't try to smash her? That's what guys do!" Even Hannah is like this and goes to ask Carl why Luke won't just lay down that pipe. While they're talking in Carl's room, Luke hears it and rolls his eyes with such ferocity that the wind they created blew all 98 of the novelty pool floats over the fence and onto the tennis court.
Getting a bead on Luke's feelings is a little bit more difficult. He says that he doesn't want to sleep with Hannah because it will change their relationship and he still isn't over his ex. He also says that he doesn't want to hit it and quit it because then the wrath of every woman in the house will come down on him and he is completely right about that. Luke has seen the rage that Lindsay flies into when you scramble her eggs wrong, so he doesn't want to deal with her anger about something that matters.
But then Hannah plays a voice-mail he left for her the day of her birthday. In it, a clearly drunk Luke says it's 12:04 and "I wanted to say happy birthday and I love you. Wait, I can't send that I just said I love her. No, I like you. We're cool. Happy birthday." So is this a case of in vino veritas, which is Latin for "Bitch, you fucked up?" Does Luke really love her? Was he just drunk and doesn't know what he's doing? Does he actually have feelings for her and that is why he won't sleep with her? I don't know, but for all of the angst these two have been through all summer, that neither have gotten it in seems like a waste of good sexual chemistry, if you ask me.
Speaking of getting it in, we see Stephen, a six-foot-two man trapped inside a five-foot-seven body, totally giving it to Lindsay on her birthday weekend. It must have been good because she invites him back the next weekend to take her out on a date. She's three years older than him and, while talking about the age difference at dinner, says, "So if I'm older what does that make me? A cougar? A lynx? Something Joe Exotic would charge people to pet?" He says, "That makes you my girlfriend." Which is so sweet and it's exactly what Lindsay wants. She just wants someone to tell her that she is wonderful and beautiful and that he will choose her above all else.
Everyone in the house marvels at how Stephen seems to be able to get her to calm down, like he's some kind of Lindsay whisperer, but there isn't too much of a secret to getting this hurricane inside of a jar. We see it in action in the pantry during the murder-mystery party. He just sits her down, tells her she's amazing, she's totally right, he's there for her, everyone else is an asshole, and that is exactly what Lindsay needs to hear to defuse. Then she's ready to go. I love this for her. I love this for him. I love this for both of them and I hope that they continue to bang and they will probably end up getting married before Kyle and Amanda at this point, which will probably prove to be a relief to everyone.