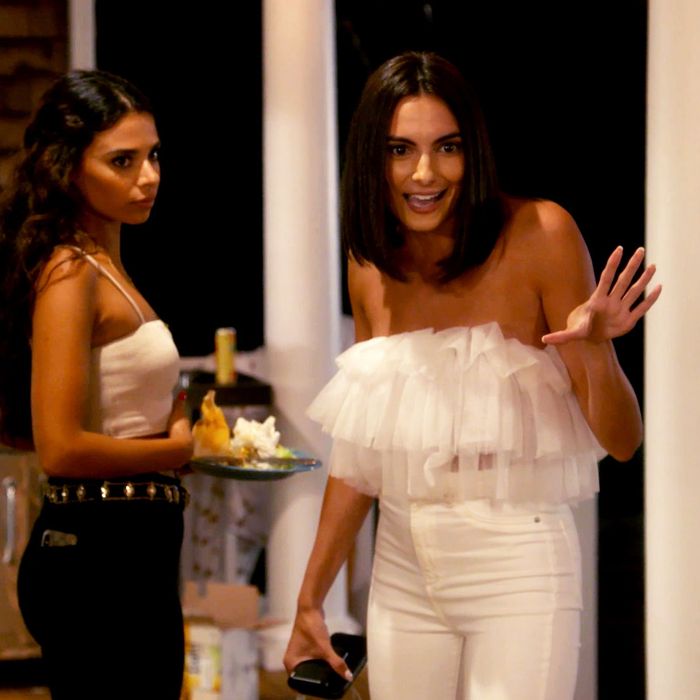 Here we are, the final weekend of the summer. Our favorite shitbirds (and Jules) made it through an entire season and still — still — they are showing up with luggage and packages. Why are they still bringing out new stuff just to have to turn back around, pack it into a production-rented Suburban, and haul it back into Manhattan where they surely can't afford the space to store it? The economics and logistics of this place continue to defy logic.
In that way, it is just like the fight about Luke raging among the women in the household. After a night of long and vocal muff-diving, Hannah and Luke wake up and are both horny and relieved. (Between finger-banging and oral action, the only people to hit home runs this entire summer are Jules and Lindsay. You go, girls!) When Amanda wakes up, her first thought is, "How dare the two of them do this to me!" What amazes me the most about what follows is that Amanda and Paige are so concerned about how Hannah and Luke's (Huke's) hookup affects them. "Now we look dumb," they say, as if either Hannah or Luke were thinking about their feelings when they were about to go Downtown Julie Brown.
Lindsay takes Hannah on a coffee run to get the deets (why was there not a camera in this car?) and Luke is left alone to face the firing squad in the kitchen. Paige asks, "What happened last night?" Luke says, hilariously, "Maybe I had a bad dream or something, I don't know." It does not go over well. Not one to kiss and tell, Luke tells them that they had fun. Paige and Amanda are both pressing him for dirty details, which he refuses to give up because he is the kind of gentleman who will wake up a whole house with his partner's moans but put a towel over the camera in the room. "You'll have to ask her," he tells them.
"You're being an asshole," Amanda tells him. "You're not even telling us what you talked about and that is fucked up." Um, how the hell is it any of Amanda's business what they talked about, why they decided to have sex, or exactly what they did? She needs to take about 7 million seats. She and Paige go outside to rage and Kyle, who I thought might be on Luke's side, lays into him. Kyle isn't really pissed at Luke, he's just mad that three days of fighting over this situation have "botched" his weekend. "There are many examples where Hannah felt you were overbearing or jealous," he tells Luke.
At that moment, Hannah enters the kitchen and says, "I never felt that." That seems to be the fundamental disconnect of the whole issue. Everyone was rushing to defend Hannah when she was fine just as she was. Hannah, always one to walk naked into the fire like Khaleesi trying to birth some dragons, goes out there to talk to the girls. At this point, they are more wound up than a box full of tops on Adderall. Paige tells Hannah that she looks dumb because she defended Hannah and then Luke is in the kitchen like, "Yeah, I slept with her anyway." Um, no he wasn't. He was in the kitchen like, "I don't want to talk about it, it's none of your business."
Paige and Amanda feel disrespected. Jules, who is also sitting there, does not feel anything but maybe vaguely included or entirely ignored. Who can say? Hannah says she feels disrespected that they're not listening to her when she says she is fine with Luke and the way he treats her and her decision to have sex with him. It's her body, it's her choice, and the two of them are trying to Republican Senator her to death.
Inside, Luke is saying he feels bad that Hannah is taking heat. Wise old Aunt Lindsay walks by, in her voluminous robe, smoking on an imaginary Pall Mall and says in an aged rasp, "She's a tough girl. She can handle it." Lindsay probably thinks this is nothing. To Lindsay, this level of drama is everyday. She is smart enough, though, to go outside and remove Hannah from the situation, knowing it's not going to end well.
With a glass of wine in hand, she counsels Hannah in the side yard. Hannah says that they're taking things she told them, magnifying them, and using them to crucify "a guy I'm not even dating." Paige and Amanda seem to care a whole lot more about all of this than either person involved. Upstairs, Paige says, "Now Hannah is making us out to be the bad people." Um, sorry Paige, you're doing a fine job of that on your own.
That brings us to the final weekend, where everyone shows up with all of their damn bags and whatnot. In the meantime, Paige and Hannah made up mostly because Paige apologized for not listening to Hannah. When Amanda arrives, she and Hannah sit down on the bed like two girls at a sleepover. Hannah tells her that she is not a helpless girl who can't help herself and Amanda acknowledges that. She does not explain why she hates Luke so much, but I wonder if it has something to do with how she feels about Kyle and how he has treated her over the years as she's gone from being a booty call to being his fiancée?
That night, after dinner, Carl decides that they should have a roast. This is a bad idea. As much as I love all of these galloots, none of them is smart enough or funny enough to effectively roast each other. Jules tells Amanda she is a cliquey bitch. Kyle tells Carl it's not a job requirement to show up drunk, which is especially rich since we found out Carl just showed up to a work happy hour so blotto he couldn't even function. Amanda says, "Lindsay, don't you get tired of putting makeup on both your faces each morning," to which Lindsay says, "What? I don't get it. I don't have two faces? What?" Lindsay, chaos agent, rosé-fueled demon enchantress, has many things, but a sense of humor isn't really one of them.
But none of these are really jokes. They're just an airing of grievances that no one can really combat because they're supposed to be "funny." Carl can't even manage to make a joke, though. He tells Amanda that she can't complain about making food because once she and Kyle get married her last name will be Cooke. ZING question mark. Then he says, "Lindsay, I made out with Danielle while you were in Tulum." Danielle says, "That is just a fact. You suck at this." Carl is so bad at the roast that Danielle roasting him during the roast is roastier than his roast. It's like Carl is afraid of making a joke. It's like he's a roast chicken. HEY-yo!! Put me in coach. I'm ready.
Last up is Paige, who tells Lindsay that when talking about her the word "fake" doesn't come up unless talking about "her lips, her boobs, or her personality." To solidify what we already know, that everyone actually means the horrible things they've been saying about her, Paige finally lets Lindsay have it. "While this is all coming out, Lindsay tried to say that I was a bad friend to Hannah but I was trying to defend her. That roast was real. You are fucking fake," Paige says. She gets up from the table and walks away, with Jules trying to hold her back, and starts yelling that Lindsay is jealous of her "clique" and that she and Hannah will never fight because of something Lindsay did. Who is this Paige and where has she been all season? She finally isn't trying on clothes in her bedroom anymore, she's stirring things up like she should have been all along. Way to finally earn your paycheck, Paige. Maybe that will cover the shipping for getting all of your clothes back home.