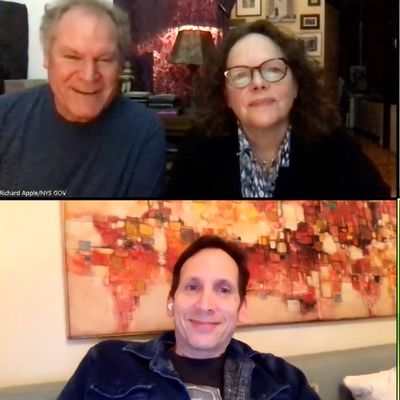 From Richard Nelson's
What Do We Need to Talk About?
Photo: Courtesy of The Public
You can't keep the theater down for long. In fact, you can't keep it down for a minute. Even if you tear away all its definitive parts, playwrights simply … adjust. Just six weeks after the shutdown—a typical rehearsal period, you'll notice—the Public Theater is ready with a devised-for-streaming play by Richard Nelson, rehearsed and produced on Zoom. In the Time Before, I tended to be a bit glib about what constitutes "theater"—I like a big tent, so I figured anything (dance, storytelling, drama) that happened in a theater counted. But now even that expansive definition seems paltry. What Do We Need to Talk About? was made for and with screens, yet it still tastes totally of theater. Maybe it's the top notes of language, or the length of engagement among the cast, or the way that the audience's own imagination is a crucial player? I'm trying to place it.
Nelson is best known for his two cycles at the Public—the four Apple Family plays and the trilogy about the Gabriels—and with the moving What Do We Need to Talk About? he adds a fifth drama to the former. Since the Apples mainly sat around and chatted in That Hopey Changey Thing, Sweet and Sad, Sorry, and Regular Singing, it feels like a horizontal slide to add a play set in a family video-conference. We may have last seen the middle-aged siblings in 2014, but they're all still drifting on- and off-"stage", scooching out of their chairs to grab drinks; still grumbling about the changing town of Rhinebeck, discussing art and loss and the big issues. Nelson's murmurcore approach (he always has microphones hanging low over his sets, so that his actors don't have to project) translates well to the intimate aesthetics of a Zoom call. Through each tiny laptop lens, we even see some characters more clearly. You can learn a lot about each sister by noticing who uses her Airpods to maintain a confiding, consistent tone and who relies on the computer microphone, booming when she leans close and fading away completely when she turns her head.
The fading-away sister is Barbara, played by Maryann Plunkett, the actor whose hesitant timbre is most vital to the ongoing Nelson symphony. On the surface, Plunkett is a very still and withholding performer—her smooth face and slightly staring eyes build a kind of delay into her responses—whereas vocally she shudders with emotion. She plays both still and troubled waters, and both run deep. Barbara has just returned home from the hospital, and while she didn't have COVID-19, she did come close to dying, and there's still a shadow hanging around her. Her protective brother Richard (Jay O. Sanders) is staying with her (Plunkett and Sanders are married, so they're sheltering together), and tonight they've gathered on a Zoom call with sisters Marian (Laila Robins) and Jane (Sally Murphy), and Jane's husband Tim (Stephen Kunken), who has self-quarantined elsewhere in Jane's one-bathroom house. ("Tonight," by the way, lasts for four days. You can watch the play here until Sunday.)
It takes only a little time for the digital drama to announce its model, because Nelson is a playwright who likes to show us the recipe as he presents the dish. Characters in his cycles talk frequently about Chekhov to draw our attention to Nelson's dramatic prototype; in his last play at the Public, a discussion of postmodern dance was actually a pointed statement-of-intent for his sort of vernacular theater. In other hands this here's-what-I'm-doing-as-I-do-it style of meta-proclamation would turn things all symbolist and weird, but Nelson is a hardcore naturalist. Dialogue ambles, sometimes backing and filling ("Didn't I tell you this? I thought you knew this") to give everything a thrown-away casualness. The hyperreal language conceals the didactic nature of his actual text—in his way, he's as preachy and allegorical as a religious morality play. Any time a character says a "writer friend" told him something, you're hearing Nelson quote himself. If someone discusses an artwork, you've been given a code-key. In What Do We Need to Talk About? Tim brings up The Cherry Orchard, so you can match Chekhov's story to the Apples' (a family in grief, frozen by the impossibility of action), and then Barbara mentions The Decameron.
Barbara, a teacher, has been teaching her students about Boccaccio's tales-in-plague-time collection, and she now asks her family to each tell a story. One has a tidbit from the family's history; one has discovered a titillating authorship mystery. "During that story, I didn't once think about a pandemic," Barbara says after Jane finishes. Here Nelson heavily underscores his mission, to use storytelling to simultaneously acknowledge the real world (pretend actor Tim is upset about the death of the real actor Mark Blum) and to distract us from it. While his self-identification with Chekhov hasn't been convincing for the last several, increasingly heavy-handed plays, this homage to Boccaccio makes solid sense. Forget your troubles, travelers. Stay with us for a story or two, then click on.
I'll admit here that my affection for Nelson's style had eroded over the course of the Public cycles. If you're in the New York area, you can watch films of both the Apple and Gabriel series, and you'll hear how over the decade the style started turning rote (on the millionth "I thought he told you this," I screamed), and how the pinpoint focus on Rhinebeckianism began to narrow into self-regard. The performers are such blazing talents, and their ease with each other is such an inspiring advertisement for keeping an ensemble together for so long, that there were always pleasures—but I had certainly stopped craving the Nelsonian atmosphere as I did when the Apple plays were new.
Yet What Do We Need to Talk About? pumps fresh blood. First, Nelson returns to modesty, deflating both length (it runs a little over an hour) and some of his rhetoric around art. Second, the camera gives us the proximity (and perfect audibility) we yearn for with such actors of subtle gifts. Nelson has always served actors well, but here, what's good is better. The screen lets Murphy shine as a comedy powerhouse who can operate at a pianissimo; Sanders hammers at your composure by letting his eye shine, just a little; Plunkett wrings your heart just waiting quietly for her chat to start. And third, it's just so damn welcome. The Apple Family plays were always about being in a bright room surrounded by death—in Regular Singing, for instance, the family gathered in the kitchen while Marian's ex-husband lay bedridden upstairs. It seemed like someone was always dying in those plays, just offstage. Now "upstairs" has become the whole city, including the stages themselves, and the familiar kitchen has reduced down to a little YouTube rectangle. I paused the video for a minute before the show ended because I was getting overwhelmed. It didn't help. Even unmoving, the tiny YouTube window seemed so plucky, shining there, with the rest of the world gone so dark.