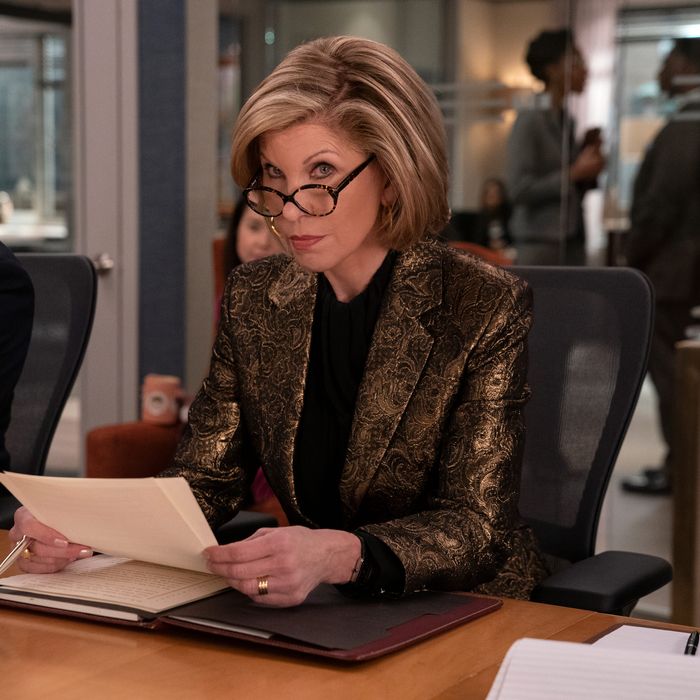 Photo: Courtesy of CBS/B)2018 CBS Interactive, Inc. All Rights Reserved
When the sun sets on this surreal nightmare era we're currently living through and cultural anthropologists are picking over the artifacts on film and television, The Good Fight will be remembered as one of the few shows to reach the appropriate level of batshit craziness. There are structural reasons for this: The showrunners, Robert and Michelle King, are operating in the wilds of CBS All Access, which doesn't have the strictures of CBS, the flagship network that housed The Good Wife. (On the other hand, the Kings created Evil for CBS, and that show is bananas too.) They don't have to worry as much about alienating a general audience with political provocation — though some conservatives were not thrilled with last season's pro-Nazi-punching stance — and they're not only free to take chances, they're incentivized to do it. How else to stand out in a crowded streaming market?
And yet beginning the fourth season with a Wizard of Oz fever dream like "The Gang Deals With Alternate Reality" is audacious even by Good Fight standards. Shows may be able to throw in a conceptual one-off deep into the season — a bottle episode like Breaking Bad's "Fly" (season three, episode ten), for example, or The Sopranos' "The Test Dream" (season five, episode 11) — but convention (hell, common sense) dictates that showrunners have to spend the first episode setting the table. For the Kings to clear their throats with an episode where Diane Lockhart wakes up to a world where Hillary Clinton won the 2016 election is a startling flex, an immediate piece of misdirection both for longtime fans of the show and newcomers alike.
But it's brilliant. And what makes it brilliant is that its alternate reality is a potent mix of the absurd utopia Diane might have imagined from a Clinton presidency and the unintended negative consequences. Three years into the Clinton administration, Diane is being asked to argue in front of Supreme Court justices Merrick Garland and Elizabeth Warren ("What happened to Kavanaugh?" "Who's that?"), and news clips are touting a cure for cancer and a resurgence in the polar bear population. And yet at the heart of the episode is a chillingly plausible event:
If Hillary Clinton were elected president instead of Donald Trump, Harvey Weinstein would have won the Presidential Medal of Freedom.
In offering this cursed-monkey-paw twist to Diane's electoral fantasy — after a season, do recall, when she joined "The Resistance" — The Good Fight simply lays out the facts. Weinstein was a major donor to the Democratic Party, and a friend to the Clintons and other party leaders. He did indeed give Malia Obama an internship at The Weinstein Company. When Jodi Kantor and Megan Twohey's big story in The New York Times dropped like a bomb on October 5, 2017, Weinstein's statement included a strange vow to channel his anger by "[giving] the NRA my full attention." He also boasted of organizing a $5 million foundation for female directors at USC.
Without Trump, the show suggests, there would not have been a Women's March after the election. There would not have been pussy hats. And there would not have been a #MeToo movement. Anger is an animating force in politics, and without the fury over Trump getting elected despite the Access Hollywood tape and the multiple credible accusations of sexual assault, it's possible that Weinstein, Charlie Rose, Matt Lauer, and others would have continued to enjoy their elevated status in public life. When Diane asks about Ronan Farrow's reporting, she's told that NBC refused to broadcast it because it was "shoddy."
And so, in this dream that's become a nightmare of another kind, Diane is getting cheered for landing Weinstein as a client. The firm is thrilled, because they need his business to survive. (Higher taxes under Clinton have chipped away at their revenue, and their clients are tightening their belts, too.) Naturally, she revolts. She doesn't want to squeeze a percentage of the Snowpiercer TV show that Weinstein believes he deserves, and she definitely doesn't want to threaten ex-employees who are suspected of breaking their nondisclosure agreements. Everyone else pushes back, including Luca, which leads to a remarkable sequence where Weinstein requests a meeting at his hotel suite and it starts to go down exactly how Diane predicts it will.
What Diane learns is that she doesn't have the power to change the course of history, even knowing all she knows about it. She tries to get a #MeToo hashtag going on Twitter, but she has to start a Twitter account to do it, and even if she had plenty of followers, it's not often that anyone can force a meme to catch fire. And more than that, other like-minded people don't want to hear it. Weinstein is an ally: He's donated a couple million into Diane's organization, Women United for Change, and sure there are rumors that he has a temper and reedits movies (Christine Baranski reading the nickname "Harvey Scissorhands" off Wikipedia is a comic highlight), but there's no reason to open Pandora's box. A Trump presidency may be awful for Diane and the country, but it may also be the reason why Weinstein is in jail. That's what happens when a butterfly flaps its wings.
Within this high concept, The Good Fight also scores small jokes and observations that give the episode a lift. When Marissa tells Diane that Clinton "won by a landslide, 3 million votes," it opens up a great electoral college gag about her winning the popular vote by the same margin in the world where Trump is president. ("It's a dream. It doesn't have to make any sense.") When Diane talks to her colleagues about all the horrible things that happened under Trump, they wonder what the Obamas were doing about it. ("They had an overall deal at Netflix," she replies.)
The tiny sliver of an ongoing plot we're given in "The Gang Deals With Alternate Reality" is that a SWAT team has broken into Diane and Kurt's place and that Diane had knocked herself out falling out of bed. It's like the tornado in The Wizard of Oz, except the Kings don't care at all about setting it up. They're thrown down the gauntlet here. The fourth season can begin in earnest next week. Buckle up.
Hearsay:
• Reversing the opening credits so that all the exploded things are made whole is a nice touch.
•  "Who's president?" "Are you microdosing again?" "No. Maybe. I don't know."
• It's wild to hear the decent people at Reddick, Boseman & Lockhart echoing the common lawyerly arguments against Weinstein's accusers: "They lie because actresses have a limited shelf life and they feel Harvey hasn't advanced their career."
• The key exchange of the whole episode: "Justice equals the law times the zeitgeist." "The zeitgeist worked for us." "But against women."
• Great to see John Cameron Mitchell pulling a Bob Roberts as the folksy musician on Trump TV. Like Roberts, Mitchell also riffs on Woody Guthrie, with a painted message on his acoustic guitar that cheekily reads, "This Machine Thrills Fascists."
Want to stream The Good Fight? Sign up for CBS All Access here. (If you subscribe to a service through our links, Vulture may earn an affiliate commission.)