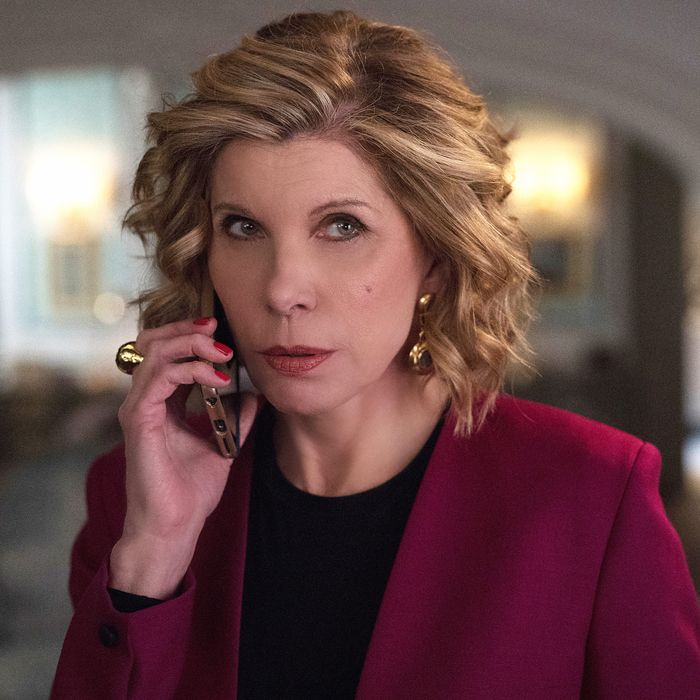 Diane Lockhart (Christine Baranski) is living in an alternate reality from our own world — and, in the season premiere at least, an alternate reality from
her
own world.
Photo: Courtesy of CBS/CBCB)2018 CBS Interactive, Inc. All Rights Reserved
I was nervous about watching The Good Fight's fourth season. It's a great show, funny and dark and surprising, but some of its deepest appeal has always been its ability to be uncannily, remarkably attuned to what it feels like to be alive right now. Diane Lockhart (Christine Baranski) alternating bouts of despair with microdosing on LSD and laughing her way through the first Trump years feels more emotionally right about this moment in history than most other fictions. But there's no way this Good Fight season can tackle what the world's become in the last month — at least not until TV productions can start up again, some day.
Firing up the screeners of the first four episodes provided to critics, that's what I was worried about. I watch The Good Fight in part because it puts the world through a surrealist/serious fictional filter that helps me process stuff. I knew that wasn't going to happen here. Was The Good Fight still going to work with such a massive chasm between it and the world?
In the first episode of season four, Diane wakes up in an alternate reality. It's still 2020, but in this new world, Trump lost in 2016. Hillary Clinton is president; much of what's happened over the last three years was erased, and Diane walks around giddily recounting all the nightmarish things that no longer exist. It's a classic Twilight Zone–esque premise: The world is superficially better, but Diane slowly realizes that some of the things she cares about most have also been erased, including the entire Me Too movement and her own marriage.
That's not the story of the whole season — it's a one-episode gambit, and after Diane wakes up, things shift back to the familiar, disastrous real world. But that first episode convinced me that The Good Fight still works, and in fact, few things have made me happier over the last few weeks than watching this season. The disconnect I worried about is there, absolutely. The Good Fight's fictional DNC is worried about how to attract black voters. Diane gets mired in a mysterious search to understand a memo that convinces judges to let wealthy people off the hook. The world of the show is focused on the meagerly functioning democracy of six months ago, and not on the full-on collapse of spring 2020.
But as it happens, the thing I was wrong about was myself. I worried The Good Fight would seem like a fantasy world, and it sort of does — and I loved it. For some, clinging to normalcy may feel like sticking to a daily routine, forcing yourself to put on real clothes every day, or trying to keep up with some physical exercise. For me, it turns out, clinging to normalcy means becoming enraptured with the interpersonal dynamics of a fictional Chicago law firm (that everyone knows is at least 50 percent in New York) as it has a staffwide, episode-long argument about reparations while trying to appease their new corporate overlords and also the Democratic National Committee. It's a relief to follow Diane down the rabbit hole of tracing this strange, inexplicable memo that corrupts judges. Caring so much about deep social inequities that aren't immediately followed by an unprecedented body count is strangely, warmly nostalgic.
The state of the world aside, The Good Fight also makes several choices that bolster its appeal going into this fourth season. It has finally fully separated from Maia Rindell (Rose Leslie), a character who never worked the way the show wanted her to, was retconned into relevance several times, and is now happily written off the show. This creates more space for Lucca Quinn (Cush Jumbo), who's always been a stronger character in need of a more central position, and who seems to be pushing her way toward protagonicity at last. The show is also continuing to play to its strengths: It has one of the best guest-star rosters on TV, which this season includes Hugh Dancy, John Larroquette, and Raul Esparza.
One reason The Good Fight works so well this season is also one I hadn't expected. It began as a spinoff of The Good Wife, but over the last few years, The Good Fight distinguished itself from that show in a variety of ways, including in its willingness to take on many more long-running, serially knotty plots. The case-of-the-week structure has been vestigial at most, and it's often discarded entirely. But the new season is a bit more procedural than it's been recently, bringing with it a little of that episode-at-a-time backbone. That makes The Good Fight more resilient against current-events missteps, since it hasn't harnessed itself to a returning political story that could render it out-of-date. The scale of its obsessions has been dialed down just a hair — rather than a nationwide voter-disenfranchisement project, or the history of Trump's relationship with Roy Cohn, it makes some time for delightful pettiness. Episode four, in which Reddick, Boseman & Lockhart discover that a former employee wrote a play satirizing the firm, is the most delightful inessential drama I've watched in months. It's not empty or banal, it's just perfectly, thrillingly picayune.
Like all the other big scripted shows, The Good Fight has ceased production until it's safe for everyone to go back to work, and there's no telling what the back half of this season will look like, or when it will get made. But I'm so glad CBS is still releasing what finished episodes it has. I worried about it feeling disconnected from the world, but it turns out that a little disconnection was exactly what I needed.