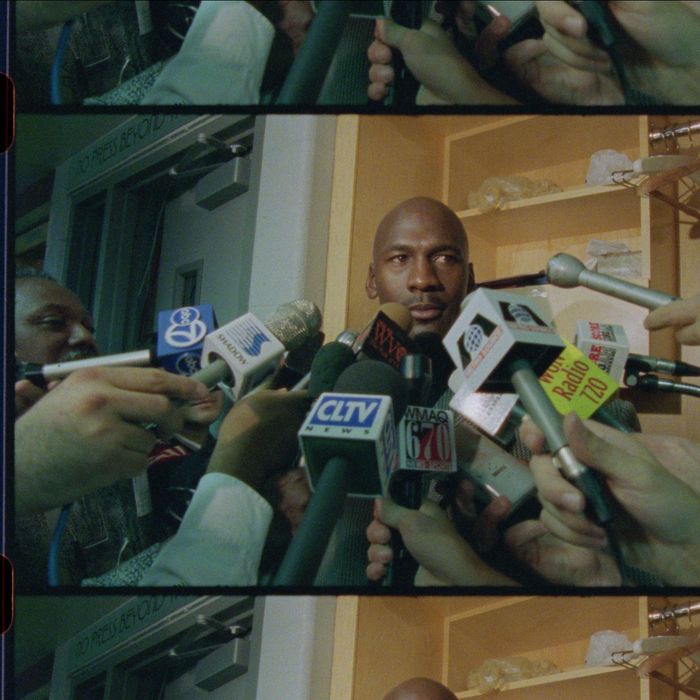 The 500-some hours of footage captured by NBAE during the 1997–98 Bulls season was shot on 16-millimeter film, which allowed for a high-definition transfer for
The Last Dance
, the very rare instance of HD footage of Michael Jordan in action.
Photo: Courtesy of Gregg Winik
The origin story of The Last Dance, ESPN's ten-part documentary centered on the final season of Michael Jordan's Chicago Bulls dynasty, begins with a producer named Andy Thompson.
In the '90s, Thompson earned a reputation among the ranks of NBA Entertainment, the league's film and television arm, as something of a Jordan whisperer. The younger brother of two-time NBA champion Mychal Thompson (a player Jordan had admired) and himself a former professional basketball player overseas, he had a way of soothing the Bulls' usually taciturn superstar. His presence would keep MJ in the interview chair a bit longer, move him to pull back the curtain just a little more. That neat trick made Thompson an especially valuable asset to his bosses during a period when NBAE was churning out VHS tapes about Jordan and the Bulls — reverent portraits of the league's marquee player and his team's quests for championship glory.
Still, Thompson bemoaned the prospect that, given the limited access Jordan typically allowed, producers would never be able to capture on-camera the man in full, the true essence of the game's greatest talent —particularly his legendary, and frequently ugly, drive to win at all costs. So in a fateful 1997 meeting with newly appointed NBAE president Adam Silver (now NBA commissioner), Thompson made a wildly ambitious pitch: embed a film crew with the Bulls for the entire 1997–98 season. That championship run, portentously nicknamed the Last Dance by head coach Phil Jackson, would produce the sixth and final title of Jordan's Bulls, before the members of one of the NBA's most dominant dynasties were scattered to the four winds. And there was Thompson, tagging along for the ride as a field producer.
By the end of the season, NBAE had shot 500 hours of footage on some 3,200 reels of 16-millimeter film. That raw material, a kind of basketball holy grail, sat virtually unseen in the league's vault in Secaucus, New Jersey, for two decades. It has finally been unearthed and interwoven with new interviews by director Jason Hehir for The Last Dance, which premiered last night, airing on Sundays in two-episode installments through May 17. Thompson, now vice-president of production at NBA Entertainment, and Last Dance producer Gregg Winik (an NBAE executive producer during the '97–'98 project) spoke to Vulture about brokering unfettered access to the Bulls' inner sanctum, Jordan's unease with their cameras, and why such highly desirable footage remained locked away all these years.
This interview has been edited and condensed for clarity.
Even for NBA Entertainment's production arm, filming a team for a full season — in the locker room, in practice, off the court — was an unprecedented undertaking. How did the project come to be? 
Andy Thompson: I first met Michael when I produced a feature on him with NBA Inside Stuff host Ahmad Rashād. Jordan had this special private room at a steakhouse in Chicago, where he could go with a few guests and teammates and not be bothered. While I was setting up there for the shoot, Ahmad turned to Michael and said, "Hey, do you know who he is?" Michael said, "No." Ahmad said, "That's Mychal Thompson's brother." I was known most of my life as [two-time NBA champion] Mychal Thompson's little brother; now people say I'm [Golden State Warriors All-Star] Klay Thompson's uncle. And Michael was like, "Man, I used to love your brother," and he told a story about how he loved my brother so much because he had a cool name with a cool spelling and used to wear these puka-shell beads. [Laughs.] Jordan said he wrote my brother's name on his school textbooks. He came home one day, and his mom looked at his textbooks and said, "What are you doing writing your name this way?" He said, "Mychal Thompson is my favorite player." And she said, "I don't care who Mychal Thompson is, your name is Michael Jordan. Write it the right way!" So our bond started with his respect for my brother. And ever since that day, through all the Bulls championship years, we would get tighter.
Jordan is a famously reticent interview subject. Did your closeness with him prove to be a benefit from a production standpoint?
Andy Thompson: Gregg knew I had a good relationship with Michael. So if he sent me on a shoot, Michael would acquiesce and give us a little bit more time, and we would get better stuff if I did Jordan's shoots. Before the 1997-98 season, I was talking to Michael from time to time, and I kept asking him, "Man, are you coming back after this season? Is this it?" And he just did not know. I was mortified that if the Bulls broke the team up after the coming season and Jordan retired, we would never have gotten the chance to really show how competitive and how cool and how truly great this guy is, because he had never given us full access. He would give us a little access — but there would always be a cutoff point, and then the cameras had to go.
Gregg Winik: To put it into perspective, for the typical Jordan-centric NBA Entertainment home video, we would get one interview. For a Bulls championship tape, every player on the team would be interviewed during the Finals and maybe the coach would let us into one or two practices during the playoff run. For the footage that's in The Last Dance, we shot the team, full access, with multiple film crews for more than a hundred days, totaling about 500 hours. It was night and day, when compared to what we were usually doing.
How did you begin negotiating access to Jordan and the Bulls?
Andy Thompson: When Adam Silver was appointed president of NBA Entertainment in 1997, he met with all of the senior producers, to get to know us and figure out the projects the division needed to focus its efforts on. In the meeting, I said, "Adam, Michael Jordan might retire on your watch. You don't want to let the greatest athlete of our generation retire before we've filmed him for a full season during the last run of this Bulls team." I didn't even use the word "documentary." I simply said, "We just need to get it in the can." Adam said, "I think we should go for it. I have a relationship with the Bulls ownership group. I'll make a call." That's where the conversation started. Adam blessed it. And here we are.
How did you get Jordan and Phil Jackson, who as head coach had long been wary about the media observing Bulls practice and scrimmages, onboard with the idea?
Gregg Winik: Adam Silver and I met with Phil in Paris in October of 1997, during the McDonald's Championship. By then, Adam had gotten the Bulls ownership on board, but ultimately it's the coach and Michael Jordan who controlled that team. We were not going to get cameras into practices, into locker rooms, without Phil's blessing. Once Phil and Jordan said yes, we had sealed the deal for access for the season.
Full access is a big ask of any team, particularly the Bulls, who already faced a daily swarm of local, national, and international media. Were your cameras ever seen as an additional distraction from the ultimate goal of winning a sixth championship? 
Andy Thompson: It was a slow immersion process, because even though Michael knew me, he was not keen about having cameras around him all the time. I remember during the Bulls' first West Coast trip, in Phoenix, we weren't given access to practice. We had to come in later with the regular media. So Gregg's brother, Michael Winik [an NBAE cinematographer], went right up to Michael Jordan as they let the media in and he starts shooting. Within about 30 seconds, Jordan turns to Phil Jackson and goes, "These cameras ain't fucking following me around like this for the rest of the season, are they?" So at the start, the very first trip, Jordan looked at our cameras like, "Man, this ain't happening."
Was there a point in the season at which the Bulls became comfortable with your presence, when you had spent enough time around the team that the cameras and the microphones and the people holding them became, essentially, furniture? 
Andy Thompson: It happened maybe a month later. We were in practice and Michael was teaching Scottie Pippen and Ron Harper how to do a crossover and drive to the hoop. Our boom microphone was right over them when we were shooting and he didn't care. I finally felt like, Okay, I think we're in a good space now. That was really important, because if you get Michael onboard, then everybody else falls in line.
Was there ever a moment when you thought you might be kicked out of the room because you were filming something that the Bulls didn't want you to film? 
Andy Thompson: There was one scene before Game 6 [of the Finals, Jordan's final game in a Bulls uniform]. I knew Scottie Pippen was hurt. He had hurt his back in a previous game, and he was questionable for Game 6 in Utah. Michael was always gregarious pregame. He was always talking crap. He was always doing something to joke with the security guards. He was loud and boisterous. But when we walk into the locker room that day, my cameraman notices Michael lying on the training table, eyes closed, nobody around him. There isn't a trainer working on him. He is just lying there. I look at Michael Winik, and I say, "Mike, you gotta shoot that." So Mike Winik shoots it. Jordan did not move. And I said to myself, "Oh my God, he is really, really feeling the pressure of this game."
That was the first time all year when I saw Michael by himself, just with the weight of the Finals on his shoulders. In the corner, Pippen is getting worked on by the trainers. Phil Jackson comes into the locker room, looks at me, looks at the camera, and I'm thinking, He's about to throw us out. Phil walks in, walks by me, and walks over to Pippen, leans over and whispers something into Pippen's ear, probably a question as to whether he was feeling good enough to play that night. And then Phil turns and walks back out of the locker room. Every time I think of that scene, I get chills, knowing that that was the greatest moment that I captured of Michael and Scottie in this situation where everything is on the line.
So you capture all of this incredible footage over many months — and then you shelve it. Why did it take 22 years for an audience to see this film?
Gregg Winik: Adam Silver's promise to Michael Jordan in 1997 was, "Let us shoot this, give us access. One day we'll have a great video, or if you're not ready for it to be released, you'll have the best home video anybody has ever had." So going in, there was a partnership with Michael, an understanding that we wouldn't release anything unless it was the right time for the NBA and for Michael Jordan for this thing to come out. So the 500 hours went under lock and key in the vaults of the various offices of NBA Entertainment. On the 3,200 reels of film that were shot, we put an X to denote that they were not to be used. Over the years, various projects and opportunities came up. We originally thought, a year or two later, that it could be made into a 90-minute documentary that would be in theaters or on HBO. But it was just never the right time to unlock the vault until a few years ago, when The Last Dance project finally started coming together.
The lion's share of NBA Entertainment projects were shot on standard-definition video. The archival footage you've contributed to The Last Dance was shot on 16-millimeter film, which allowed for a high-resolution transfer to digital. Had you been thinking all along that the season-long shoot might be a future preservation effort? 
Gregg Winik: At the time, Betacam video was the industry standard. We said, "We have to shoot this on film. It will preserve better over time." It was a significantly greater financial commitment — and I heard about it for years after, while it just sat there. There were millions of dollars invested to capture the season on film, and it ultimately proved to be a huge benefit 20 years later that we could now transfer the old film to 4K versus having to deal with old videotape that was standard definition that would look fuzzy now if it was presented on ESPN or Netflix.
Andy Thompson: We have one of the few documents of Michael Jordan in HD. People rarely shot Michael on film, except for his commercials and Space Jam. So almost everything that you've seen before this project is all standard definition. So for maybe the first time, you're seeing Michael in HD.
What was the film transfer process like?
Gregg Winik: Very, very scary! [Laughs.] I have a scanning operation at my company, Winik Media, because I didn't want to drop off the film and lose physical possession of anything. Luckily not one of the 3,200 reels was lost through the last 22 years. I think there was one roll of film that had a camera scratch, and one roll may have been scratched at some point after storage somehow; we haven't figured it out. That's a testament to the NBA Entertainment archive that nothing had been lost, nothing misplaced, and it was cared for properly over the years. When you see this stuff, it just looks spectacular.
NBA Entertainment's vintage Jordan and Bulls championship home videos are compelling, mostly as time capsules. They were made by the league's propaganda arm to celebrate MJ and the team, not to give the viewer an unvarnished portrayal, as The Last Dance aspires to do. Do you think those two modes of storytelling are at odds? 
Gregg Winik: The fiercely competitive side of Michael Jordan and how he drove his teammates to be better — it certainly doesn't exist in any of the old NBA Entertainment home videos. Combined with the new interviews that Last Dance director Jason Hehir has done over the last two years, this project captures a side of Michael that hadn't been seen outside the gym or the locker room before. And Andy, along with my brothers Michael and Peter and others, documented those moments when they were happening. So this is not just any other sports documentary with people looking back in time. The fact that we're able to show an actual clip of Jordan's competitiveness, to show his feistiness in real time is dramatic, and it makes this really a special series.
This article has been updated with new original photos, courtesy of Gregg Winik.