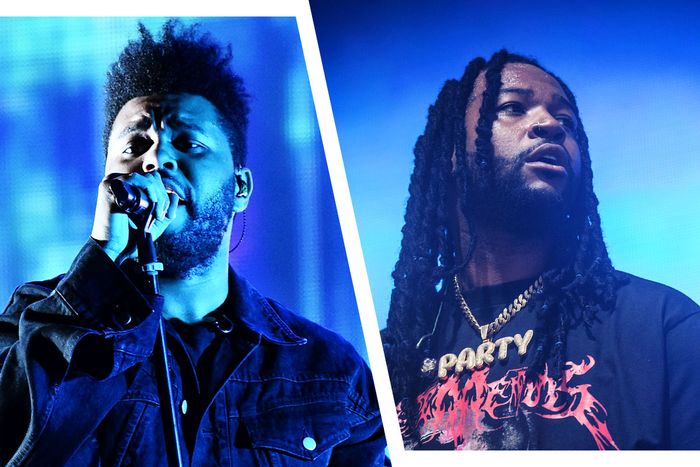 "I put the 'dirt' in dirtbag."
Photo-Illustration: Vulture and Getty Images
Talk to a person of a certain age about the state of R&B for long enough, and you're likely to hear them say the genre's changed. It isn't what it used to be. The singers are getting more and more reckless and raunchy. They're right and wrong. The era that's spawned songs like Jhené Aiko's "PU$$Y Fairy (OTW)," Tinashe's "So Much Better," and Summer Walker's "Girls Need Love" is very upfront about sensuality and desire. But this is as true of the early '90s as it is of the early '20s. I was 8 when New Edition splinter group Bell Biv Devoe followed the smash "Poison" with the horny New Jack Swing classic "Do Me!" Most 11- and 12-year-olds in my middle-school class knew the words to Silk's "Freak Me" — "Let me lick you up and down 'til you sayyy stop …" — before they knew where to lick. Nineties R&B was wild enough in its day to draw complaints about content from fans of funk and soul music from the '70s, who came up on salacious Betty Davis, Donna Summer, and Parliament-Funkadelic records, spooking parents who once spooked their parents with risqué '50s rock and blues records like Dinah Washington's "Big Long Sliding Thing" and sly, suggestive Little Richard singles like "Tutti Frutti" and "Long Tall Sally." Good filth springs eternal.
In March, two of our finest R&B villains released new albums. Toronto singer and producer the Weeknd dropped After Hours, his fourth studio album. Partynextdoor — who came up just half an hour away in Mississauga, Ontario — put out Partymobile, his third album. Both artists gained international exposure by connecting with Drake as the Toronto rap giant began to focus less on ingratiating himself to American audiences and more on drawing our attention up north. As legend has it, the Weeknd spots on Drake's 2011 Take Care album were originally songs slated to feature on the Weeknd's breakout House of Balloons mixtape in 2011. (Both artists benefited when "Crew Love" went platinum in the States.) In 2013, Drake announced Partynextdoor had signed to his fledgling OVO Sound label. Years earlier, Party signed with Warner as a songwriter but struggled to land placements; his breakthrough came when he focused on his own experiences instead of writing speculatively for others. His 2013 effort, Partynextdoor, is crass bedroom R&B, pickup lines and kiss-offs from stem to stern. Cocky jams like "Right Now," "Wild Bitches," and "Break From Toronto" sat alongside the Weeknd's "Wicked Games" and Drake's "Marvin's Room" as the cornerstones of a move toward jilted passive aggression that became one of the defining threads of the decade in music.
While Partynextdoor stuck with the OVO camp, pitching beats and writing for songs on subsequent Drake releases while bulking up his own sound, the Weeknd stepped away and into a tenure as one of the most successful R&B artists of the era. He did so at great cost to the purity of the gloomy dark-ambient vibes of his mixtapes. His 2015 album Beauty Behind the Madness and 2016's Starboy broke big by opening the floor up to outside producers and playing to the sound of the radio. They're solid albums, necessary steps toward a place where the Weeknd could have huge hits that bucked the mainstream sound rather than plugging into it. Meanwhile, the gold-certified Partynextdoor Two and Three reinforced the foundations laid on the first EP, but in spite of gems like "SLS," "Her Way," and "Not Nice," the chart successes were Drake collaborations like "Come and See Me" and "Recognize." Party can make hits — he wrote Rihanna's "Work" and co-wrote "Wild Thoughts" — but he seems to be perpetually just one song away from a No. 1 of his own.
Partymobile is the first Partynextdoor project produced in full by outside beat-makers. It sacrifices the homespun feel of earlier releases, redirecting his attention to singing and writing. The results are solid. Brighter hooks and fewer long songs make his previous album — a summer record full of dense and wintry textures — feel like a bit of a slog in contrast. Songs skip where they once swam. He's bouncing melodic ideas off these beats rather than sinking into them. "Turn Up" and "The News" set sunny, skittering notes to baleful keys. "Trauma," "PGT," and "Eye on It" raise the tempos. Partymobile is still another cerebral record, but PND's pushing himself, as evidenced by the single "Loyal," which winningly lures Drake into the upper edge of his vocal register, and "Believe It," which ends Rihanna's three-year break from music with a soaring duet deserving of a springtime more lively than this. Partymobile boasts sharper melodies, but the lyrics can be a little flighty. It's a breakup album largely lacking the teeth that once inspired Party to open a song crooning "I'm out of your league, baby." Closer "Savage Anthem" cuts the shit and goes for the jugular: "I put the 'dirt' in the 'dirtbag.'" "Gave me your heart, watch me break that." Partymobile's a fun, light listen, but you wonder what pandemonium a few more savage anthems could've unleashed.
Where Partymobile is a nice spring confection, the Weeknd's After Hours is a meal. From the cover, which shows a bruised Abel smirking in a suit as red as the blood on his face, to the music, After Hours crystalizes the qualities that made his early music pop, while advancing the Weeknd's trademark gloomy, narcotized sonics into new territories. New Wave and synth-pop (as well as the latter's internet-obsessed stepchild, synthwave) are the defining sounds. After Hours perfects the kitschy '80s genre experiment of Starboy's "False Alarm" on cuts like "Hardest to Love," whose synth line feels at once brand new and faintly recognizable; the campy but yearning "Blinding Lights"; and "Save Your Tears," a gutting breakup tune gorgeous and simple enough to stand alongside peak '80s pop like the Cars' "You Might Think" (and slick enough to swipe a bit of melody from Wham!'s "Everything She Wants" in the chorus). Tesfaye and longtime collaborator Illangelo share production duties with rap hitmaker Metro Boomin, pop architect Max Martin, and electronic artist Oneohtrix Point Never. Together, they've concocted a sound informed by both trap and dance music, encased in dense atmospherics, and heavy on crisp, bright keys.
These productions fit Tesfaye's dark musings on hurt and longing hand in glove. He's writing some of the finest melodies and the harshest lyrics of his career. After Hours ping-pongs between wounded nostalgia and callous promiscuity, sometimes in a very short stretch. "Scared to Live" is a crushing power ballad about nagging regrets. Three songs later, "Heartless" comes in hot: "Never need a bitch, I'm what a bitch need." "Escape from LA" bleeds ice water: "She a cold-hearted bitch with no shame, but her throat too fire." After Hours resurrects mixtape Weeknd. It's wall-to-wall drugs, pig-headed locker-room talk, and throbbing morning-after regret, the apex of the dirtbag R&B wave that House of Balloons rode in on, typified by "Glass Table Girls" and "The Morning." "Snowchild" is a hard-luck come-up story that can't stop sneering through present-day prosperity as Abel spends the first verse cataloguing hard times and the second one rattling off endorsements and offering his lovers "futuristic sex" and "Philip K. dick."
Is Abel serious, or is this kayfabe? Is the Weeknd acting out, or is he leaning into the crude, fictionalized version of himself from Uncut Gems, where he gets into a fight for trying to convince a woman to cheat with him? The fact that it's not easy to tell means the air of mystery that hung around the singer in the early days, when no one knew what he looked like, is still there. The strength and consistency of these songs makes After Hours the best Weeknd album, his hardest stuff since Trilogy, with respect to My Dear Melancholy, whose flair for forward-thinking dance music is the intermediary step toward the breakthrough that After Hours represents. The resounding success of the album so far is proof the Weeknd has entered a space where he can affect trends rather than follow them. On Partymobile, Partynextdoor plays to his strengths — namely, sailing through watery trap beats and riding brisk dancehall tracks — and scores a number of memorable tunes but otherwise strains to sell us ideas we haven't heard before. It's a blessing either way. Horny times deserve horny music, and Partymobile and After Hours are the perfect soundtracks for your late-night Instagram Live creep sessions.