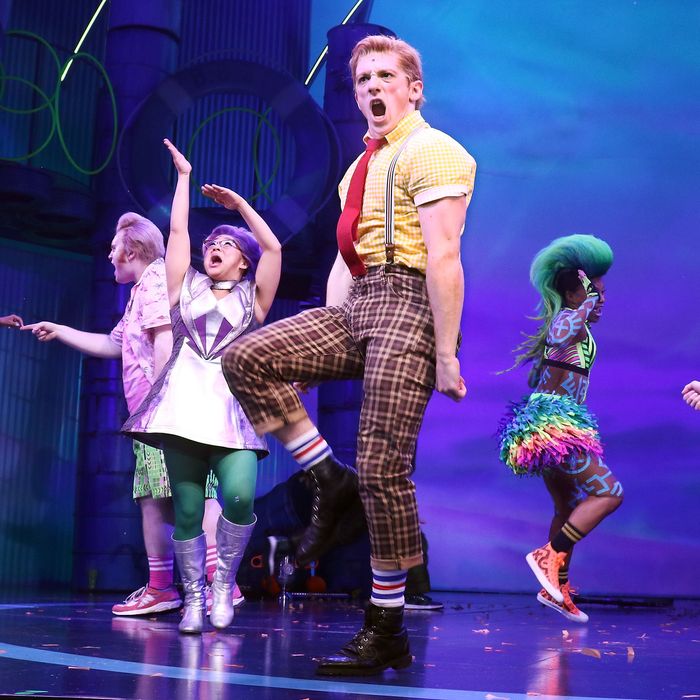 Just a simple sponge.
Photo: Jim Spellman/WireImage/Getty Images/2017 Jim Spellman
Today I was on the indispensable Alison Stewart's All of It on WNYC (listen here! Please ignore me stumbling over my … mouth?) talking about what you should watch if you're missing your theater fix. We were walking through this piece, co-written by me, Frank Rich, and Madison Malone Kircher, that has recommendations for bereft theater fans. But our time on WNYC was scarce and there are some updates, so I didn't get to everything. So here are today's further suggestions for your at-home viewing, with a particular focus on the Season That Was Supposed to Be:
Company isn't the only Stephen Sondheim show we were all supposed to see together. The CSC production of Assassins with Steven Pasquale, Judy Kuhn, and Eddie Cooper has also been indefinitely postponed. So after you've worked your way through Vulture's substitutes for Company, why not also have your heart torn out of your body by other Sondheim docs, all available on streaming? Six by Sondheim is on HBO; YouTube has all of The World of Stephen Sondheim, featuring André Previn's 1977 fish tank glasses. My favorite of these, though, is Best Worst Thing That Ever Could Have Happened (2016), in which the original cast of the 1981 (flop) production of Merrily We Roll Along talk about how crushing it was to have their dreams cauterized in an instant. It might make you understand the experience of all those actors who were about to have their Broadway debut in March — so stave off further tears and donate to the Actors Fund while you're there.
If you're sad about having to wait for The Music Man with Hugh Jackman on Broadway, then you might try other Big Time Actors in classic shows — PBS has Kevin Kline in Present Laughter and Alfred Molina in Red. If it's musicals and musicals alone you're hungry for, PBS's Great Performances include a whole battery of recent hits: The King and I, Kinky Boots, you name it. And should you be hoping for still more razzle-dazzle, then you owe it to yourself and any children you may or may not live with to watch The SpongeBob Musical: Live on Stage! on Amazon Prime. Finally, for the truest Broadway warriors, Andrew Lloyd Webber is releasing his old stuff on "The Shows Must Go On" YouTube channel. Each one is only up for a limited window, so you've already missed Donny Osmond in Joseph and the Amazing Technicolor Dreamcoat. This coming Friday, the Spice Girls' very own Mel C is playing Mary Magdalene in Jesus Christ Superstar, so you'll have your chance to … repent.
What if you were looking forward to the new experimental Elevator Repair Service show, Baldwin and Buckley at the Cambridge Union (which was supposed to be at the Public Theater in May)? Not to worry, the experimental world is fielding thousands of videos for you — many of them on platforms that are free for the nonce. The premier one of these is ontheboards.tv, which is free through the end of April (enter ARTATHOME20 at checkout), and whose catalogue includes the MacArthur-winning Okwui Okpokwasili's Bronx Gothic, one of my top lifetime shows. You should also be checking out the Wooster Group's Hamlet (till tomorrow) and Brace Up!, their version of Chekhov's Three Sisters, which is available through April 13. The cyborg-y Woosters have been at the forefront of half-machine, half-man performances for decades, so their work translates beautifully to your laptop. To complete your downtown tour, you should also check out New York City Players' video collection, which includes House (1998), the show that started the Deadpan Melodrama movement. If you can, please donate to every place you watch a video — or smash this donate button here.
I, for one, am worried that the Public will postpone Shakespeare in the Park this summer. They haven't announced anything, but several other major summer festivals have canceled, and — well, my heart is heavy. As I mentioned on All of It, PBS is broadcasting their Much Ado About Nothing from last summer with Danielle Brooks, and I really encourage you to marvel at its brio and sweetness. If that doesn't sufficiently scratch your Shakespeare itch, though, you could click over to Merry Olde England, where are several Shakespeare options — like Shakespeare's Globe (which has a cool service in which you can buy a virtual ticket to an online show for someone else) and Marquee TV (free for 30 days), which has ballet and opera and shows by the Royal Shakespeare Company. This latter category includes David "The Best Dr. Who" Tennant as a heartbreaking Richard II in a production I saw at BAM on tour — I'm planning to "go" for a second time. So where would Billy the Bard want you to donate? The Dramatists Guild Foundation, of course, which provides emergency relief to playwrights.
All of the Brooklyn Academy of Music season is canceled, which means a major conduit for international work has suddenly been cut off. I was psyched for Cyrano; I was desperate to see Lungs. At least — and I'm going full Pollyanna here — the world is small suddenly. Even people who have never darkened the Harvey's door can now surf over to the great Berlin theater Die Schaubühne to watch their online offerings, which are different each day. (Here's Nicole Serratore having her mind blown by one, which she is watching while working.) It's true, some of the shows coming up don't have English subtitles, but that's just because they're pulling some real beauties out of the deep archive, like a 1980 Oresteia directed by the theater legend Peter Stein. The production is an Ur-text for German theatrical maximalism that I have never seen offered on video anywhere, a real "gem from the vault" kind of moment.
And if the thing you're missing isn't a show but the gathering, not the curtain rising but the arm on the seat next to you — then go watch something that makes you feel that intimacy if you can. Tonight at 8 p.m. on Broadway.com, there's going to be a one-time-only reading of Terrence McNally's Lips Together, Teeth Apart, dedicated to McNally's memory and raising funds for Broadway Cares. It'll star Zachary Quinto, Jesse Tyler Ferguson, Celia Keenan Bolger, and Ari Graynor, all reading right to you. Just cry and donate, cry and donate. Sounds like a Monday night to me.