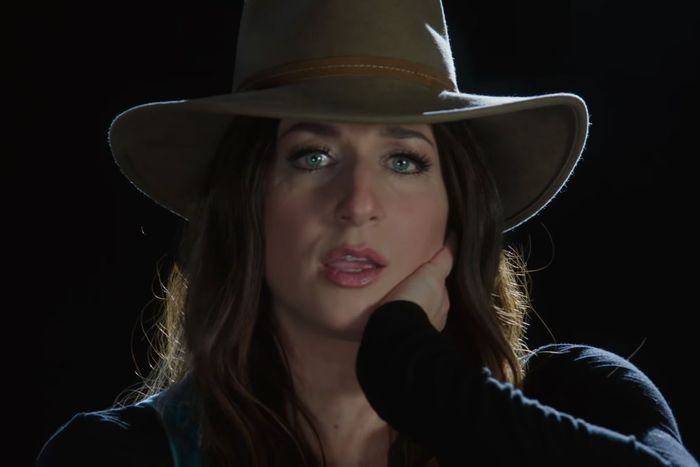 This week belongs to Chelsea.
Photo: Chelsea Peretti/YouTube
The comedy-podcast universe is ever-expanding, not unlike the universe-universe. We're here to make it a bit smaller, a bit more manageable. There are a lot of great shows, and each one has a lot of great episodes, so we want to highlight the exceptional, the noteworthy. Each week, our crack team of podcast enthusiasts and specialists and especially enthusiastic people will pick their favorites. We hope to have your ears permanently plugged with the best in aural comedy.
Call Chelsea Peretti - 421
It's been a great week for Chelsea Peretti fans. On Tuesday we were not only gifted with her EP Foam and Flotsam and two music videos — there was also a new episode of her podcast Call Chelsea Peretti, completing the holy trinity. It's made for a trifecta of treats that have truly been a bright spot in such a dark time. The songstress returns to the pod, the show's signature technical difficulties notwithstanding, taking calls from people wanting to talk about worms; what it's like quarantining in Fairbanks, Alaska; Taylor Swift; and a trip to Antarctica. Much like the recent wave of newer CCP episodes, this one is also highly and hilariously produced and edited, presumably by Foam and Flotsam producer Kool Kojak. There are parts of the episode that are so beautifully and hauntingly scored — and this could just be the quarantine talking — he manages to make some caller rambling about the L.A. open mic scene feel poignant and emotional. Personally, I'm jealous of new listeners to the pod who found their way there through the coffee-themed concept album and probably got to hear Peretti and Kojak's original coffee-inspired hit "Coffee Crankin' Thru My Sys" for the first time this week. —Leigh Cesiro 
Listen: Spotify | Apple | Website
Hollywood Handbook - Jeremy Levick and Rajat Suresh, Our Close Friends
Even a pandemic can't keep a meeting of the minds from happening this week on Hollywood Handbook. Hosts Hayes Davenport and Sean Clements open the Zoom stream to guests Jeremy Levick and Rajat Suresh and the four guys give each other crap from the jump. The guests are basically doing the same shtick the Boys are doing right back in their faces: interrupting, making stuff up, and taking answers in different directions than the questions intended. Fun is made of Rajat's crazy thick hair ("Are you worried with the quarantine that other people will begin to adopt your hairstyle?"). They do touch on a couple of the "meta" videos the guys have popped out in the past couple of years that helped get them noticed. (Levick's mock audition tape of him trying to get a gig with Good Morning America interviewing the stars of the movie Tag and "SNL Must Not Hire Rajat," a send-up of the podcast chat of comedian Shane Gillis that got him uncast from Saturday Night Live, are worth digging up to enjoy all over again.) If you're a devout Handbook fan, however, you cannot miss the final couple minutes, which features a recording Levick and Suresh left behind featuring their spot-on parody of the show's hosts. —Marc Hershon
Listen: Spotify | Apple | Website
Make My Day - She's on Fire With Akilah Hughes
It makes sense that a new podcast named after a Dirty Harry quote would be hosted by Josh Gondelman (Desus & Mero), the Clint Eastwood of comedy: a lifetime achievement award winner who's so respected it's impossible to disagree with him, even when he's wrong. On Make My Day, the king of positivity and inventor (or popularizer) of the Twitter pep talk hosts a one-contestant game show with a guest, hitting them with a lightning round of hypothetical questions like "What superpower would you like to have?" or "If one wall of your home was a mural, what would it be?" and awarding points based on the delightfulness of their answers. Gondelman's first episode with podcaster and author Akilah Hughes packs in stories of neighbors loudly fighting about which one loves the other more, yelling "Shipoopi!" like a hype cheer from NBA Jam, and reassuring the ghost of Brittany Murphy that she can leave her unfinished business with Ashton Kutcher in the past. As the first contestant and all-time high scorer on the podcast, Akilah wins a donation to Lighthouse Youth & Family Services in Cincinnati. This debut is solid — a lot depends on the positivity of guests like Hughes, but since Gondelman seems to know almost everyone in the business, that shouldn't be a problem. So go ahead, Make My Day. —Kathryn Doyle
Listen: Spotify | Apple | Website
Punch Up the Jam - "I Want You" by Savage Garden (w/ Chris Fleming)
Punch Up the Jam asks, "What if the greatest musical hits could be … greater?" Then host Miel Bredouw sets out to answer the question by inviting a special guest to review and revise a past pop song before providing a new "punched-up version." This week comedian Chris Fleming joins to analyze and elevate the '90s classic, "I Want You" by Savage Garden. The Australian pop duo's hit poses an initial problem, though. "This was a mistake, Chris. We can't do this song when we're self-isolating. It's so horny," says Bredouw. Once they manage to get beyond the sheer sex appeal of the single, they move on to an in-depth look at the lyrics, which will undoubtedly get you laughing. Bredouw reads, "I'm the kind of person who endorses a deep commitment…" before Fleming interrupts to ask, "He's saying he wants other people to be committed, right?" revealing an incredibly funny notion that Savage Garden is pro-relationship to the core. More laughs come when Bredouw and Fleming begin to break down the bonkers structure, which is later likened to edging. But it's the final product you need to stick around for, which is much juicier than the original. —Becca James
Listen: Spotify | Apple | Website
Night Call - Instagram Face/Off (w/ Jia Tolentino)
Quarantine continues to blur the lines between night and day, making Night Call a more appropriate listen than ever. This week's exciting guest is Trick Mirror author and social-media whistleblower Jia Tolentino. Tolentino would already be a draw given the recent explosion in screen time, but her recent dive into "Instagram face" makes her the perfect guest for Plastic Surgery April. Hosts Molly Lambert, Tess Lynch, and Emily Yoshida probe Tolentino's fascinating visits with the plastic surgeons to the stars, and rail against the "bullshit girlboss idea that whatever you do to live your best life is good." A Night Caller brings up Heidi Montag's mind-numbing ten-surgery day and prolonged transformation. And of course, what would a quarantine podcast be without first discussing Fiona Apple's Fetch the Bolt Cutters? Unfortunately, technical difficulties prevent Tolentino from joining for the discussion of John Woo's beloved plastic surgery film, Face/Off. Lambert, Lynch, and Yoshida reveal which celebrity they'd switch faces with for a day — 23 years after Face/Off, Nic Cage is still the answer, obviously. —Mark Kramer
Listen: Spotify | Apple | Website
Other Podcasts We're Listening To:
Doughboys - Honeybaked Ham with Kevin T. Porter
Listen: Spotify | Apple | Website
I'm Too Effing High - 420 Podcast Fest with Great Moments in Weed History, Weed + Grub, and I'm Too Effing High
Listen: Spotify | Apple | Website
Las Culturistas - War (w/ Lauren Lapkus)
Listen: Spotify | Apple | Website
Record Store Day Podcast - Marc Maron
Listen: Spotify | Apple | Website
Tasty Words - Our Family Looks Like This
Listen: Apple | Website
improv4humans - 420 Special 2020: Bizarro Ernie Sanders (w/ Anthony Atamanuik, Jon Gabrus, Horatio Sanz)
Listen: Spotify | Apple | Website
Got a comedy podcast recommendation? Drop us a line at comedypodcasts@vulture.com.