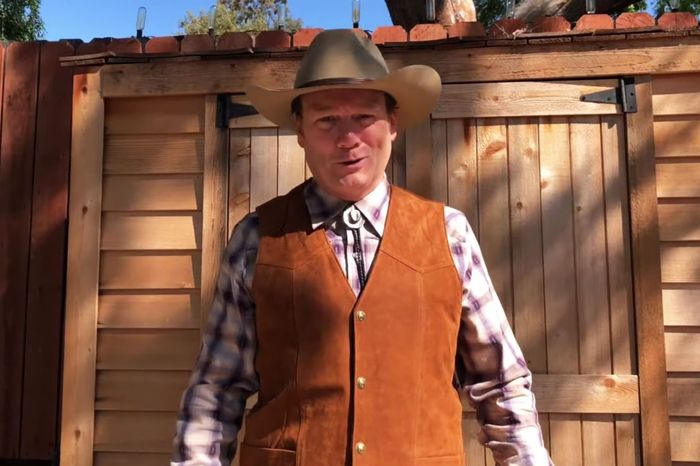 Andy Daly as Dalton Wilcox.
Photo: Earwolf/YouTube
The comedy-podcast universe is ever-expanding, not unlike the universe-universe. We're here to make it a bit smaller, a bit more manageable. There are a lot of great shows, and each one has a lot of great episodes, so we want to highlight the exceptional, the noteworthy. Each week, our crack team of podcast enthusiasts and specialists and especially enthusiastic people will pick their favorites. We hope to have your ears permanently plugged with the best in aural comedy.
Bonanas for Bonanza - Episode 3: The Newcomers
Shit just got surreal. Once upon a time there were a couple of limited series of The Andy Daly Podcast Pilot Project — shows that were one-off pilot episodes of crazy podcasts hosted by various lunatic characters out of the mind of actor, comedian, and writer Andy Daly. One of the more flamboyantly outrageous figures was Dalton Wilcox, the self-described "Poet Laureate of the West," a raconteur of the prairie who also occasionally fights and destroys creatures of evil like vampires and werewolves. Inexplicably, Wilcox is now hosting a new TV show "watchalong" podcast that tracks episodes of Bonanza (1959-1973), a Western featuring the Cartwrights: father Ben and his three strapping sons, Adam, Hoss, and Little Joe. Joining Wilcox in this foray is country-music legend Mutt Taylor (voiced by Matt Gourley, the show's producer), and Bonanza "super fan" Amy Sleeverson (Maria Bamford). They also have a guest with them, comedian Mano Agapion, who is declared "a city slicker" by Wilcox, a term which may or may not be some kind of code. This episode is the series kickoff but is called "Episode 3" because the gang did two previous shows at live events last year, but that hardly gets in the way of enjoying this madcap mess. In this episode a lot happens: An etymologist is killed ("a nerd," as Wilcox puts it), people try to mine for silver on the Cartwrights' famed Ponderosa ranch, and Hoss ("an ugly giant of a man" — again, Wilcox's words) falls in love with a beautiful woman who is destined to die of something that seems suspiciously like tuberculosis. There were 430 episodes of Bonanza, which has Wilcox all excited, so please, nobody tell him that Earwolf has only ordered eight installments of this podcast. —Marc Hershon
Listen: Spotify | Apple | Website
The Jeselnik and Rosenthal Vanity Project — So long, farewell, auf wiedersehen, adieu
It's a time of uncertainty for the world at large, and for The Jeselnik and Rosenthal Vanity Project, they have released the final episode of what may be their last contracted season on Comedy Central's podcast network without clear indication of how, or where, the podcast will continue. Plus, host Anthony Jeselnik's Comedy Central show, Good Talk, has been canceled, so the pandemic may have all but destroyed the house that South Park built. But this episode itself is not a bummer. While separated in their respective homes, Jeselnik and co-host Gregg Rosenthal, along with producer Erica Tamposi, still seem pretty upbeat as they tackle questions like "Will there be a season three of the podcast, and if so, how?" "How many 9-year-olds would it take to overcome an adult man in hand-to-hand combat?" "Do dictators refuse to admit when they die because death makes you a pussy?" All this plus some forced reflection on the highlights of season two (Erica liked when they could all still be together in the same location, Anthony preferred their ongoing coverage of Jeremy Renner's music career, and Gregg can't think of anything). If these guys, at this juncture, can keep a positive outlook, then so can we. Here's hoping JRVP or some combination of those letters will live on in some form and not die (like a pussy). —Kathryn Doyle 
WQUR: Queer Quarantine Radio — Episode One
Inspired by the radio shows of the 1940s, Queer Quarantine Radio offers a modern take that is especially campy and equally comical. Episode one has three segments, all of which are produced pristinely and feature BenDeLaCreme, Jinkx Monsoon, Peaches Christ, and Major Scales. Up top is the film noir P.P. Dick: Private Paranormal Dick and the sitcom Leave It to Beelzy, followed by the song "To Be Near You" and the murder mystery Darlington Mansion. Each is as gripping as the next, but the one-two punch of Beelzebub "Beelzy" Lucifer Commons, fallen angel to the god Jehovah, followed by a commercial for Girl Pool, a bidet, is a high point. Guaranteed to leave you laughing for a long time to come, the latter might also have you singing the potty jingle, which includes lines such as "Make a sewer pickle, and the clean-up is free!" well into the week ahead. Queer Quarantine Radio promises listeners that they'll "thrill at the drama and gag at the eleganza" and delivers the quick-witted and wholly original content to make it true. So do as the hosts say and "Stay home, stay safe, stay queer with WQUR." —Becca James
Listen: Spotify | Apple | Website
Bananas - Face Mask Thong with Georgia Hardstark
Bananas provides instant entertainment. Each episode of Kurt Braunohler and Scotty Landes's new podcast opens with something totally bizarre that's sure to make you laugh before Kayhan Ahmadi's upbeat and infectious theme song plays. It's a welcome jolt of fun in this uncertain time. This week, Braunohler greets us with, "This toilet recognizes your butthole and uploads photos to the cloud" before Landes chuckles and responds with "That's bananas!" Braunohler's salutation is actually the headline of a recent Mashable article outlining the new toilet technology. Georgia Hardstark joins the hosts to discuss the Precision Health Toilet, which has four cameras, one of which is the anus camera, and accompanying literature that assures "minimal interference of human behavior." No one's buying that, and as Braunohler plainly points out, "Photos of your butthole are the definition of interfering." Funny from start to finish, the rest of the episode focuses on more "strange, fascinating, and just plain bananas news from around the world." Topics include using a thong as a face mask and a sassy Airbnb host who leaves increasingly aggressive and poop-obsessed responses to guest reviews that you have to hear to believe. Tune in each week for more headlines and hilarity. —Becca James
Listen: Spotify | Apple | Website
Other Podcasts We're Listening To:
The Darkest Timeline - The 2010 Guys Choice Awards
Listen: Spotify | Apple | Website
Double Threat - Here Comes The Crybaby w/Chris Gethard & Robin Colombo
Listen: Spotify | Apple | Website
Got a comedy podcast recommendation? Drop us a line at comedypodcasts@vulture.com.