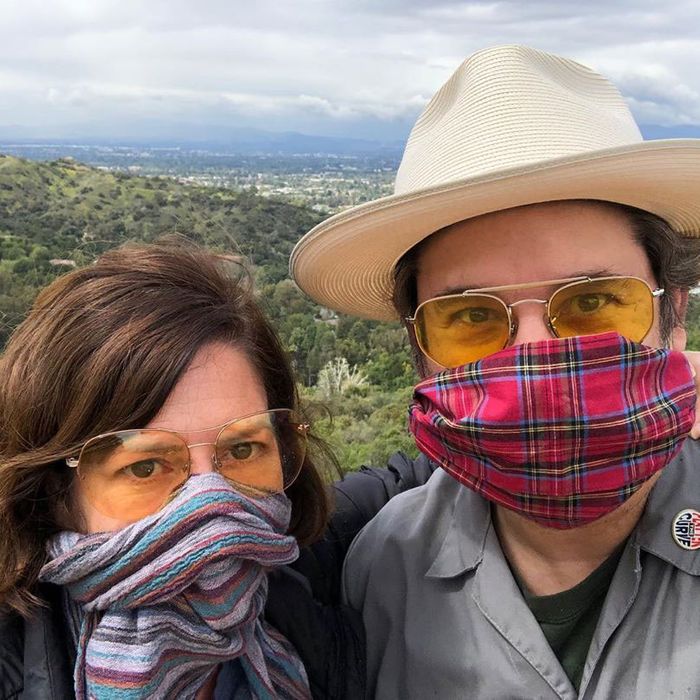 Janie Haddan Tompkins and Paul F. Tompkins.
Photo: Janie Haddad Tompkins/Instagram
The comedy-podcast universe is ever-expanding, not unlike the universe-universe. We're here to make it a bit smaller, a bit more manageable. There are a lot of great shows, and each one has a lot of great episodes, so we want to highlight the exceptional, the noteworthy. Each week, our crack team of podcast enthusiasts and specialists and especially enthusiastic people will pick their favorites. We hope to have your ears permanently plugged with the best in aural comedy.
Stay F. Homekins - I Guess That Makes It Alright. 
Stuck inside like the majority of us, husband and wife Paul F. Tompkins and Janie Haddad Tompkins have decided to fill their time with a new podcast. Stay F. Homekins provides "dispatches from the Haddad/Tompkins household during our Great National Self-Isolation," offering a charming look into the couple's "pandemical partnership." It's perfect parts relatable and escapist, with this week's episode highlighting a sort of stir-crazy sounding exchange that covers everything from the duo releasing some secrets to an ASMR attempt. The latter is hilariously tragic as Haddad whispers nonsense into the microphone before letting out a huge laugh, which Tompkins jokingly scolds her for because it kills "everyone's ASMR boner." It's this sort of playful banter that keeps things light in an otherwise trying time. Even the moments that do acknowledge current events, like when Haddad says "I'm going to posit a nightmare scenario … ," are turned into an opportunity for laughter as the couple riffs on a possible sci-fi future à la Ray Bradbury. They also chat about the music they're grooving to, books they're reading, and plays they're planning to stream, which makes for an excellent recommendations list that alone is worth tuning in for. —Becca James
Listen: Spotify | Apple | Website
R U Talkin' R.E.M. RE: ME? - It's the End of the World and We Know It (And It Feels Good) (F**kin Stoked!)
It's the end of the world, and that's the perfect time to check in on what's going on in the world of the band R.E.M. Luckily, Scott and Scott have returned from their individually hermetically sealed homes to do just that in a quarantine special of R U Talkin' R.E.M. RE: ME? Lots has happened since their last episode on February 18, including Gal Gadot's "Imagine" video that revealed the privileged backyards of the rich and famous. Scott and Scott discuss why neither of them appeared in said video and also grade the video-editing skills of the Dean of Tisch dancing to "Losing My Religion." There's a surprisingly okay new acoustic song from Bono and a subsequent less good will.i.am version to listen to. Plus, Adam Scott finds out in real time how many USB ports he has on his personal computer, Scott Aukerman wonders how Emeril Lagasse is doing under the circumstances, and Michael Stipe shaves his Letterman beard. We're all going through something these days. —Kathryn Doyle
Listen: Spotify | Apple | Website
Fake Doctors, Real Friends - The Pilot/My First Day
This brand-new podcast could be just the ticket if you're looking for something for your ears to binge on during these lockdown pandemic times. One reason is because the hosts, Zach Braff and Donald Faison, are in the exact same boat as the rest of us: sheltering in their respective homes even as they work together (via Zoom) to kick off their show. If you're a fan of Scrubs, Braff and Faison (stars of the show and real-life buddies) are now your hosts of this "rewatch podcast." And there's the second reason to look forward to this new entry: Much like Office Ladies does with The Office, these guys are going to escort us, episode-by-episode, week after week, through the entire nine-season run of the show that started on NBC and ended up on ABC. In this first episode, the hosts spend some time up front reminiscing about the audition process they both endured to end up on the show. (Braff recalls still being a waiter in a Beverly Hills eatery the night the pilot aired and having customers that night recognizing him from their TVs at home.) Then they begin taking us through many of the moments of the pilot, introducing us to the characters and the actors behind said characters. There are also some amusing side trips, like Faison trying to recount just how many times he appeared essentially naked on camera during the run of the show. (Spoiler alert: He can't recall exactly.) So if you're locked up indoors, now sounds like a good time to flick on Scrubs while Zach and Donald guide you on your next binge-a-thon. —Marc Hershon
Listen: Spotify | Apple | Website
Other Podcasts We're Listening To:
Stand By Your Band - Jewel with Amy Silverberg
Listen: Spotify | Apple | Website
Dumb People Town - Dumb Tiger Town
Listen: Spotify | Apple | Website
Why Do You Know That? – Nick Wiger
Listen: Apple | Website
Got a comedy podcast recommendation? Drop us a line at comedypodcasts@vulture.com.