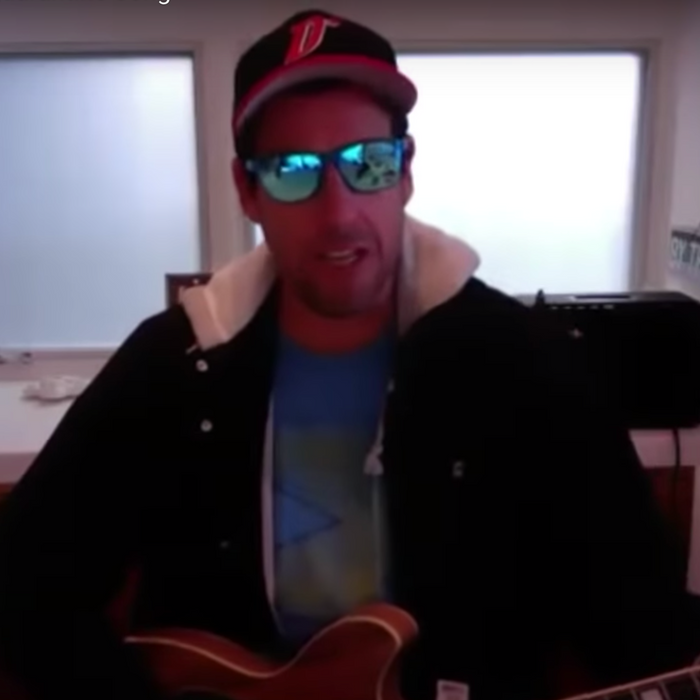 Adam Sandler finally dropped a quarantune.
Photo: Youtube
It's been another week spent indoors staring longingly out of the window like Amy Adams in the trailer for that movie where she's agoraphobic, and another week of quirky late-night television bits. While there is certainly less to laugh about as life before coronavirus becomes something akin to a distant memory, late-night television did its best to provide some chuckles in this incredibly difficult time. Some hosts, like James Corden, shook things up and produced a virtual music festival, "Homefest," with guests like Dua Lipa and BTS. Others, like Desus and Mero, provided a much needed sense of normalcy by cracking jokes about Drake, James Dolan, and Michael Jordan, like they would any week. Here are a few moments from late night this week that tickled our fancy and reminded us that there is, in fact, a light at the end of this dark tunnel.
5. Jimmy Kimmel and Jennifer Aniston Surprise a Nurse
Jimmy Kimmel must really love Friends, right? After interviewing Courteney Cox last week, this week Kimmel video-chatted with none other than Jennifer Aniston, sadly not rocking "the Rachel" but decked out in a stylish pair of glasses. The standout moment of Aniston's Kimmel appearance was not Aniston herself but Kimball Fairbanks, a cardiovascular nurse who recently contracted COVID-19 and had to isolate away from her two young daughters. Fairbanks, in admirably high spirits, talked to Jimmy about her experience with COVID-19 and her daughter swallowing a magnetic marble (we've all been there) before Anniston and Kimmel surprised her with a $10,000 gift certificate to Postmates. While late night does not need to turn into "Ellen's Greatest Night of Giveaways," it was a sweet segment that put a human face on the health-care workers who are currently manning the front lines against this disease, and Fairbanks seemed like a genuinely lovely person with truly awesome hair (light pink with beachy waves!).
4. Sam Bee Sheds Light on Ladies During the Coronavirus
Speaking of nurses, did you know that 89 percent of nurses are women? I learned that staggering statistic and much more while watching Full Frontal With Samantha Bee's "COVID-19 for Her" segment, which focused on the unique toll the coronavirus is taking on women during this unprecedented time. Bee dropped plenty of knowledge (women are statistically still more likely to do household chores than men … ummm, it's time to step up fellas!) as well as plenty of jokes. Are you a woman worried you might have to give birth without your husband present because of new restrictions on hospital visitations? Don't worry, the hospital might give you a Wilson-like volleyball to keep you company. Maybe it will be the same one that watched Tom Hanks pleasure himself during Cast Away. (Note: We are allowed to make Tom Hanks jokes now that he's in the clear.)
3. The Daily Show's Desi Lydic Interviews the Hottest Doctor in America
Speaking of pleasure, remember flirting? And hot people? I almost completely forgot about both, but watching this interview with Dr. Mike, a.k.a. the "Hottest Doctor in America," certainly helped jog my memory. I don't use that title lightly, as Dr. Mike was literally voted the Sexiest Doctor Alive by People and has a jawline that could cut diamonds through a Zoom chat. This fact was not lost on Daily Show correspondent Desi Lydic, who got as up close and personal with Dr. Mike as video-chatting would allow during the segment. The NYC–based doctor provided helpful information about how to fight coronavirus, but Lydic claiming that her child was not actually her child but her super was [chef's kiss]. "He's a grown man but he's very small because we have a mini-fridge," said Lydic, making complete and total sense. During the interview, Dr. Mike said something about only having one glass of wine per night, but I wasn't really listening as I was busy drinking in his eyes. Let's all raise a glass to doctors — including, of course, the incredibly hot ones.
2. Conan O' Brien Shows Off His Humble Abode
Oh, Conan, our down-to-earth comedy king of meager means and humble beginnings, who simply can't for the life of him find his trick coin! On Conan, O'Brien gave the world a hilarious virtual tour of his house after acknowledging how so many celebrities have filmed tone-deaf videos complaining about going stir-crazy in their McMansions. With an impressive use of both digital and audio effects, Conan took us from his study to his grand marble hallway to his solarium, falconry, and helipad all in search of a trick coin. "Hello," he bellowed out, echoing down the halls, "has anyone seen my trick coin? Any of the servants seen an errant trick coin?" While he never did find that coin, he did take us to his bank vault filled with "spare cash" and a wine cellar with many barrels of wine, four of which he planned to drink that night, which goes precisely against Hot Dr. Mike's "one glass per night" recommendation. Give O'Brien the Emmy for Best Use of Zoom's Fun Background Feature in 2020!
1. Adam Sandler Debuts His Quarantine Song
Move over "Hanukkah Song," because Adam Sandler's got something new to sing about. This time it's not so much about a festival of lights as it is about the prolonged period of darkness we are all experiencing under quarantine. As always, Sandler was able to bring the funny as he sang about the importance of getting PPE to doctors and nurses on The Tonight Show: At Home Edition. After discussing Jimmy Fallon's famous impression of him, Sandler broke out his electric guitar and riffed on the importance of nurses and doctors, singing, "Doctors and nurses will save us from this mess if we get them the supplies that they need / And I hope they save us soon cause I'm really, really sick of my family." As someone who is on week three of quarantining in suburban New Jersey with seven family members, this line … hit close to home. Sandler went on to shout out all the doctors in the world, especially "Chinese doctors in America," before asking the world to make more ventilators because "I'm teaching math to my kids, and that can't be good for America." Some words of advice on the math front from a tutor: Focus on PEMDAS. It always comes back to PEMDAS.
Bonus: Mumford from Mumford & Sons Covers Rodgers and Hammerstein
Okay, I know this isn't a late-night clip in the traditional sense, but Marc Mumford from Mumford & Sons covered Rodgers and Hammerstein's gorgeous ballad "You'll Never Walk Alone" from Carousel on The Tonight Show: At Home Edition, so I'm including it. Sometimes things don't have to be funny to be good. :)