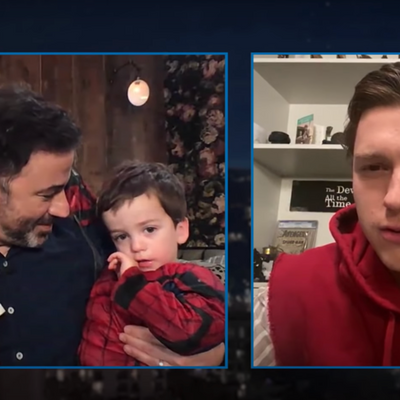 Billy Kimmel is … underwhelmed.
Photo: ABC
What's new, pussycats? Well, the president of the United States of America has suggested that people start injecting disinfectants, and I just started a 1,500-piece puzzle, which seems equally as futile and somehow twice as dangerous. As for late-night television, the One World: Together at Home concert event didn't exactly cure the quarantine blues, but did provide us with not one, not two, but three (3) Keith Urbans singing "Higher Love," which is approximately 2.5 more Keith Urbans than I ever need at one time (a little Urban goes a long way, in my book). Here are all the late-night moments that sounded sweetest to my ears this week.
5. Andy Cohen Blasts the FDA on Watch What Happens Live
To kick things off on a more serious note, Andy Cohen laid bare the ludicrous policy the FDA still has in regards to gay men donating blood. A COVID-19 survivor, Cohen attempted to sign up for a program in which those who beat the virus can donate plasma to those still battling it, only to be deemed ineligible by the program "due to antiquated and discriminatory guidelines by the FDA to prevent HIV," which requires gay men to abstain from sex for three months prior to giving blood. "This virus is ravaging our planet," Cohen said. "The FDA says there is an urgent need for plasma from survivors. All donated blood is screened for HIV and a rapid HIV test can be done in 20 minutes or less, so why the three-month rule? Why are members of my community excluded from helping out when so many people are sick and dying?" Cohen asked. #DontDrinkBleach is trending on Twitter right now, yet gay men still can't give blood during a global pandemic. America's doing great.
4. Ray Romano's Identical Twin Sons on The Late Late Show
This week really was brought to you by the No. 3. Ray Romano appeared on The Late Late Show With James Corden flanked by his two identical, adult twin sons, Gregory and Michael. Watching the three of them pal around with James Corden was … bizarre, to say the least. It had big "three witches from Macbeth" energy, if the three witches were dudes wearing Warby Parker glasses and two of the witches were identical twins sporting impressive quarantine beards. The siblings played a fun scavenger-hunt game, retrieving various objects from their house for Corden and revealing that Ray Romano loves a funny photo calendar and also sucks at bowling. The best part was when Romano admitted to clicking on a link that played "Fuck, Marry, Kill" with himself, Jerry Seinfeld, and Drew Carey where Romano was killed eight out of ten times. The correct answer, of course, is to marry Seinfeld (he's got supervillain money), kill Carey (the price is wrong), and fuck Romano (do not tell his identical twin sons I said that).
3. Stanley Tucci Makes a Martini
Where were you when you first watched Stanley Tucci make a Negroni? I was lying on the couch, pretending to read a novel, when I came across Stanley Tucci clad in a tight black polo shirt vigorously shaking a canister, and my life changed forever. Someone on staff at The Late Late Show must have had a similar experience, as the day after Tucci's video went viral, James Corden had Tucci on to teach him how to make his first-ever martini. Apparently, Tucci fixes a drink every day at 5 p.m. with his wife, Felicity (who is Emily Blunt's older sister. The Devil Wears Prada of it all!), at their flat in London, which is perhaps the chicest sentence I've ever written. Tucci was patient and suave while instructing Corden on how to make the perfect martini (stirred, not shaken — sorry, Bond). Corden clearly hated his martini — "I think this is going to be a new thing for me," he said, grimacing while refusing to take a sip — but it was never really about him. It was all about Tucci. Whoever said lightning never strikes the same place twice has obviously never watched Stanley Tucci fix a stiff drink.
2. And Roy Wood Jr. Makes a Negroyni
Stanley Tucci is great and all, but the bartender of the week has gotta be Roy Wood Jr. Inspired by Tucci, Wood Jr. hosted his own "Negroynis With Roy" segment on The Daily Social Distancing Show With Trevor Noah, even though he's not sure white people should be allowed to say the word Negroni. Does Wood have any of the ingredients to make a Negroni? Absolutely not. But is that going to stop him from making a drink? Hell no! Like most of us, Wood makes do with what he's got in the kitchen. He takes out some Hennessy and then throws it in the sink because "nothing good ever came from Hennessy except for a couple of Lil Jon songs." He pours vodka, half-and-half, and peach-mango salsa into a pail, shakes it for five seconds, and, voilà, he's got a Negroyni. Is it good? No. But, as I've learned from my sister's quarantine happy-hour experiments, not every drink is meant to be enjoyed.
1. Billy Kimmel Celebrates His Third Birthday With Spider-Man
Jimmy Fallon is not the only late-night host with adorable children to trot out on camera! This week, Jimmy Kimmel officially got in on the action while celebrating his son's third birthday. Kimmel's son Billy, who's undergone multiple surgeries for a congenital heart defect, is a huge Spider-Man fan, so Kimmel adorably invited the "real" Spider-Man, Tom Holland, to sing him "Happy Birthday" over video chat. The whole thing is incredibly sweet. Holland, donning a red mask and his "Queens" accent, chats with Billy and his sister Katie, leading to a climactic reveal where Holland takes off his mask, revealing himself to be the one, true Spider-Man (sorry, Andrew Garfield and Tobey Maguire), and Billy … sits there smiling in his dad's lap. Don't get me wrong — little Billy, who's wearing a Spider-Man costume by the way, is definitely excited to see the real Spider-Man, but he's not, like, freaking out about it. His reaction is extremely appropriate given the absurdity of the situation. His body language says, Yeah … I'm a little shy and that's Spider-Man … Let's eat cake. His older sister Katie, however, was very talkative and not the least bit embarrassed when her father told Holland that she thought he had "a cute face." Crossing my fingers that this leads to a crossover episode where Winnie and Franny have a playdate with Katie and Billy.