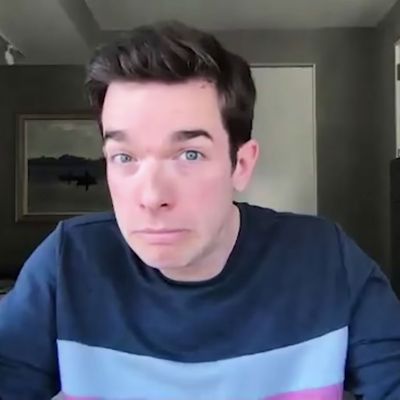 John Mulaney shrugging off his new status as queen of the VSCO girls.
Photo: YouTube
Okay, as per usual I have to be the one to say it: This sucks! Time marches on, we're all still trapped in prisons of our own making our homes, and given recent reports of what's going down behind the scenes at a popular daytime talk show, the charm of DIY television is beginning to wear thin. Perhaps the three-network, Lady Gaga–produced television event One World: Together at Home hosted by Stephen Colbert, Jimmy Fallon, and Jimmy Kimmel airing Saturday, April 18 will turn things around, but I'm not holding my breath. Still, there were a few bright spots in the late-night television landscape this week, so let's focus on them instead of the world at large, shall we?
5. Joe Biden's Admits Favorite Flavor of Gatorade Is Orange on Desus & Mero
Orange Gatorade. On Thursday, Joe Biden appeared on Desus & Mero and admitted that his favorite flavor of Gatorade was orange. I'm honestly still trying to wrap my head around it. Do you know anyone who would choose orange Gatorade over, say, yellow Gatorade? Not even to mention Glacier-Freeze blue, the obvious choice for best Gatorade flavor. Yes, other things were said during the interview about President Obama and presidential campaigns and such, but nothing will top the gasp that flew out of my mouth when Vice-President Biden whipped out an orange Gatorade like it was that girl. What's next? Is he going to say he prefers red Starbursts to pink Starbursts? I shudder at the thought.
4. John Oliver Calls Out Countess Luann on Watch What Happens Live
Normalcy is so fleeting these days. That's why we need The Real Housewives of New York and their inane fights about who gets to stay in which room at Ramona's Hamptons house now more than ever. John Oliver understands this, and he articulated this notion beautifully when he appeared on Watch What Happens Live on Thursday with Andy Cohen and Luann de Lesseps. In a segment called "Give Me the Apple Juice," Cohen asked Oliver what he thought about the Countess's strong reaction to her room assignment at Ramona's house. A star pupil of the Real Housewives Academy of Arts and Sciences, Oliver admitted that Luanne overreacted (because, duh, she did), but maintained that her overreaction provided a much-needed sense of normalcy in these dark times. "In a time of pandemic like this, we all want some sort of normalcy," Oliver said. "And what is more normal than Luann overreacting to a room assignment?" There are three things in this life we can be sure of: death, taxes, and Luanne being upset about a room she's been assigned on a paid vacation. Never has the phrase "I left my beautiful home in Sag Harbor to stay in Ramona's basement" provided me with such comfort. Goodnight from the lower level.
3. Phoebe Waller-Bridge on The Late Show With Stephen Colbert
Do you remember who handed Phoebe Waller-Bridge her Emmy for Outstanding Lead Actress in a Comedy Series? No? It was Stephen Colbert! On Thursday evening, Waller-Bridge appeared on The Late Show, and we all got to briefly travel back to a simpler time when Fleabag was sweeping the Emmys, the world felt fair and just, and everything felt possible. During the interview, Colbert admitted to not having seen Fleabag before interviewing Waller-Bridge the first time (unbelievable), and Waller-Bridge told a delightful anecdote about how one real-life priest has been receiving a bevy of nudes from various women due to the impact of her show's hot priest character (her influence). Nothing particularly exciting happened during the interview, but sometimes it's nice to see two lovely people take a trip down memory lane.
2. Jimmy Fallon and Nancy Juvonen Recall Their Engagement
Speaking of lovely people taking a trip down memory lane, Jimmy Fallon and his wife, producer Nancy Juvonen, took a stroll and shared their engagement story with the world. I'm not a particularly sentimental person — the "first photo" making the rounds on Instagram gives me indigestion — and yet, seeing Fallon and Juvonen recount their courtship warmed my cold stone heart. It was really great to see Juvonen — mother of budding comediennes Winnie and Franny and de facto producer of Fallon's wildly popular The Tonight Show: At Home Edition — get some well-deserved time in front of the camera. Also, Jimmy Fallon is also a Virgo who hates soft cheese? We are kindred spirits.
1. John Mulaney Is an ESFP VSCO Girl
John Mulaney is many things — a man, a comedian, an actor, a husband — but first and foremost he is an ESFP VSCO girl. At least, that's the only logical conclusion one can come to after watching his interview on Late Night With Seth Meyers. Meyers asks Mulaney what a VSCO girl is, betraying his age with the very question. "I don't know. I think it's what you or I would call a valley girl," says Mulaney before giving a shockingly accurate description of exactly what a VSCO girl is, courtesy of New York magazine (you're welcome, John): "A VSCO girl is a manic-pixie ecowarrior, otherwise known as an annoying white helpless romantic." Mulaney admitted he is "deeply interested in the world of VSCO girls" but not in a creepy way, and has been able to gather some painstaking research on the subject with the help of his Sack Lunch Bunch kids. One of them, named Linder Sutton, even drew him as a VSCO girl, complete with classic VSCO girl accessories like chapstick, a hydro flask, and a Fjällräven backpack (the J is silent, John). In a word, it's a masterpiece. Mulaney went on to share that he's an ESFP according to the Myers–Briggs personality test, which is exciting for me, an ENFP (obviously), because that means we'd probably get along if we ever met in real life. The whole interview was wonderfully absurd, yet oddly informative about a part of culture that seems to have a real affinity for Mulaney. Looking forward to Mulaney's next special, John Mulaney and the TikTok Bunch.