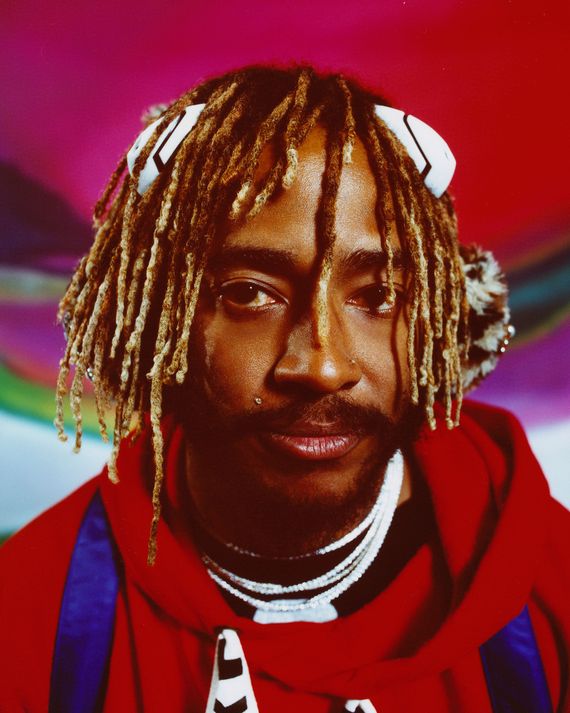 Many of the notable hip-hop, soul, jazz, and funk records of the last decade and a half share a common fingerprint. The nexus joining the intricate grooves of Kendrick Lamar's DAMN. and To Pimp a Butterfly, Kamasi Washington's Heaven and Earth and The Epic, Erykah Badu's New Amerykah diptych, Janelle Monáe's Dirty Computer, and records by Mac Miller, Flying Lotus, Childish Gambino, Travis Scott, Kali Uchis, Jhené Aiko, Moses Sumney, and many more is the fleet six-string fretwork of bassist, producer, and singer-songwriter Stephen Bruner, a.k.a. Thundercat. Thundercat plays notes like pregnant clouds spill sheets of rain. The riffs are dense but also affecting, spacey without ever losing sight of the ground. Thundercat songs are virtuosic, but also playful in the same way that classic funk records marry elite musicianship with carefree moods and relatable themes. His new album, It Is What It Is, out Friday, is light and uplifting, pushing back at a passing darkness like the first breezy spring days after winter breaks.
I met Thundercat on a crisp February day on the Lower East Side to talk about the new album. What followed was a sprawling conversation about anime, comedy, loss, sobriety, and the ways these threads are braided into his fourth album. We touched on life changes in the wake of losing Mac Miller, the long-lasting musical partnership he has maintained with Flying Lotus, the then-looming threat of the coronavirus (his tour with openers Guapdad 4000 and Teejayx6 has joined the long list of cancellations), the pitfalls of remastering old art for modern sensibilities, and the wonderfully weird future of swag rap.
Last year, you toured and played on a few records. What else did you get into?
Just trying to be emotionally okay. I had a traumatic end of 2018. I took some time to revamp and look at myself and turn things into something else. I stopped drinking. I changed a few things in my life. I was recording a bit. You know, just life changes.
How did ditching alcohol change your life?
Immediately, I lost a lot of weight. It was kind of scary for people who were friends of mine, because they thought I was on drugs or something. It was a bit anxious for me at first, with everything between withdrawal and emotions. It was a lot to take on. Everything would be coming at me pretty fast. But I got used to it. I found my rhythm in it. It's fine now.
I wondered if, on some level, Drunk was about having a little too much fun.
Drunk was more like an observation. It was how I felt about [alcohol], what it was to me. I had some ups and downs, as anybody would, but for the most part, alcohol was fun. It serves this purpose. It turns you into a different person. That's why they call it spirits. I enjoyed that very much: the unknown part, the Bukowski level.
But losing Mac was a traumatic experience. It forced me to put things into perspective, genuinely. And I got tired, you know? By the time I went through it with Mac, there were several friends that had left out of here in such a volatile manner that [alcohol] just kind of … lost its appeal.
You have a wild time with a group of people, and you start to feel infallible, like the Avengers, and it suddenly starts to go south …
It don't feel the same. I would go to want a drink, and I would just hear Mac's mannerisms. I'd hear his sniffling and his breathing, and it would be really weird. So I just stopped.
He once told me you two had several albums in the can. Do you have any idea what happens with those?
I don't know, man, to be honest with you. I know moments like this are always weird, from labels to families, what gets seen and put out there and what gets held on to. But I know, more than anything, I'm thankful to God that me and him spent so much time working together.
It still feels strange. It's been like a year and a half, but it's still like …
He should be here.
Did I hear his voice on your album?
Yeah, the last song.
Okay. I didn't hallucinate that. So, there's a line in your single "Black Qualls": "Just moved out the hood / Doesn't mean I'm doing good." That struck me. You grow up thinking once you get out of the neighborhood, you're all set. But there's a lot of people really nervous in their prosperity right now. Talk to me about that.
I remember thinking … going back to slavery, where we had to hide the things that we had because you knew it would be taken from you. If you learned how to read, you'd get killed. That trickled down culture-wise. You get in a situation where you have a chance to progress and find people not being able to comprehend or process that very well. Even getting to a point of being okay is almost eerie. Being able just to stand on your own two feet is scary. I think the song is about the idea that it's okay to be okay. There's no rules to how this stuff works a lot of the time. We're left to make our own rules. It's difficult to be okay. Erykah Badu used to tell me it's not a race. Breathe, and you're usually okay. It just may not feel like it.
How did Childish Gambino end up on the song? It has a really interesting cast of characters.
"Black Qualls" started as a bit of a conversation between me and [the Internet's] Steve Lacy on the instruments. We were sitting and talking and playing, and we created this idea. Me and Steve Arrington had been trying to figure out how to work for quite some time, trying to find where it could make sense; I called him, and he immediately was into it. It took a little bit of time because Donald … he's on a different planet right now. So even reaching out to him would become a little bit difficult sometimes, but in the moments where he had free time, we would talk about it. I always send Donald the music I'm working on. I know he lives in a different world, but it's important to share stuff like that sometimes. I remember he was a bit confused, like, "What do you want me to do?" I was like, "There's no frame of reference." I feel like the song speaks for itself, and he added a perfect touch to it.
You might be the only person that's thought to put Kenny Loggins and Wiz Khalifa on the same album. Is it work trying to outdo yourself on that front, getting different people into the same room, or does it just become easier the more that you gig with people?
A lot of the time, it's not that it's a stab in the dark. A lot of these people are my real friends in real life. There's a natural way that it flows. I don't really expect anything of anybody. I try to contribute to the music more than anything. I feel like it's not always mine. I don't feel like I'm harboring things or waiting for a chance to get to somebody, like, "Hey, man. This would be good if you …" It could go any kind of way. With Kendrick Lamar's album, a lot of the music [I worked on] was something that I would create, or ideas we took the lyrics off and repurposed. [Collaboration] stems from genuine love that we have for each other as people, and in those moments, you gotta be careful not to play your friends close. But, at the same time, the work ethic is there between artists. Mutual respect exists there, and we try to share that in the music.
I recently realized you worked on Erykah Badu's New Amerykah records at the same time that you were playing in Suicidal Tendencies. I wonder if part of the reason why you have this lightning-fast technique on the bass is that you kind of have a hardcore background.
Mike Muir, Dean Pleasants, and Mike Clark taught me to be bold on my instrument. The playing fast and all that stuff … it goes hand in hand with [hardcore] a bit. A lot of the basslines from Suicidal's music would be demanding, but at the same time, I grew up playing a lot of jazz. So there's a part of it that comes from the repetition of practice, sticking to a regimen, and growing up with the likes of Kamasi Washington, Cameron Graves, and my brother Ronald. It was always important to sharpen your craft. In Suicidal, Mike [Muir] would make me stand in front. He kicked me in the butt and made me walk out in front and take a bass solo. He'd walk offstage, and you'd either get hit with a bunch of shoes or you figured it out. It taught me to be one with everything. It became a bit symbiotic. Mike invited the ability in the music. Suicidal Tendencies was a breeding ground for me to be able to keep that as a mainstay of how I play.
You've worked with Flying Lotus so much that, when I think of what your music sounds like and what his music sounds like, there are aspects that feel almost interchangeable. What kind of work goes into cultivating a partnership like that over the years?
A relationship on any level is something you have to keep healthy. We always are willing to renew that with each other. You think of different duos in the past, like Hall & Oates, Jimmy Jam and Terry Lewis, or Chad Hugo and Pharrell [the Neptunes] — songwriters like that. We're always excited for what we have to bring to the table. There's a lot of trust there, to the degree that I trust Lotus with my music, which is my life. He knows that I'm always looking around sharp corners in the music. It's been about a decade, and we still have fun doing this. As soon as we get together, we start playing Mortal Kombat or Dragon Ball. We start talking about whatever weird stuff that's been going on, and then we sit down and get back to what we always do. We never lose the excitement for what can be, even when things change. I feel like I've become more of my own artist, in the sense that I'm singing all the time, but it wouldn't be if it wasn't for him. There's a constant excitement. We look up and it's like, Man, how long has it been? Good Lord. We have a few dead friends. We got beards, a couple of gray hairs. We've all got dreads now. But it's still Adventure Time between me and Lotus.
Humor plays an important role in your songwriting. That's difficult in the confines of a jazz-fusion situation, if I may be reductive. People instinctively start thinking about cosmic shit when they hear your sound. But you might get in the booth and write a song about how it's cool to hang out with your drummer. Who are your favorite humorists in music or in comedy?
Frank Zappa!
I was hoping we would talk about Zappa.
Zappa was kicking ass and taking names. No prisoners. Humor is a big part of life. Everybody kind of denies it for the sake of trying to make sure they get something they're supposed to get out of things. There isn't a lot of stuff to get out of stuff, as we're watching the coronavirus just destroy us. We want for things to be more than they are, but a lot of the time, it just is what it is. You wind up coming to that, and it's almost comforting. I've done all I can do. I can't do much more. I wish there was more that I could do, but I'm not allowed to. Nah, man. It is what it is. It's what it's supposed to be.
Is that what the album title is saying?
Yeah. The joke is always waiting. You choose to pick it up, or you don't. A lot of the time, I prefer to laugh. Frank Zappa was the king of that. Eddie Harris … Of course, Richard Pryor. I have my personal friends like Eric Andre …
One of the funniest people on the planet.
Hannibal [Buress]. Jack Black, of course. Bootymath, or Zack Fox. I feel like "Bootymath" is the perfect name.
It's absurd, but it's still kinda hard.
Laughing is important, 'cause most shit don't be funny.
But there's a way to turn your head to get it there. You have a song called "Dragonball Durag." I see you holding down the otaku hip-hop-head community, like, every day. Have you played the Dragon Ball: Kakarot game for PS4 yet?
I feel some kind of way about it, to be honest. I don't want to play the same narrative. There's too much good story now. We can do something different. Broly's back in the picture. You could've chosen to do a Dragon Ball Super game. But I love Dragon Ball. I do. Dragon Ball is life. But I don't know about that game. Dragon Ball FighterZ is ridiculous. Arc [System Works] destroyed that. FighterZ is timeless. It's like Pokémon Red and Blue when it first came out. Finally, a Dragon Ball game that's on the level of Dragon Ball Z.
Goku is a fascinating character because he always wins, but they literally beat him to death along the way. He's like anime Jesus.
Broly's on the scene now. He, to me, is definitely the strongest Saiyan. We know this. But I love Goku in the new Dragon Ball. He's a man-child.
Who is the realest cartoon ThunderCat? Don't say Lion-O!
Of course not. Panthro is a given. But the realest ThunderCat? The realest ThunderCat was Grune the Destroyer. Grune the Destroyer could literally destroy every one of the ThunderCats. He's a general in the army, and he's equal to Jaga, but Jaga is a ghost. It's definitely Grune.
What are your favorite funk and disco records?
I'm a huge Graham Central Station fan. Graham Central Station, Slave, the Whispers … you know, the later '80s shit. Shalamar. The '80s were big as hell. I feel like that was the last era where live music was allowed to reign like that. [Disco] plays a major role. It's important. You gotta dance. I think that's what Miles [Davis] was on. He was trying to forge ahead with his music and find a way it could interject into different places, 'cause it's all from the same system.
I respected Miles getting deep into funk at a time when maybe he seemed like kind of a dinosaur to some people. It's funny you mention Shalamar. The first piece of music I remember buying was a bootleg Jody Watley cassette tape. Self-titled album.
My dad used to play with Jody.
Do you remember the first piece of music you ever bought?
I think it was either Stanley Clarke's Journey to Love or Jaco Pastorius.
If it was Jaco, that was visionary.
Or it was the Teenage Mutant Ninja Turtles soundtrack on tape. It was Ninja Turtles or Jaco Pastorius.
I think people in their 30s right now, who started getting serious about music in the '80s, have a built-in sort of …
Playfulness, yeah. It's part of the pillars that make us.
I wonder how that changes, now that kids have access to everything but they're not necessarily taking full advantage of it.
Nobody gives us rules on how to do it. The first thing that came to mind was the saying from Evangelion: "God is in his heaven. All's right with the world." The millionaires, the people that have done their thing, they've done that [become the one percent], and it's almost like there's no bridge that's been given to us to get to that. So it's for us to figure it out. I love seeing the young cats that just be on the internet fucking up and talking shit and having to apologize.
I feel like if I grew up in a kind of surveillance state where everyone's always watching what you're doing, I would feel pretty cagey about what I put out there.
No, but that's the thing: That's how you wind up having guys like Uzi. They don't give a fuck. They just do what they want to do. Another cat my boy turned me on to is 645AR. He's wild. He's like, Why not? The shit my homeboys be putting me on to, like Xanman, Shabazz PBG … these motherfuckers are wild. I said this a long time ago: Lil B is the Tony Williams of rap.
You mentioned Evangelion. How do you feel about the new Netflix dub? Do you care about dubs?
I get up in arms about Evangelion. I get real precious. I get hung up on everything from animation to … I know I need to move past it.
I bought a bootleg copy many years ago, and I'm holding on to it. They might Star Wars that shit.
Some of the original ones have already jumped up in price. Collector mentality. I'm one of those guys. I will do that. Don't be fucking my shit up. Leave it the way it was. Why do people do that to artists' work? I don't understand. I understand trying to make it palatable for children, but just the amount of work that goes into shit like that … leave it alone.
There's this mentality where we feel like we have to smooth out older art for modern sensibilities. I don't think that's smart. It's scary to think about what records out now will get reissued in 20 years and sound completely different. We should leave it how it is. There's artistic intent in the way it is.
You feel a person's soul in what they're doing.
Now we're washing that soul off and giving it a shining.
I always think it has something to do with somebody just trying to make money. That's the unfortunate reality. I have an eerie, weird, looming fear that the reason these things get reworked is so that they can capitalize on some part of it. It's not healthy for the art.
But on another level, if we're not careful, certain art will slip out of print and functionally, for people who only use streaming services, and cease to exist.
I tend to believe that art always finds its way. Shit gets passed down. You have to hand-carry it to the generations.
This interview has been edited and condensed for clarity.