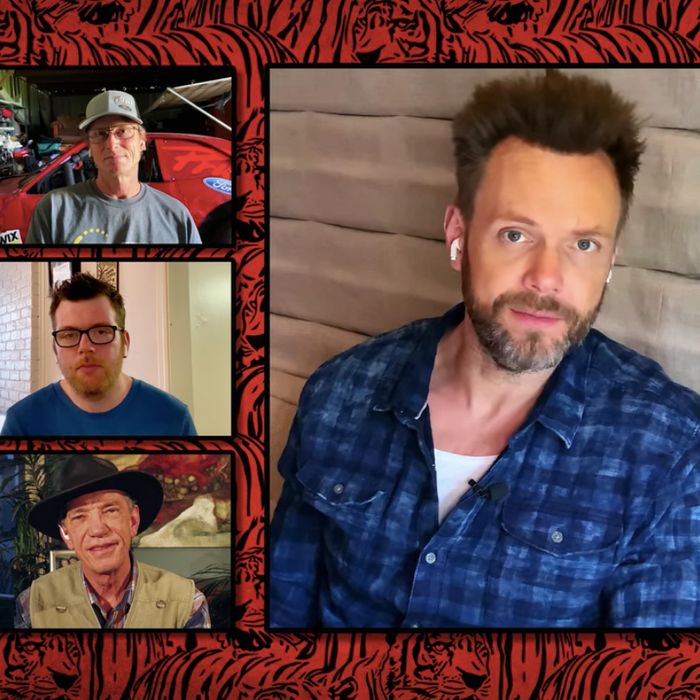 Weirdest episode of
The Brady Bunch
ever.
Photo: Netflix
Weeks after Tiger King became a Netflix sensation, Joe Exotic's longtime employees, friends, business partners, and even one of his husbands joined Joel McHale on conference call to talk about the "biggest documentary in human history." At least, that's what McHale is calling it.
The Tiger King aftershow The Tiger King and I is basically a reality-TV-show reunion with some of the key players from the docuseries: Jeff and Lauren Lowe, Rick Kirkham, John Reinke, Kelci "Saff" Saffery, Erik Cowie, John Finlay, and Josh Dial. Carole Baskin, who criticized the show's portrayal of her and her Big Cat Rescue Group, didn't return for the reunion, which means we have no further insights on that photo of her holding her husband on a leash (or what really happened to her ex, Don Lewis). But we did get a few fun moments from the people who helped Joe Exotic become the Tiger King. Here are six highlights from The Tiger King and I, which, as far as we can tell, has nothing else to do with The King and I.
Joe Exotic is "terrified" of big cats.
Frankly, as he should be. Although he surrounded himself with lion, tigers, and ligers, Rick Kirkham recalls Joe Exotic being frightened to be close with the fully grown animals. "He was scared to death of lions and tigers," Kirkham told McHale. "And in the shots that you see in there where he's in there with the two tigers, the white one and the other one, the white one is blind and the other one is on tranquilizers. It's idiotic to think he's become famous as the 'Tiger King' when he's so terrified of big cats."
Josh Dial believes Travis Maldonado didn't mean to kill himself.
The footage where Exotic's husband, Travis Maldonado, shoots himself in front of campaign manager, Josh Dial, is one of the documentary's most jaw-dropping moments. When asked about the incident, Dial says that Maldonado was showing off a new gun Joe bought him, a Ruger, that isn't supposed to fire without the clip. "Right then, he put the gun to his head and pulled the trigger to prove to me that it wouldn't fire without the clip," Dial said. "However, it must have had one in the chamber. I was looking at him in the eyes when he did it and I could see the surprise and the fear in his eyes. I mean, basically translated, he's like, 'Oh crap what did I just do?' I mean, maybe five seconds of his eyes I could read it and then he was gone."
After Maldonado's death, the zoo returned to normal, but Dial says neither he nor Exotic ever received counseling for their grief. "I had to go in that office every day and sit in that same chair and look at that bullet hole in the wall every day for a year and a half after Travis killed himself and I was never able to get counseling because Joe didn't help me and neither did Jeff Lowe," he said in the reunion. Now, he's hoping to raise money for proper mental health treatment.
Saff isn't mad about being misgendered.
The chillest person in this entire saga, Saff plays a big role in the documentary as an employee of G.W. Zoo. But even as Tiger King explains how Saff lost his arm in a tiger attack, the documentary misgendered him. The internet was not happy with the directors for this, but Saff didn't actually care. "I don't think it bothered me as much as it bothered everybody else," he said. "I didn't really pay it any mind." How can one man be so chill? As with his superhuman levels of calm, Saff is the exception, not the rule. (Don't misgender people.)
Jeff Lowe and Dillon Passage fought each other.
There a lot of tough bastards in Tiger King, but apparently the two we'd least expect to get into a fistfight … got into a fistfight. Former zoo manager John Reinke told McHale that, for him, the final straw was seeing Joe Exotic's husband Dillon Passage brawl with Jeff Lowe. "I quit the same day Joe quit because Jeff and Dillon got into a fistfight in the back parking lot and they rolled around for 15 minutes," he recalled. "That's when I made my decision to leave the same day." Everyone, let's please picture Jeff Lowe in his leather jacket squaring up against Dillon Passage and his backwards cap. "That's a very long fistfight, 15 minutes," McHale joked. "That sounds like two of the worst fist fighters I'd ever heard of." How is it possible they have footage of everything except this?
The zoo used footage of Saff getting bit by a tiger as a safety video.
Maintaining his role as the chillest person in this whole Tiger King saga, Saff told Joel McHale that they used to show footage of the tiger accident that took his arm as training material. "We didn't even have any further a conversation than, 'This should be the one thing people need to see before they decide that this is a career move they wanna make,'" he explained.
Erik Cowie hates the Vince Neil comparisons.
Almost every zoo employee in the Tiger King reunion begs the internet to stop being mean to them or, in John Finlay's case, his tattoo artist. But Erik Cowie has a very specific plea: Stop with the Vince Neil comparisons. The man with golden hair put his foot down after McHale mentioned the similarities. "Oh God," he groaned. "Fucking hate Mötley Crüe. They've never been my thing. Uh-huh, no. Too plastic, man."