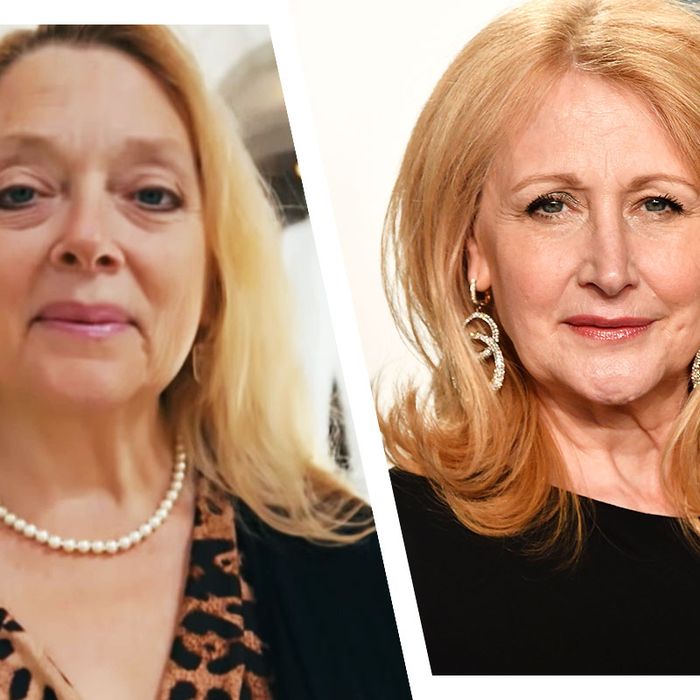 Sorry, Kate McKinnon, but we want Patricia Clarkson as Carole.
Photo: Left: Courtesy of Netflix, Right: Getty Images
You can't stop thinking about Tiger King. Neither can we. Not unlike the news cycle or a Stefon sketch, the seven-episode Netflix miniseries is such an overload of bizarre and jarring characters that it floods your sensors, making it impossible to retain it all at once. Amid all of the polygamy, attempted murder, and DIY music videos, moments like Joe Exotic handing out a condom with his face on it to a child or Mario Tabraue's assistant sewing cocaine into live snakes get relegated to the background. It's cinematic. It's larger than life. It's currently being adapted into a TV miniseries with Kate McKinnon attached to play Carole Baskin. Even New York Magazine writer and Tiger King podcast host Robert Moor has weighed in, telling Andy Cohen that he would like to see Margot Robbie play Joe, and that Sam Rockwell's name has also come up. In light of this news, and because Tiger King won't leave our brains alone, we're making our own fantasy casting list of who we'd like to see take on this story in the dramatized adaptation. (Special thanks to Nate Jones, who is uncannily good at this.)
Joe Exotic played by John Benjamin Hickey
Joe Exotic has to be one of the five most important gay cowboys to emerge in the past year, at least. To squander this opportunity on Sam Rockwell, after his gay Nazi performance in Jojo Rabbit of all things, would be a crime akin to breeding and distributing tiger cubs. Might we suggest instead John Benjamin Hickey? He's a Texan born and raised, giving him cowpoke bonafides. He's also a Tony-winning stage actor, meaning he's got a handle on the theatricality inherent to the Exotic persona.
Carole Baskin played by Patricia Clarkson
Imagine how deliciously complicated and multifaceted Clarkson's portrayal of Big Cat Tiger Rescue owner and advocate Carole Baskin would be. The impulse to cast along purely comedic lines is there for all of these characters, but Clarkson would balance all of that leopard print with a sly power and real menace. Sorry Kate McKinnon, but we'd love to see Clarkson in those Flo Milli hair extensions and a flower crown, husband-lackey at her side.
Howard Baskin played by Bob Odenkirk
Who better to play Carole's devoted spouse than Bob Odenkirk, who always has a level of worry behind the eyes, and who could definitely flesh out the quiet, beleaguered husband trope? Bonus: We get to see Odenkirk in that wedding photo.
Bhagavan 'Doc' Antle played by Tim Robbins
We like Tim Robbins for the (alleged) cult leader who keeps teenage girls and young women in stables and forces them to change their names. Alternate pick: Steve Martin in his ponytail from Baby Mama. 
Jeff Lowe played by Michael Madsen
Whoever plays Jeff Lowe has to be as lipless as they are malicious, so Tarantino fixture Michael Madsen would be perfect as the swinging heavy who lures women to hotel rooms with tiger cubs, sets Joe Exotic up, takes over the zoo, and talks about wanting to kill people with a shocking lack of remorse.
John Finlay played by Shia LaBeouf
Harmony Korine extras aside, the next best casting choice for Exotic's ex-husband is Shia LaBeouf in scum-bum mode. If we're extending our search to non-actors, is Post Malone available?
Travis Maldonado played by Noah Centineo
Just picture the audition tape: a shot-for-shot recreation of Maldonado's first onscreen appearance, his direct-to-camera interview/casting-couch situation when he's 19. Centineo is tall, dark, and handsome, and we know this shouldn't be the takeaway from Tiger King, but we'd like to see him cuddle a tiger cub.
Rick Kirkham played by Ed Harris
We considered Sam Elliott. We considered J.K. Simmons. But Ed Harris already wears the black hat and is seasoned like an old glove. Plus, it would be a fun return to his TV-producer role from The Truman Show. 
John Reinke played by Matthew McConnaughhey
This one's a gimme.
Erik Cowie played by Tim Blake Nelson
We had to get Tim Blake Nelson in here somehow, and we think putting him in a pair of Oakleys and having him comment on the escalating action at the G.W. Exotic Animal Park is the way to do it. He can even borrow McConaughey's Moon Dog wig! Also: Not pictured because they don't look alike, but we knew Danny McBride had to be in on this as well, so we'd have him play Lowe's associate, James Garretson (for the Jet Ski scene, alone).
Josh Dial played by Clark Duke
We had a tough time thinking of actors who could play Exotic's gubernatorial campaign manager, who soon realizes he signed on for far more than drafting policy, and who becomes witness to something awful. We're putting Clark Duke here for now, but watch this space.
Tigers played by the Jellicle Cats
We agree with Carole Baskin, who has issued an open plea with PETA: "We urge McKinnon to utilize computer-generated imagery of cats in the show rather than forcing real big cats to suffer just to entertain the audience." We agree. Let's have all the tigers played by dancers swathed in CGI digital fur technology, and while we're at it, let's keep their human hands. And have them sing a song. Maybe something about a railway train?