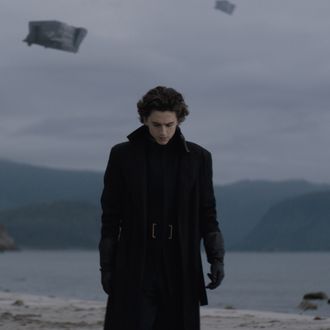 Goodnight, sweet space prince.
Photo: Courtesy of Warner Bros. Pictures and Legendary Pictures
Official first looks at Denis Villeneuve's sci-fi epic Dune are here! Vanity Fair exclusively unveiled ten stills from the December 18–expected film this week. The first image, Timothée Chalamet haunting a beach, dropped on Monday, but the rest — including peeks at Oscar Isaac, Rebecca Ferguson, and Zendaya — are brand-new. Villeneuve and Warner Bros. also confirmed that Dune only covers the first half of Frank Herbert's 1965 novel. The second half will be shown in a sequel, similar to It and It Chapter Two. Chalamet stars as the young royal Paul Atreides, who pushes back against the adventure he seems destined for. "The immediately appealing thing about Paul was the fact that in a story of such detail and scale and world-building, the protagonist is on an antihero's journey of sorts," Chalamet said to Vanity Fair. In the very first first look, transport ships are on their way to take Atreides and his family to their new kingdom on the dusty planet Arrakis. Atreides has on what appears to be a wool coat, leather gloves, and a belt with a big, square loop. Yes, he's moving to a scorching desert planet, but that doesn't mean he can't come through dripping.
The first look also reveals key details about other vital characters. Dr. Liet Kynes, an ecologist and peacekeeper between the Atreides family and a warring kingdom, was written as a white man, but Villeneuve cast Sharon Duncan-Brewster (Rogue One), a black woman. "This human being manages to basically keep the peace amongst many people," Duncan-Brewster said to VF. "Women are very good at that, so why can't Kynes be a woman? Why shouldn't Kynes be a woman?" Rounding out the main cast is Oscar Isaac as Chalamet's space daddy, Rebecca Ferguson as his mind-controlling priestess mother, Zendaya as his badass warrior love interest, Jason Momoa and Josh Brolin as his mentors, Javier Bardem as the leader of an Arrakis tribe, and Stellan Skarsgard as the "monstrous" Baron Vladimir, created with full-body prosthetics. Charlotte Rampling also stars as a reverend mother. While we got zero photos of Zendaya doing martial arts, we did learn a little more about her role in the movie. Her character, Chani, "haunts Paul in his dreams as a vision with glowing blue eyes." Okay, but he's not special. Zendaya is the woman of everybody's dreams.
This post has been updated throughout.