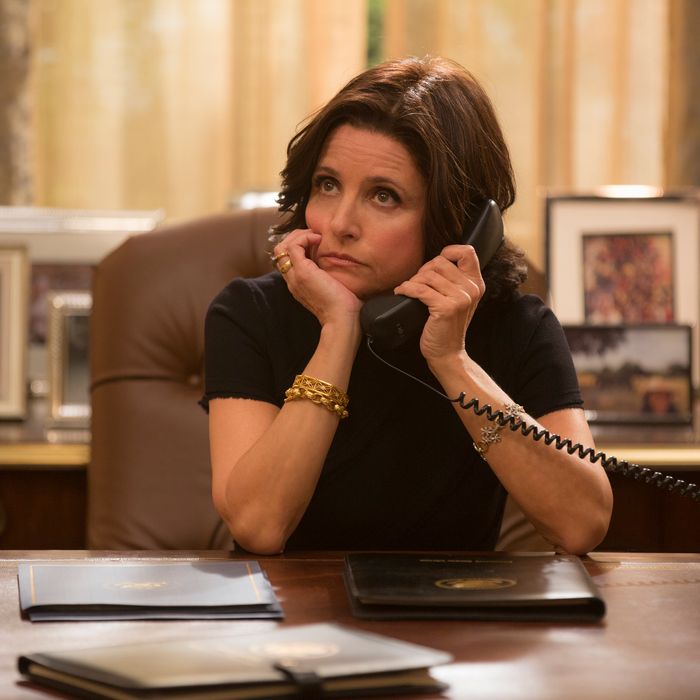 Photo: Patrick Harbron/HBO
How would TV's most beloved characters navigate social distancing? We asked dozens of showrunners and writers to answer that question. Below, Veep executive producer David Mandel shares a (very real) excerpt from Selina Meyer's biography about how her administration responded to the coronavirus pandemic.
Note: The following is an excerpt from Size 2: The Year(s) of Selina Meyer, by Robert A. Caro. Mr. Caro managed to write this "quickie" life story in just 18 months before resuming work on his final volume of Lyndon Johnson's biography, saying, "I chose Meyer because I write about power, and I thought it would be interesting to write about someone with very little of it."
Chapter 28: January 2020
For a politician who hated everyday people almost as much as she hated touching them, President Selina Meyer's role in fighting COVID-19 would prove quite ironic.
On the morning of January 3, President Meyer received her usual intelligence briefing and was informed of disturbing discussions between the Chinese government and the head of the CDC, her former physician, Dr. Hector Abernathy. This was the first on-the-record mention of the virus which had been spreading in the Wuhan province of China. According to contemporaneous notes, the president initially remarked "Ruh-roh" but then quickly lost interest and instead asked Dr. Abernathy a series of extensive follow-up questions on "what he could do about a real national crisis: her neck." The CIA director then finished his briefing by stating that the virus represented a "serious threat" to the United States: "Nobody knew when it would arrive here, but it would be severe." That was when Meyer shocked everyone.
As it turned out, President Selina Meyer was already familiar with the notion of a global pandemic, thanks to her former senior strategist Kent Davison, who believed "the only effective way to combat climate change was through a culling of the human population and the simultaneous construction of a system of electromagnetic trains à la the film Snowpiercer." Meyer knew an actual pandemic could be deadly, and more importantly, she did not like sick people. They "grossed her out." She did not like sick people at all. Or old people. "Or ugly people also," a staffer recalled. She had stocked her administration with healthy, young, good-looking, immunocompetent people. But not too good-looking, because she also hated any competition. Regardless, between the virus warnings and her dislike of sick people as well as her long-seeded dislike of people from overseas, President Meyer sprung into action.
Just a few short hours after that initial intelligence briefing, Meyer created the office of "COVID-19 response coordinator," and immediately appointed Secretary of Agriculture Richard Splett to be in charge of the full government response. With his background in veterinary medicine and having written his doctoral thesis on the "viral diseases of pet bats and what to name them," Splett was the perfect choice for the job, and he immediately began a full government inventory of all medical PPE supplies including gloves, protective face masks, and respirators. Based on Splett's recommendations and the NSC's "pandemic playbook," new and increased funding was diverted to state hospitals and medical facilities across the country while the president personally ordered millions of new masks and respirators for the coming crisis as well as billions to be diverted for testing and vaccines. Splett also began daily press briefings and became a familiar and calming presence to the American people.
Despite Meyer's closing international travel to China and other — as she had been calling them for years — "infected countries," the virus did reach America as expected. There was some belief that it was brought to America by CBS anchor Mike McLintock, who brought back a pet pangolin from China for his adopted daughter and may have eaten a bat while there. "I thought since I was in China, I should try a bat," McLintock allegedly told friends.
But regardless of how exactly the virus reached America, it found the country ready. Meyer and Splett, with an almost three-month head start, had millions of COVID-19 tests waiting, with multiple testing centers set up across every state, which allowed them to track the virus and beat it back. When citizens were infected, quarantine hotels as well as newly built military hospitals were standing by, and the entire Department of Defense, both active and reserve components, was mobilized where needed.
The stock market, in turn, responded to the president's actions by going higher than in any phase of the Meyer presidency, although still lower than the Hughes or Montez years. As America led by example, her role as the sole superpower was reasserted through the mechanism of soft power, and the dollar's position as the world's reserve currency was reaffirmed. Corporate earnings skyrocketed, and unemployment hit new lows. Meyer, however, particularly disliked the president of Boeing, who had refused to lend her a private jet years earlier, so one night after a few drinks, she angrily invoked the Defense Production Act and took control of the airlines, tanking all airline-related stocks. Later it was discovered that Vice-President Jonah Ryan, who had been sent by the president on a fact-finding mission "up his own asshole," had gotten a tip about the airlines but misunderstood and sold huge put options, which caused his own personal bankruptcy and possibly led to his later impeachment.
In one of her few successful speeches to the nation, Meyer demanded citizens in every state practice social distancing. Meyer told the nation that she herself would "stay at least 30 feet from her daughter Catherine" if she could.
When it came to the coronavirus, Selina Meyer, who some historians would argue was the most incompetent president since James Buchanan, did what any sensible politician with a brain — from either party — would have done.