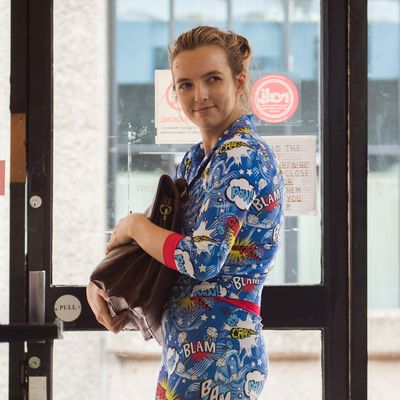 Photo: Courtesy of BBC America Killing Eve
There's never been a television character we love, hate, and love to hate quite like Killing Eve's well-dressed assassin Villanelle. Each episode of the BBC America show brings the character (played by Jodie Comer) new outfits, new one-liners, and new ways of murdering people — in style, of course. Just like any good assassin, her hobbies include provoking the other half of her cat-and-mouse game (Sandra Oh's Eve Polastri), telling off influencers, killing intelligence agents, and updating her fabulous wardrobe. (Can we borrow that pink Molly Goddard dress, please?)
In honor of the third season's early premiere on April 12 at 9 p.m. ET, we're reliving nine of Villanelle's most iconic moments — and the gifs that went along with them. Crushing on a sadistic murderer has never felt so good.
Don't Cry Over Spilled Ice Cream
Season 1, Episode 1
We meet Villanelle in the opening scene of Killing Eve's pilot episode. As she sits in a Viennese cafe, the stylish mystery woman smiles at a young girl eating ice cream at a table nearby. Cute, right? Not so fast. As she pays her bill and gets up to leave the restaurant, Villanelle intentionally spills the girl's ice cream into her lap as she walks by — perfectly setting up this character's lack of anything resembling empathy or remorse.
The Iconic On-the-Couch Fashion Show
Season 1, Episode 2
This dress! The second episode of Killing Eve proved that it was a show as much about fashion as it was about murder, when Villanelle showed up to her psychiatric evalution in the (now-iconic) pastel pink Molly Goddard dress to send a message to her handlers that she was not taking the appointment seriously — at all. When asked if she's experienced any recent stress or anxieties (probably related to, you know, murdering people?), Villanelle responds with one of the season's best lines: "I had quite a heavy period last week, but other than that, I think I'm okay."
An Intimate Meal of Shepherd's Pie
Season 1, Episode 5
Villanelle and Eve meet for the first time halfway through season 1, after Villanelle sneaks into the MI5 agent's home. "I just want to have dinner with you," she promises, and they share a microwaved shepherd's pie and a tense, intimate conversation in what became the season's most memorable scene. During their conversation, the ever-fashionable Villanelle even gets in a casual dig at Eve's outfit choice: "Is that a sweater attached to a shirt? Is it two separate pieces? How does it work?"
The Assassin Meets Her Match
Season 1, Episode 8
Villanelle kidnaps her handler Konstantin's young daughter, Irina, during the first season's finale, and the assassin and child become an unlikely perfect duo. They snipe at each other and share disarmingly funny one-liners ("My dad is going to kill you in the face!" "No, I'm going to kill your dad in the face!"), even arguing over how many languages they know. The scene gives Comer a chance to show off the character's childlike nature and lack of any maternal instincts — and finally gives Villanelle a partner who can match her sharp-tongued wit.
Together at Last
Season 1, Episode 8
Our cat and mouse duo meet again in the finale of season 1, when Eve sneaks into Villanelle's apartment. After hunting each other all season, they finally tell each other how they feel: Eve says that she thinks about Villanelle "all the time," while Villanelle responds with the unforgettable line "I masturbate about you a lot." The intimate moment is cut short when Eve stabs Villanelle in the stomach, but the assassin gets away. (Thank goodness, because we don't know what we'd do without her.)
Villanelle's Bedside Manner
Season 2, Episode 1
Just like the first season, season 2 kicks off with a scene that plays on Villanelle's twisted sense of humor and lack of remorse. In the hospital recovering from the stab wound inflicted by Eve, Villanelle bonds with Gabriel, who survived a car accident that killed both of his parents. Gabriel is charmed by Villanelle, even as she "borrows" a pair of his too-small pajamas to make her hospital escape and makes fun of him with her dry wit, snarking: "Yeah, well your parents are dead." Villanelle ultimately ends up killing him after he confesses to her that he doesn't want to continue living with his injuries. That's her version of a good deed.
"Get a Real Life"
Season 2, Episode 4
Another thing to add to our ever-growing list of reasons to love Villanelle: she has no patience for social media influencers. When a young woman in Amsterdam compliments Villanelle's outfit (those earrings!) and asks to take a picture for her account, Villanelle responds with a firm no, before adding: "Of course not. Don't be pathetic. Get a real life." Burn! (Although if Villanelle did have social media accounts, we think she'd be a pretty great fashion blogger.)
The Unforgettable Pig-Mask Murder
Season 2, Episode 4
Villanelle has racked up quite the body count in the past two seasons, but there was no murder quite as gruesome and theatrical as this season 2 moment. Dressed in a pig mask and dirndl, Villanelle lured her target inside a room with a large window facing Amsterdam's red-light district. As a crowd gathered outside, thinking it was a show, Villanelle strung up her target and killed him — all to get Eve to notice her. Suddenly that thirst trap you posted on social media to get your crush's attention looks a lot more reasonable.
Season 2, Episode 8
And here's where we last left Villanelle. In the season 2 finale, the assassin confronted Eve in Rome, imagining that the pair would run off together, Bonnie and Clyde–style, and live off the grid in Alaska. When Eve disagrees with the plan, Villanelle complains to her that she's "ruining the moment" by trying to leave. In the end, Villanelle can't accept what she sees as Eve's betrayal and shoots her as she walks away, leaving Eve bleeding in the Roman ruins.
Watch the Killing Eve Season 3 premiere on BBC America or AMC, starting April 12 at 9 p.m. ET.
All imagery courtesy of Killing Eve.
This advertising content was produced in collaboration between Vox Creative and our sponsor, without involvement from Vox Media editorial staff.