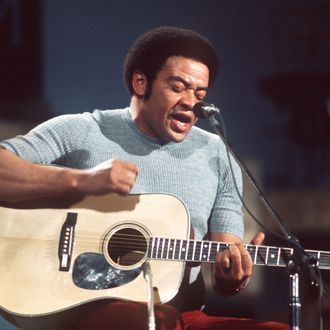 Grab a tissue.
Photo: Goebel/picture alliance via Getty Image
Legendary soul singer-songwriter Bill Withers died from heart complications this week, leaving behind a catalogue of music with the enduring power to connect people. Never has that been more apparent than just these past few weeks, as people across the world have been singing his 1972 classic "Lean on Me" to spread positivity during the coronavirus pandemic. Inspired by quarantined Italians singing off of their balconies, people are singing the song in hospitals, in neighborhoods, and hanging out of windows. "Lean on Me" is bringing comfort to the world at a time where physically leaning on someone is discouraged by the Centers for Disease Control. Here are just a few of the hearts Bill Withers has continued to touch with his music.
A Michigan children's hospital created a "virtual choir" where 64 people recorded themselves singing "Lean on Me" on April 1, showing their support for patients during this stressful period. A music therapist at a hospital in Florida also led a rendition of the song for caregivers fighting the coronavirus.
Residents of an apartment building in Dallas stuck their heads out of their windows to sing "Lean on Me," led by Danzel Barber, on March 20.
Canadian country singer Tenille Townes gathered a group of her musician friends to sing "Lean on Me" on April 1, like a country version of Gal Gadot's "Imagine." Similarly, members of an a cappella group at a university in Michigan sent their cover of "Lean on Me" to their classmates upon the disheartening news that the rest of their semester was canceled.
Viral singing surgeon Dr. Elvis Francois sang "Lean on Me" live on the Today show on March 26, doing his part to help lift spirits.
Ivanka Trump reshared a video of Bostonians leaning out of windows and cars to sing "Lean on Me" together.
"Lean on Me" has been heard in neighborhoods across the world. One of the biggest, Chicago's South Loop, had the skyline blinking to the beat on March 26. Neighbors in Washington, D.C., had the same idea, gathering on their porches to sing "Lean on Me" on March 20.
A family in Providence, Rhode Island, got their neighborhood singing the Bill Withers classic at the first of their daily sing-alongs to pass the time. Out in Calgary, Canada, people sang in their cars outside a continuing care facility to brighten their loved ones' days while staying a safe distance away.
Choir leader and vocal coach James Sills set up the Sofa Sisters, a live online event where anyone in the world can come learn a classic song and sing it with everyone. Hundreds of people came together and sang "Lean on Me" on March 20. In the weeks before his death, Bill Withers's song was there for people, just as he vowed in its iconic lyrics — and it will continue to be there.