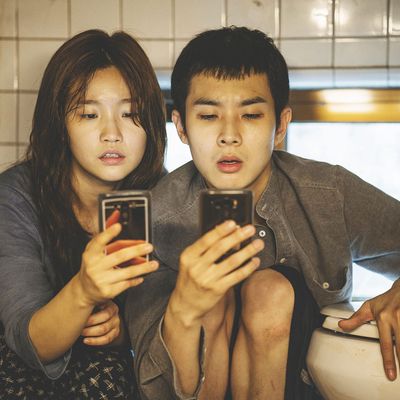 Every week for the foreseeable future, Vulture will be selecting one film to watch as part of our new Friday Night Movie Club. This week's selection comes from our staff writer E. Alex Jung, who will begin his screening of Parasite on April 10 at 7 p.m. ET. Head to Vulture's Twitter to catch his live commentary, and look ahead at next week's movie here.
As 2020 settles into the timeline of nightmares, Bong Joon Ho's twisty-turny movie Parasite only appears to grow stronger and more relevant. As the film becomes available to stream today, April 8, we only thought it fitting to choose the movie that surprised everyone by winning four Oscars including Best Picture and Best Director earlier this February (remember that?) as our next pick for Vulture's Friday Night Movie Club. The beautiful, punchy cinematic language of class warfare within Parasite has burrowed into our consciousness, in part because what's eminently clear during this global pandemic is that the rich: they're not like us.
Instead coronavirus has exposed people, institutions, and nation-states for what they are. Even hapless celebrities in quarantine remind me of Park Yeon-kyo (Cho Yeo-jeong), the oblivious mother whose wealth has given her brain worms. Without the filter of a publicist on-hand to say, Don't post that, Madonna, celebrities do and do so with vim. They post videos of their Parasite-style homes, intone that COVID-19 is a "great equalizer" from a bathtub unironically filled with rose petals, suggest mass death is just "terrible, but like, inevitable," vacation in the Bahamas with their hairstylist, and sing "Imagine" with their other celebrity friends to make us feel better, I guess? Gal Gadot and her cohort seem less villainous than daffy headed. The way that money might make you "nice."
Bong is very much a populist, and nowhere is that more evident in his dramatic, visual style. He loves blockbusters and genre films, and has a clear, cutting cinematographic eye that acts like an X-Acto knife pressed up against your brain. It's why Parasite has lent itself to be so easily repurposed on the internet. It's a retort, a weapon, a Molotov cocktail. Bong has never been one to shy away from metaphor, and social hierarchy is reflected in everything from the spaces where each family lives down to the very furniture. There's the stunning sequence of the Kims running down from the rich Park house where they work back to their own during a downpour of Biblical, Earth-shattering proportions. They go down, down, down, as if they had been cast out of heaven.
This is all to say that there's much to tweet about this Friday night. Still ink to spill and memes to make. So if you've been waiting to watch the movie until now, well, it's time to come out of the bunker and play.
Parasite is available to stream with a Hulu subscription. Don't have Hulu yet? You can sign up here. (If you subscribe to a service through our links, Vulture may earn an affiliate commission.)